Earlier this week, GE announced a "defining moment" in its history, a plan to form three global public companies, each a leader in its industry, focused on aviation, healthcare and energy.
Starting with Thomas Edison, "for almost 130 years, GE has leveraged its DNA of innovation to build a world that works — solving the biggest challenges through our technological expertise, leadership and global reach," Larry Culp, GE chairman and CEO, told investors. "Operating each of these businesses as independent companies will enable them to realize their full potential, driving long-term growth and value for all stakeholders."
What does that future look like? GE engineers and scientists are already working on it. It could have planes powered by sustainable aviation fuel and hybrid and electric engines, precision diagnosis and treatments aided by cloud-enabled software solutions and AI-powered medical devices, and a digital grid that will seamlessly integrate electricity from many sources and protect itself and heal quickly after a storm. 
GE says the plan to separate the companies will help speed up the process. "We have a responsibility to move with speed to shape the future of flight, advance precision health and lead the energy transition," Culp said.
Precision Health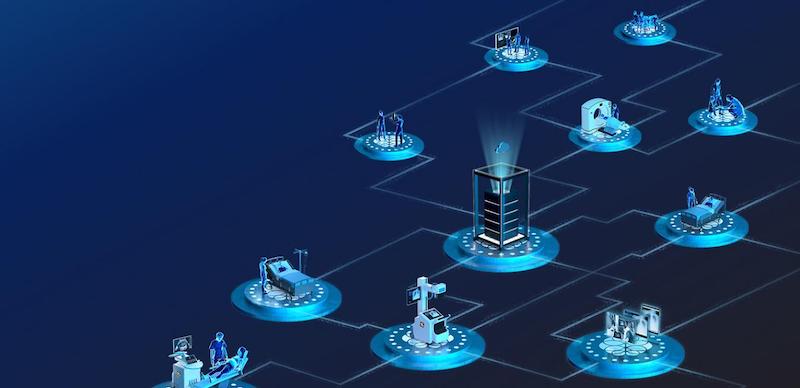 GE Healthcare, the first business set to leave the GE fold, in early 2023, is a good example. It is blending the physical and digital worlds to improve diagnostics and help make precision healthcare commonplace. "With four million installations worldwide, serving more than one billion patients and executing more than two billion procedures per year, GE is at the nexus of key care pathways," Culp said.
Some of these solutions have already come into play during the COVID-19 pandemic. A triage capacity system powered by AI and developed by GE Healthcare provides clinicians in Oregon with near real-time information about ICU beds and other critical care resources in the state. "[It] gives us a bird's-eye view of critical care," says Helene Anderson, regional director of capacity and throughput at Providence Health & Services. "We know where we have capacity, and we can also coordinate with other services that wrap around the care." 
Since March 2020, some 65 of the hospitals in Oregon — approximately 90% of the state's beds — used an early version of the system to help maximize the state's major lifesaving resources, including ICUs, ventilators, and negative-pressure beds. That system corralled 4.2 million data points per day from the state's hospital networks, updating once every five minutes with fresh intelligence about admissions, patient movements, nursing flows, ventilator usage and bed requests.
But Oregon and GE aren't finished. By the end of this year, through a strategic partnership with Apprise Health Insights, the data and analytics subsidiary of the Oregon Association of Hospitals and Health Systems, an expanded version of the system is expected to cover a wider range of information: emergency department, advanced ventilators and life support systems.
The statewide expansion, the first in the nation, is being funded in part by a federal grant provided by the Office of the Assistant Secretary for Preparedness and Response and the U.S. Department of Health & Human Services to Oregon's hospital association. "Our system is designed to scale regionally, nationally and beyond if needed with the appropriate controls in place," says Jeff Terry, who leads the Clinical Command Centers unit at GE Healthcare.
These capacity systems are just one example of how GE's command center software platform is helping caregivers orchestrate daily care.
This was the third healthcare deal announced since Culp became GE chairman and CEO, following the acquisitions of Zionexa and Prismatic Sensors, which developed Deep Silicon detectors for photon counting computed tomography (CT).
Photon counting CT is poised to further improve the clinical capabilities of traditional CT, including the visualization of minute details of organ structures, improved tissue characterization, more accurate material density measurement and lower radiation dose.
Zionexa is a privately held French and U.S. company developing innovative PET (positron emission tomography) tracers used in the diagnosis of cancer and neurological diseases.
Then there's the tectonic shift underway in where care is delivered, with patients increasingly routed to the lowest acuity setting possible, aiming to improve hospital capacity, productivity and outcomes. This further distributes already fragmented patient data, leading healthcare payers and providers to place more importance on the integration of clinical data to simplify and standardize how care is delivered.
Addressing this need, GE Healthcare's Edison Digital Health Platform aggregates clinical data from various sources, including clinical devices, allowing Edison applications to generate insights by applying advanced analytics and AI across the care continuum of screening, diagnosis, therapy and monitoring of disease. These Edison applications range from analyzing high-res brain scans or a stroke, and detecting cancers, to helping doctors predict which patients should be prioritized.
"Today and tomorrow, delivering on the future of healthcare is about enabling precision health: integrated, efficient and highly personalized care," Culp said. "Making this a reality requires merging clinical medicine and data science by applying advanced analytics and AI across every possible point of the patient journey. GE is one of the few companies with the reach, capabilities and relationships to do this."
The Future Of Energy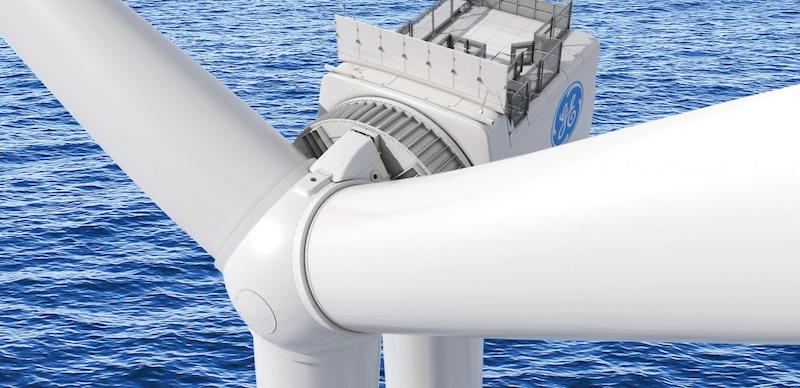 The second business GE plans to spin off, in early 2024, will be a combination of GE Power, GE Renewable Energy and GE Digital. Culp says that the new company "will play a critical role in solving the trilemma of affordable, reliable and sustainable energy. This business possesses a unique offering, with some of the world's most powerful wind turbines and most efficient gas turbines as well as technology to modernize and digitize the grid. And the energy transition represents the largest opportunity for digital with vertical solutions in grid and power generation."
Some of those offerings are already here. GE's Haliade-X offshore wind turbine was engineered to evolve with demand, and evolve it has. The initial model produced 12 megawatts — and even at that level, a single rotation of the machine's blades could generate enough power to supply the equivalent of one U.K. household for two days. But when GE Renewable Energy engineers tested a Haliade-X prototype, they found it could be improved to produce 13 MW. Now an even more powerful version will be rated at 14 MW — and this machine was selected for Dogger Bank C, the 1.2-gigawatt third phase of the U.K.'s Dogger Bank wind farm. The Haliade-X will also power Vineyard Wind, an 800-MW farm off the coast of Massachusetts.
GE is also helping utilities bring more renewables online. For more than a century, the electrical grid was a one-way street, with current traveling from power plants to consumers. But two decades into the 21st century, it's rapidly becoming more like a busy highway, with lots of on-ramps and off-ramps. The rise of the renewables age, with tech like rooftop solar, storage batteries and electric vehicles, is adding a new layer of complexity for grid operators. Vera Silva, chief technology officer of GE Renewable Energy's Grid Solutions unit, says utilities must "operate the grid like a Swiss clock" — and that her business is there to help: "If you think about the transition toward decarbonization, how do you convert that ambitious goal, in a way that keeps the grid rock-solid all the time but deals with this rate of change?"
The answer is innovative hardware in combination with digital technology. That's why Silva's business is working to solve the challenge in partnership with GE Digital, GE's software and analytics arm. During everyday operations, the grid generates a mammoth amount of data that can be mined for insights. Past outages and weather data, for instance, can help locate future spots of vulnerability during a storm — so utilities are prepared to speed up repairs and minimize downtime. The ultimate goal? An autonomous grid that can not only fix but predict problems on its own. "Our vision is that we will provide the technologies that enable the grid to continue to be highly reliable, but also resilient — so that it actually becomes even better-performing, more energy-efficient and renewables-centric," said Patrick Byrne, GE senior vice president and CEO of GE Digital and the onshore unit of GE Renewable Energy. "That's a tremendous technology opportunity and challenge for us to take [on]."
GE's innovative gas turbines are helping, too. With its recent wildfires, California is no stranger to the effects of climate change. As the state transitions to more renewable energy, it is getting help from GE Gas Power's aeroderivative gas turbines. These turbines are modified jet engines, they run on natural gas and they can generate power on demand within minutes. "We are helping the state of California meet its renewables and carbon targets, while providing reliability to the electrical system when renewable resources are not sufficient to meet the state's electricity demand," said Eric Gray, Americas CEO at GE Gas Power.
GE has the largest installed fleet of gas turbines in the world, which — through the pathways provided by pre-combustion lower-carbon fuels, including hydrogen and post-combustion carbon capture — can play a meaningful role in combating climate change beginning immediately. In early July, New York State decided to bring green hydrogen into the state's portfolio of sustainable energy solutions — and GE is helping the state to make it happen. This fall, the Brentwood Power Station on Long Island began a demonstration project to test the feasibility of running on a blend of natural gas and carbon-free green hydrogen, which uses renewable electricity to split water molecules and produce oxygen and hydrogen.
GE Gas Power, whose combustion turbine powers the station, is providing the blending technology and helping execute the project. And this GE unit already has a leadership role in the use of hydrogen in gas turbines. GE turbines have logged more than eight million operating hours running on blends of hydrogen, and power facilities that will go online in Ohio and Australia will use blends of hydrogen and natural gas. Hydrogen could help remove millions of tons of CO2 from the atmosphere by the end of the decade.
The Future of Flight
After the two spin-offs, GE will become a company focused on aviation. What will the future of flight look like? It will likely include hybrid electric planes, alternative fuels such as 100% sustainable aviation fuel (SAF) and hydrogen, and digital technologies that will help make the industry more efficient and sustainable.
In October, the Air Transport Action Group declared the aviation industry's commitment to a goal of net-zero carbon emissions by 2050. The group's members include GE Aviation, which invested $1.8 billion in 2020 in aviation research and development, including new advanced materials and technologies that can help cut fuel consumption and even enable hybrid electric design. In June, CFM International, a 50-50 joint company between GE and Safran Aircraft Engines, announced the launch of the Revolutionary Innovation for Sustainable Engines (RISE) Program to demonstrate advanced technologies for the next generation of engines, which could ultimately lead to engines that would use 20% less fuel and produce 20% fewer CO2 emissions than the most efficient jet engines built today. "This technology development program demonstrates the commitment GE and Safran share for achieving ambitious goals for a more sustainable future," says Travis Harper, GE product manager on the CFM RISE Program.
Another opportunity involves SAF. By switching from petroleum to SAF, the aviation industry could reduce its carbon contribution from fuel by up to 80%, factoring in the entire life cycle of the fuel. One person who knows a lot about this task is Gurhan Andac, who as GE Aviation's engineering leader for aviation fuels and additives is working on biofuels and synthetic fuels for engines. "Sustainable fuel is not a research project that we are doing on the side," Andac says. "It is happening. We are flying today with SAF blends."
In fact, John Slattery, GE Aviation president and CEO, said that "decarbonizing aviation is our industry's moonshot," after a visit to NASA in September. And GE engineers and the U.S. space agency get to work on the moonshot together: NASA recently awarded GE $179 million to help mature electric flight propulsion technologies.
Just in time for the COP26 conference in Glasgow, which started in early November, a long-haul Boeing 787 flight from London to Abu Dhabi scored a 72% reduction in carbon emissions using existing technologies. The Etihad Airways flight used sustainable aviation fuel, employed innovative route planning to avoid creating contrails and even served passengers on sustainable dishes. The plane was powered by GE Aviation's GEnx engines, used GE Digital's Fuel Insight software to analyze data and make fuel-saving adjustments within minutes and also used GE's innovative 360 Foam Wash, a cleaning system that can help improve engine performance and reduce fuel consumption by removing dust and dirt from inside the engine.
"Stepping back, at GE, we've always had immense pride in building a world that works," Culp said. "The momentum we have built puts us in a position of strength to take this exciting next step in GE's transformation, enabling each of our businesses realize their full potential."
Image credits: CFM International, GE Healthcare, GE Renewable Energy, GE Aviation
Categories
tags