There's an emergency in Oregon. A patient is fighting a life-threatening situation and the paramedics at the scene are worried. If the patient doesn't receive blood and intensive care soon, the outcome could be dire.
Fortunately, it's not long before an air ambulance hovers overhead. A few minutes later, the patient is on board and arrowing toward the hospital, where an ICU and a team of medical personnel are ready. The air ambulance team has packed plentiful supplies of blood, allowing lifesaving treatment to begin in the cabin.
"I get the chills when I think about it," says Helene Anderson, regional director of capacity and throughput at Providence Health & Services, the healthcare system that dispatched the air ambulance. The story might have ended differently were it not for an artificial intelligence-enhanced software application developed by GE Healthcare that helps match critically ill Oregonians with lifesaving resources across their state.
The AI system, called the Oregon Capacity System (OCS), continually analyzes near-real-time information about critical care capacity in the state. This helped the system to identify the nearest ICU for the patient and alert the ambulance crew to pack several liters of their blood type in the helicopter's fridges. "The OCS gives us a bird's-eye view of critical care," says Anderson. "We know where we have capacity, and we can also coordinate with other services that wrap around the care."
The system was forged in the battle against the COVID-19 pandemic, with the Oregon Health Science University (OHSU), in Portland, leading the charge and wielding weapons like a digital command center, which GE Healthcare has implemented at hospitals globally to help optimize their operation. Since March 2020, some 65 of the hospitals in Oregon — approximately 90% of the state's beds — used an early version of the app to help maximize the state's major lifesaving resources, including ICUs, ventilators and negative pressure beds. That system corralled 4.2 million data points per day from the state's hospital networks, updating once every five minutes with fresh intelligence about admissions, patient movements, nursing flows, ventilator usage and bed requests. When algorithms went to work on this data, Oregon's clinicians were able to see those key metrics and use them to make quicker, more informed operational decisions.
"It has performed brilliantly," says Jeff Terry, who leads Clinical Command Centers, the GE Healthcare unit that developed the software. "It's never gone down, the data's flowed, it's been there when needed." In fact, it's possible the OCS may have helped to boost Oregon's capacity to deal with COVID-19. The Pacific Northwest state might have the lowest per capita supply of hospital beds of all U.S. states, but as of October 2021 it also boasted some of the lowest case and death rates in the country.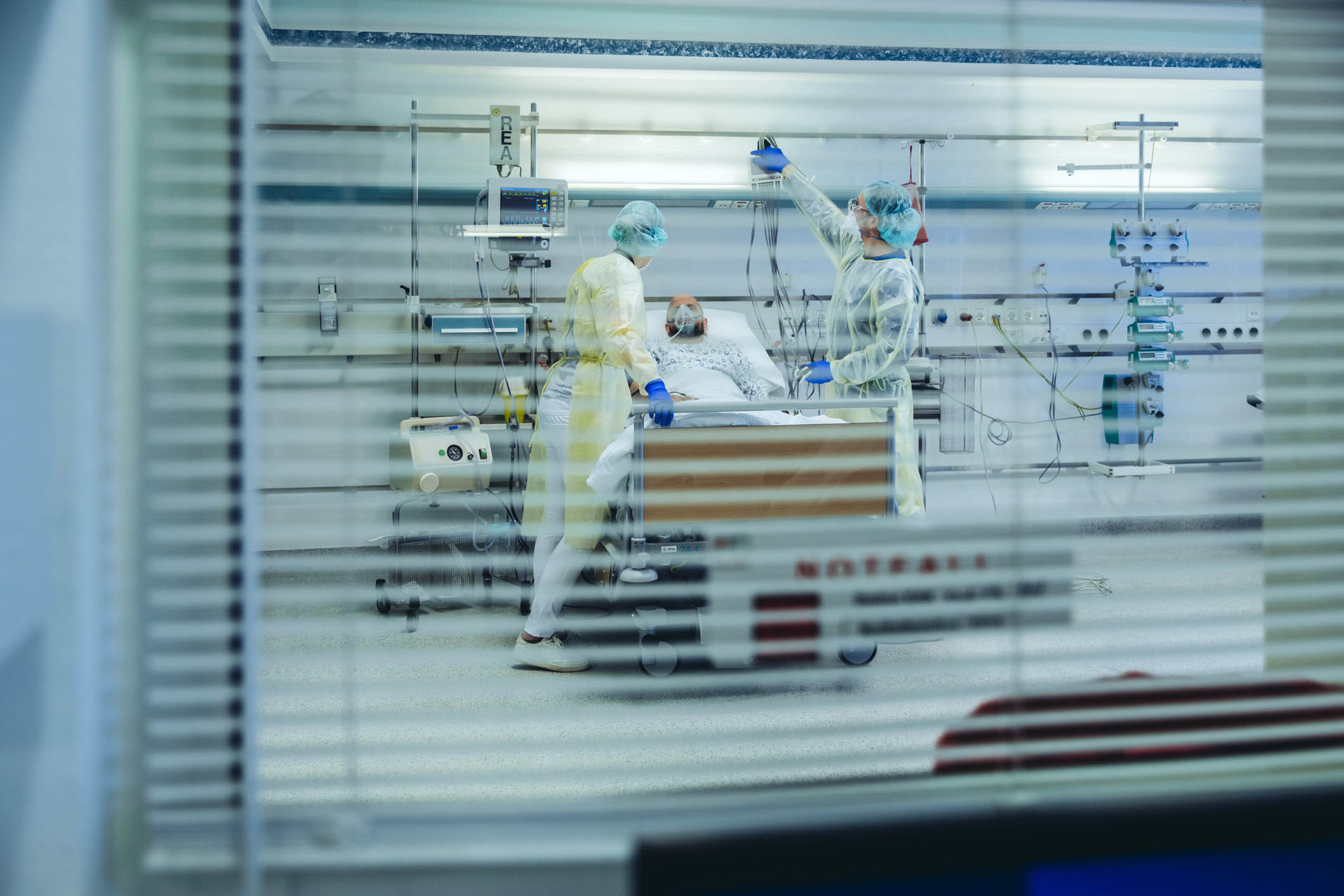 But Oregon and GE aren't finished. By the end of this year, through a strategic partnership with Apprise Health Insights, the data and analytics subsidiary of the Oregon Association of Hospitals and Health Systems, an expanded version of the system will cover a wider range of information: emergency department, advanced ventilators and life support systems (ECMO and CRRT), to name a few. The beefed-up OCS already boasts an updated classification system for the state's ICUs, allowing hospitals to allocate critical care units by type and capability.
The statewide expansion, the first in the nation, is being funded in part by a federal grant provided by the Office of the Assistant Secretary for Preparedness and Response and the U.S. Department of Health & Human Services to Oregon's hospital association. "Our system is designed to scale regionally, nationally and beyond if needed with the appropriate controls in place," Terry says.
So far, the system has allowed Oregon's hospitals to confine some painstaking analog processes to where they belong: the past. Before the pandemic, making decisions about critically ill Oregonians was a "telephone game," says Terry. If a clinician wanted to know which of the state's ICUs could support, for example, extracorporeal membrane oxygenation (ECMO) — a process where the blood of a patient whose lungs are not working is pumped through a machine that mimics the heart and the lungs — or find a free psychiatric bed within 90 miles, they rang round until they had an answer. Moreover, "the second you put that information into the system, it was outdated," Anderson says.
Terry says the new automated system takes just a couple of hours to install and doesn't collect any sensitive patient data. "It is more reliable and secure than the analog processes it replaces," he says.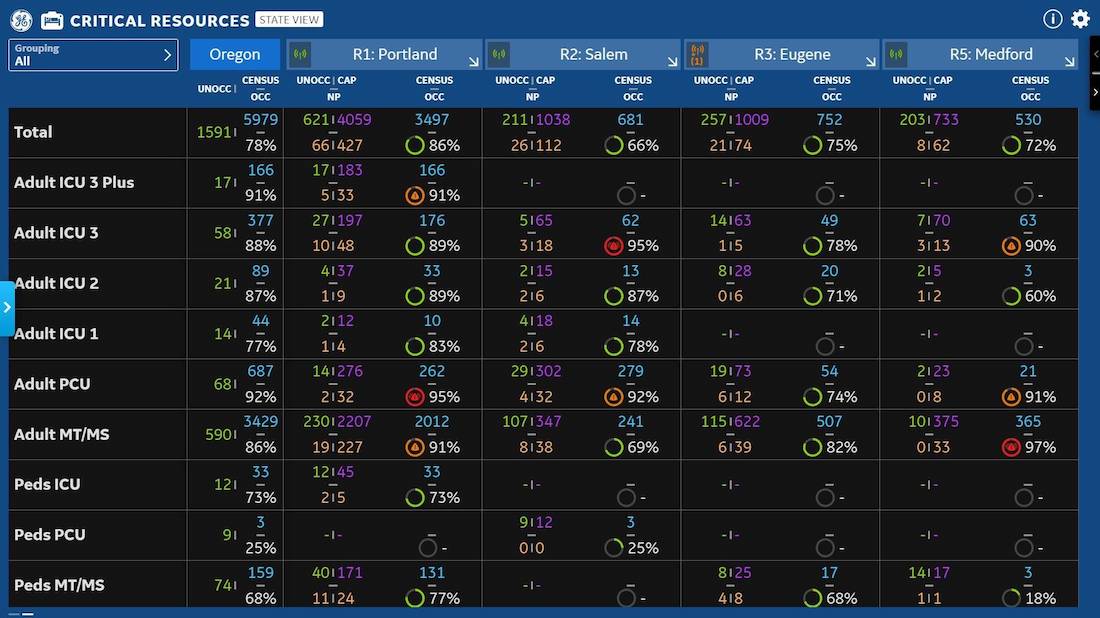 GE Healthcare engineers have spent the past 18 months fine-tuning the OCS with member organizations so it can match the right ICU bed to the right patient. Working alongside Oregon's intensive care physicians, the engineers grouped Oregon's ICUs into four buckets based on their capabilities. "It's not just about the number of ICU beds you have, because they're not all the same," says Terry. "It's how many ICU beds you have that can take a vented patient, or a patient with a tracheostomy [tube]."
Matching critically ill Oregonians with the right facility is crucial because of the state's size, larger than the entire United Kingdom. "There are vast expanses where it's six hours by car to get from hospital A to hospital B," says Terry.
The benefits of the OCS extend beyond Oregon. Providence Health has received patients from as far afield as Denver, Chicago and Calgary, Anderson says. "We know, in the instance that we are asked, if we have capacity or not, and about our future capacity," she says. Terry has his own miracle to share. He remembers how the app was used during the wildfires in the Pacific Northwest region last summer. As the fires came close, the OCS helped identify facilities with capacity to take ICU patients who were being evacuated from threatened hospitals.
Underpinning the statewide success is the collaboration and shared governance model run by Apprise Health Insights. Apprise has created an advisory group to help ensure that system is consistent across the state, gathers information from hospitals about ways to improve the system, and passes that wish list to developers. "We have learned a lot from COVID-19 and the gaps in the healthcare system with inaccurate data," says Andy Van Pelt, CEO of Apprise Health Insights. "We are proud to partner and bring this lifesaving asset to Oregon for an inside view of capacity across our healthcare continuum."
The OCS could help lighten a huge administrative burden for Oregon. Already, clinicians don't need to update spreadsheets two or three times per day, Terry says, saving the state's facilities up to 43,000 hours of human work per year, which could translate into millions of dollars of savings annually. Those productivity savings will increase as OCS expands through 2022. And the system could help improve hospital utilization rates where just a small increase can have a huge positive impact on the bottom line, explains Terry. "Moving that 'red line' up from 90% [utilization] to 95% takes a lot of cost out of the system," he says.
Terry sees challenges ahead, not least a reluctance among major healthcare providers to reveal capacity information publicly. But he is optimistic that Oregon's experience with sharing data, and a shared governance model like the one Apprise operates will help guide the discussion on how such data sharing can be managed to accommodate all parties. In fact, Terry is expecting other U.S. states could soon follow Oregon's lead.
Categories
tags