GE announced today what Chairman and CEO Larry Culp called a "defining moment," with plans to form three industry-leading, global public companies focused on the growth sectors of aviation, healthcare and energy.
"We're embarking on this exciting journey from a position of strength," Culp told investors today. "Over the last several years, our teams have done exceptional work, strengthening our financial position and operating performance, all while deepening our culture of continuous improvement and lean. We've made significant moves to transform GE into a more focused, simpler, stronger high-tech industrial company. And as evidenced by our recent performance, our transformation is accelerating and delivering results."
He shared that the company has a responsibility to move with speed to shape the future of flight, advance precision health and lead the energy transition, and that this plan is "the result of a thoughtful, deliberate strategic process by our board of directors and senior management team."
GE intends to spin off Healthcare to create "a pure-play company at the center of precision health," Culp said. That spinoff is planned to happen in early 2023. Next, GE Renewable Energy, GE Power and GE Digital will combine into one business "positioned to lead the energy transition," Culp said. GE plans to spin off that business in early 2024.
GE will then become "an aviation-focused company shaping the future of flight," he said. Culp will serve as non-executive chairman of the GE healthcare company upon its spin-off. He will continue to serve as chairman and CEO of GE until the second spin-off, at which point he will lead the GE aviation-focused company going forward.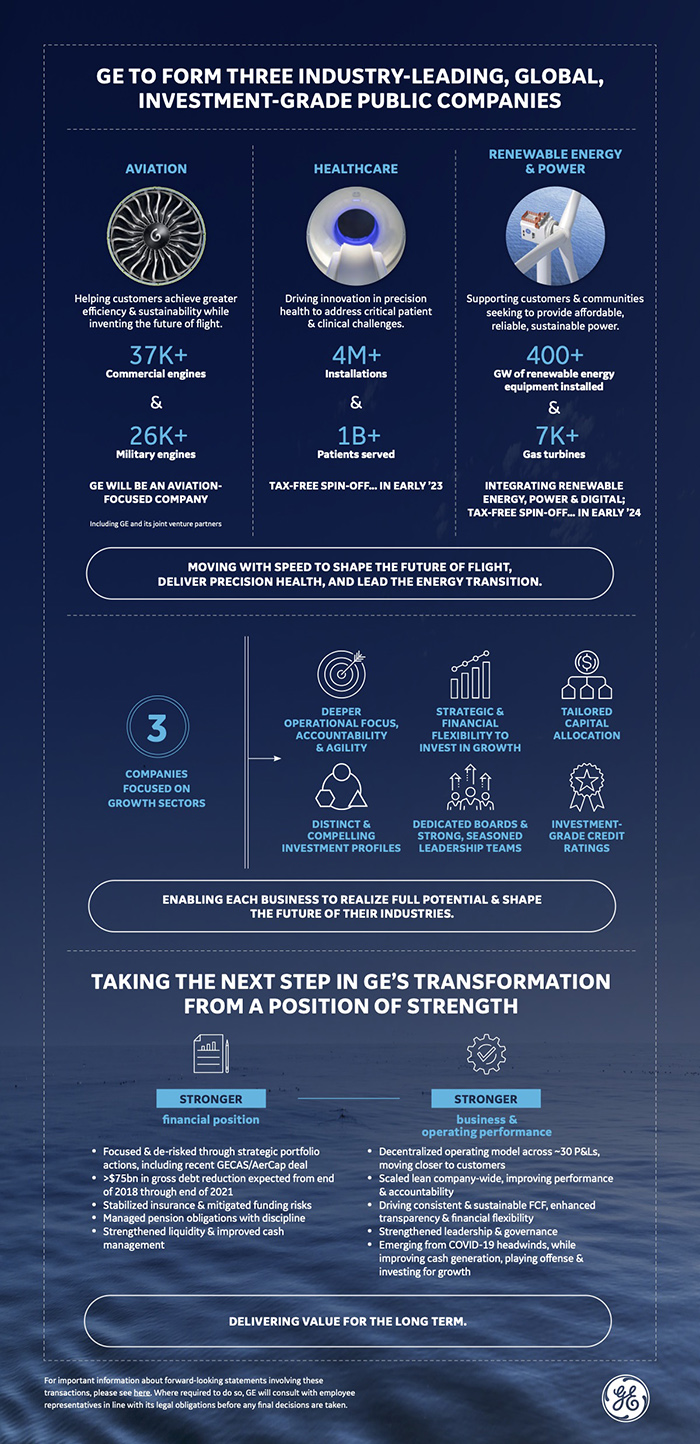 Following the spin-off transactions, the aviation-focused company will retain other assets and liabilities of GE today, including run-off insurance operations. Upon closing the GE Healthcare transaction, GE expects to retain a stake of 19.9% in the healthcare company to provide capital allocation flexibility. GE also intends that GE Healthcare will issue debt securities, the proceeds of which will be used to pay down outstanding GE debt.
Peter Arduini will assume the role of president and CEO of GE Healthcare effective Jan. 1, 2022. Scott Strazik, GE Power's current CEO, will be the CEO of the combined Renewable Energy, Power and Digital business, while John Slattery continues as CEO of Aviation.
GE is on track to reduce debt by more than $75 billion by the end of 2021 and is now on track to bring its net-debt-to-EBITDA* ratio to less than 2.5x in 2023. GE will also continue to drive operating improvements for sustainable profitable growth, and the company now expects to achieve high-single-digit free cash flow margins* in 2023. "As a result, GE is in a strong position to execute this plan to form three well-capitalized, investment-grade companies," the company said in a press release.
"For almost 130 years, GE has leveraged its DNA of innovation to build a world that works — solving the biggest challenges through our technological expertise, leadership and global reach," Culp said. "Operating each of these businesses as independent companies will enable them to realize their full potential, driving long-term growth and value for all stakeholders."
For important information about forward-looking statements, please see here.
*Non-GAAP financial measure
At top: A CFM56 engine, produced by CFM International, a 50-50 joint company between GE and Safran Aircraft Engines. Image credit: CFM International.
Categories
tags