While the world awaits a treatment or a vaccine for COVID-19, the disease caused by the novel coronavirus, it is operating in damage-limitation mode, commonly known as "flattening the curve." That mode involves protective measures such as social distancing and stay-at-home orders. The approach can help governments maximize the availability of precious healthcare resources including intensive care beds and ventilators, and save lives.
Social distancing isn't new, but the world hasn't needed it on a global scale for more than 100 years. During the 1918-19 flu pandemic, cities including Portland, Oregon; Seattle; and Omaha, Nebraska, rolled out similar measures that not only flattened the infection curve but also sped up their economic recovery, according to researchers. But a century later, hospitals have new tools at their disposal to help them lessen the patient load.
Once again, it's the Pacific Northwest showing the way. Some 64 of the hospitals in Oregon — approximately 90% of the state's beds — have teamed up to roll out a software application using artificial intelligence to help maximize lifesaving resources such as ICUs, ventilators and negative pressure beds. Working in the background, algorithms developed by GE Healthcare gather and analyze the millions of data points generated by the hospitals and turn them into real-time operational insights. The idea is that the system, called Oregon Capacity System, based on GE Healthcare's Critical Resource Tile, allows the hospitals to dynamically share critical resource information during the peak of the COVID-19 pandemic. The software application has become a part, or one Tile, in a mosaic of applications that already power digital command centers that GE Healthcare built for hospitals in the U.S., Canada and Europe to help optimize their operations.
"It connects data from Oregon's network of hospital systems," Jeff Terry, chief executive of GE Healthcare's clinical command centers, said about the new software. "We are doing this across many hospital networks, with many EMRs, in near-time, always live."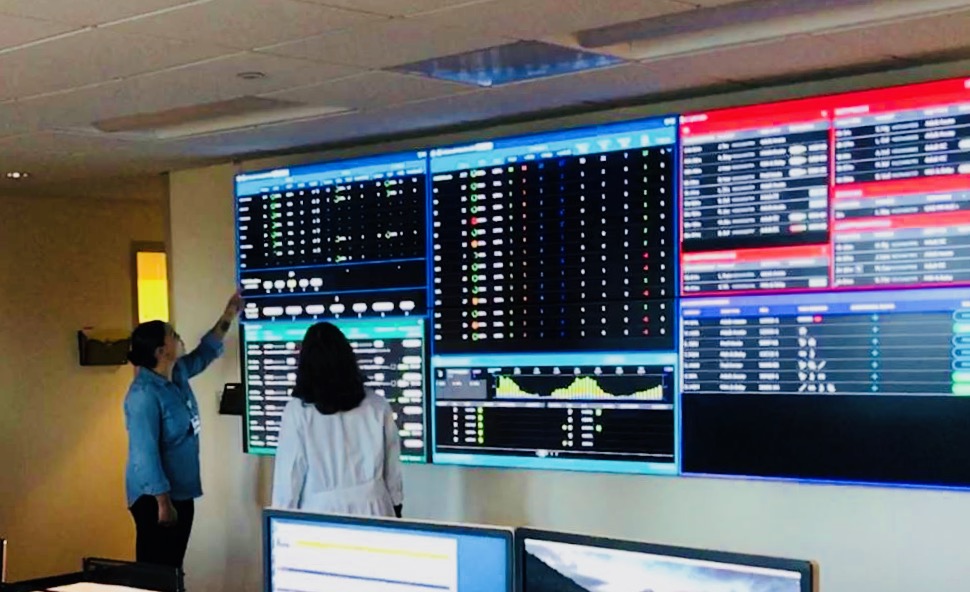 Some 64 of the hospitals in Oregon — approximately 90% of the state's beds — have teamed up to roll out a software application using artificial intelligence to help maximize lifesaving resources such as ICUs, ventilators and negative pressure beds. Top image credit: Getty Images. Above: OSHU.
Terry says in "normal" times, Oregon hospital systems operate in relative isolation from each other. There's even healthy competition. "But these are extraordinary circumstances," he says. "And that has caused the hospitals and GE Healthcare to innovate at great speed to help respond to COVID-19."
The sheer scale of data involved in this assault on COVID-19 is staggering. The "Tile" corrals 2 million data points per day from the state's hospital networks, updating 480 times daily, or once every three minutes, with a fresh batch of data. "That data is created through the providers' normal practices of care," explains Terry, reeling off a list of data streams. "Admissions, patient movements, nursing flows, patient intubations and extubations, ventilator usage, bed requests," he trails off.
When algorithms are put to work on this data, something amazing happens. "It connects various signals and intelligence, and boom, gives you an output that's beautifully organized," says Terry. "We see patient load across ICUs, negative pressure rooms, vents, etc."
Terry says that despite its sophistication, the software "is no harder to use than" common ride-hailing apps. The information is always live, simply organized and intuitive to navigate, allowing users — whether they are clinicians or healthcare authorities — to keep abreast of constantly changing circumstances. "It's easy for clinicians to instantly see where the hot spots and excess capacity are across the whole network," he says.
Users can see the application in each hospital's incident command center, and they also can pull it up on a PC, tablet or smartphone. They can view the data as summaries to get a big-picture view of the status of COVID-19 patients across their health system or in Oregon's 64 participating hospitals — or drill down to an individual hospital's situation.
"Seeing various health systems coming online and displaying in mission control is pretty awesome," says Dr. Matthias Merkel, chief medical capacity officer at Oregon Health & Science University in Portland.
Merkel says one of the biggest challenges for healthcare providers now is "flying blind" — not knowing, for instance, where a suitable bed is available, while simultaneously rationing their own limited resources. "Having real-time visibility of the bed status by region and health system will be a major benefit," he says. "[It is] a silver lining in these times of uncertainty and hopefully something which will survive COVID-19."
In addition to the Oregon Capacity System, GE Healthcare has also rolled out another new application, the Infectious Disease Tile, which is being used at more than 100 hospitals worldwide. Think of a screen displaying the live scores of several baseball or cricket games occurring in parallel, and you have a good idea of the Tile, which is split into four main sections, or quadrants. They show the patient load by hospital unit, a tally of critical-care beds for the most critical patients, the sanitary status of those beds and a running total of COVID-19 patients, which is broken down by their testing status. This helps caregivers to ensure COVID-19 patients are in the nursing units designated for that purpose, to create capacity when needed, and to load balance between units and hospitals. All in real time.
Besides providing better situational awareness, the system can help provide a kind of early warning. For example, the software can deduce when a patient has returned a positive test but is not in an isolation-capable bed or COVID-19 target unit, and it will then alert clinicians to take urgent action, enabling the protection of other healthcare workers and patients.
These kinds of actionable insights are vital to keep pace with COVID-19. "It is constantly connecting the dots, alerting to risks and making suggestions where the system can create capacity," Terry says. "And it's so important that these tools are real-time or near-time, so caregivers can dynamically manage the situation with actionable data."
The Oregon system is an improvement on more traditional reporting systems, which often rely on manual data input and update once or twice per day. "Before, hospitals would tell the state government that 'I have this many patients in my ICUs,' " explains Terry. "That can be a fragile system because somebody can forget to report or issue a wrong number."
GE Healthcare teams are racing to install the software applications at the Oregon hospitals and elsewhere. "We have an army of people who are achieving things in a matter of hours that usually take weeks," Terry says. Last week, the command center team had a dawn conference call with hospital executives from a large east coast U.S. health system hospital to kickoff deployment of their COVID-19 Tiles. "The first steps were done by lunchtime."
Terry says one hospital in Oregon was initially skeptical about the speed of software installation. "They called us later to say that their IT team did it in a matter of minutes."
Any hospital in the world can make use of the software, provided they have a digital IT system. The software is installed remotely and involves minimal effort for a hospital's IT team.
Terry says GE Healthcare staff are proud to be playing a role in helping flatten the COVID-19 curve. "It's involved GE Healthcare and hospital staff pulling together to best help serve caregivers."
Categories
tags