The coronavirus pandemic was first and foremost a healthcare crisis, but it touched every corner of the world and every sector of the economy — and drew millions of people together in the effort to turn the tide. Across GE, factories ramped up to manufacture ventilators and patient monitors needed in clinical settings to treat patients suffering from COVID-19; technicians found themselves driving halfway across the U.S. to lend their expertise; in Italy, sales managers pitched in as volunteer ambulance drivers; and aviation plants in England were rapidly stood up to produce monitors instead. Here are just a few of the ways in which GE workers worldwide joined the fight.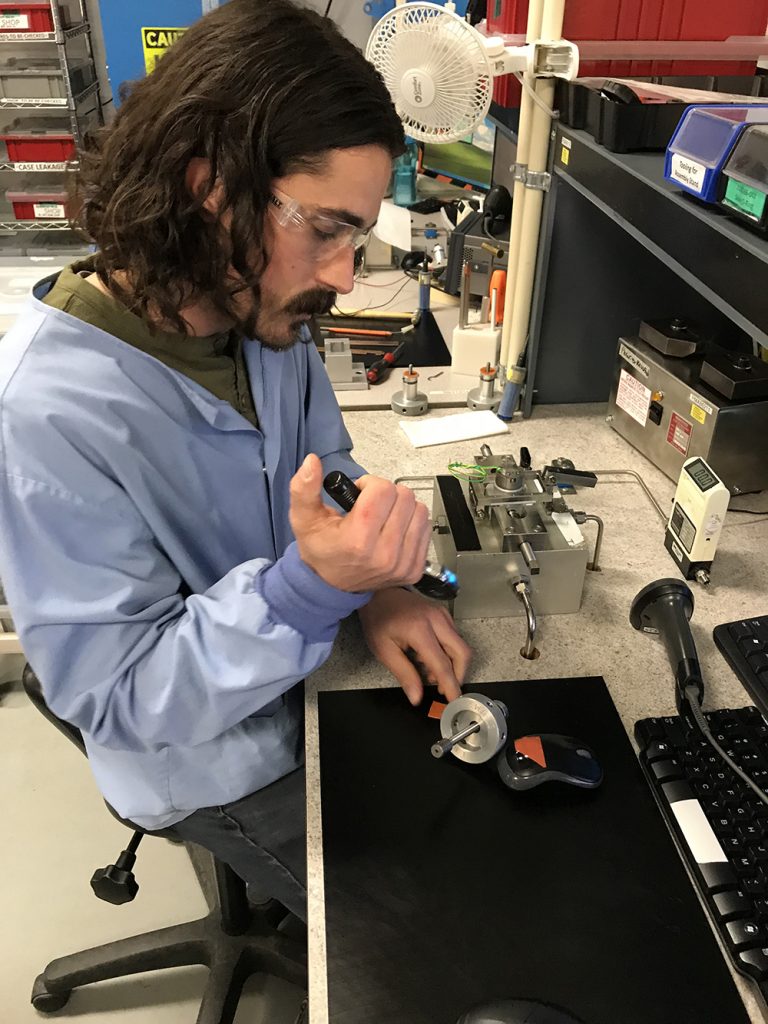 Tyler Vermey has been called the "valve guru" because of his intricate knowledge of the ventilator parts that regulate oxygen and airflow in and out of a patient's lungs. He got his start at GE Healthcare in 2016 after graduating from the University of Wisconsin-Madison. Image credit: GE Healthcare.​​​​​
At home in Salt Lake City in March, Tyler Vermey got an urgent weekend call from his boss. Some 1,400 miles away in Wisconsin, a GE Healthcare factory was gearing up to increase its production of ventilators, a crucial tool in the fight against COVID-19. Vermey's help was needed: He has such a formidable knowledge of ventilator valves — a key part of the machine — that he's been called the valve guru. Some 100 extra workers and volunteers had flocked to the Madison plant. When Vermey got the call, he knew he would join them.
Vermey, his wife, Krista, and their dog, Bruno, piled into the car and drove those 1,400 miles to aid in the fight, encountering an earthquake before the trip and a blizzard along the way. They finally made it to Wisconsin three days later. Back at his old stomping grounds, Vermey — who normally works on X-ray machines for GE Healthcare in Utah — shared his skills with colleagues who'd come together for a common cause, acting as a teacher, quality-control expert and all-around troubleshooter. "This is definitely a marathon and not a sprint," he said. "So I am trying to make sure I transfer my knowledge as best I can."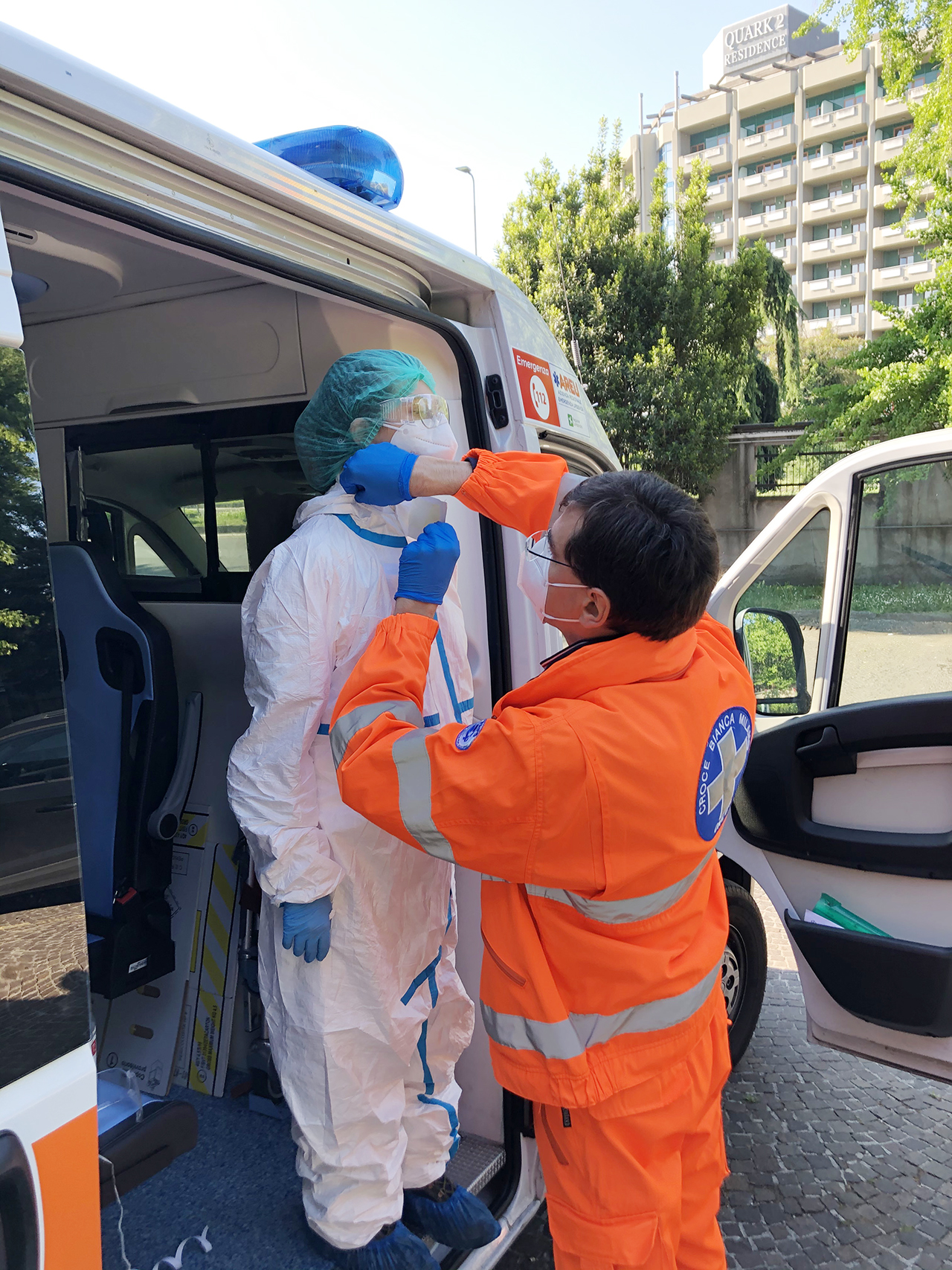 The need for protective gear meant that patients couldn't see Alberto De Monte's smile — but they felt his reassurance nonetheless. Top and above images credit: GE Healthcare.
For centuries, Italy has relied on dedicated volunteers to help its ambulance corps during nights and weekends — and for the last 20 years, one of those volunteers has been Alberto De Monte. By day De Monte is a sales manager for GE Healthcare in his hometown of Milan. But volunteering in the ambulance corps, including as a driver in the last decade, has given him another kind of healthcare education: "I have been exposed to stories of poverty that, if I didn't do this kind of service, I would never see," he said. Still, nothing could prepare De Monte for what he witnessed in 2020, as Italy was rocked by the COVID-19 pandemic.
As casualties rose, doctors and nurses at Milanese hospitals fought to save as many of De Monte's neighbors as they could — and De Monte, tasked with getting those neighbors to the hospital, played a crucial role in that fight. But first he had to protect himself and his colleagues. "It's not like going to a big car crash where you have the evidence of what is happening," he said. "Here you must operate as though everyone is a possible COVID-19 patient. You need to take care of yourself." Face masks and other protective gear meant that those riding in De Monte's ambulance couldn't always see his reassuring smile — but they felt his warmth anyway.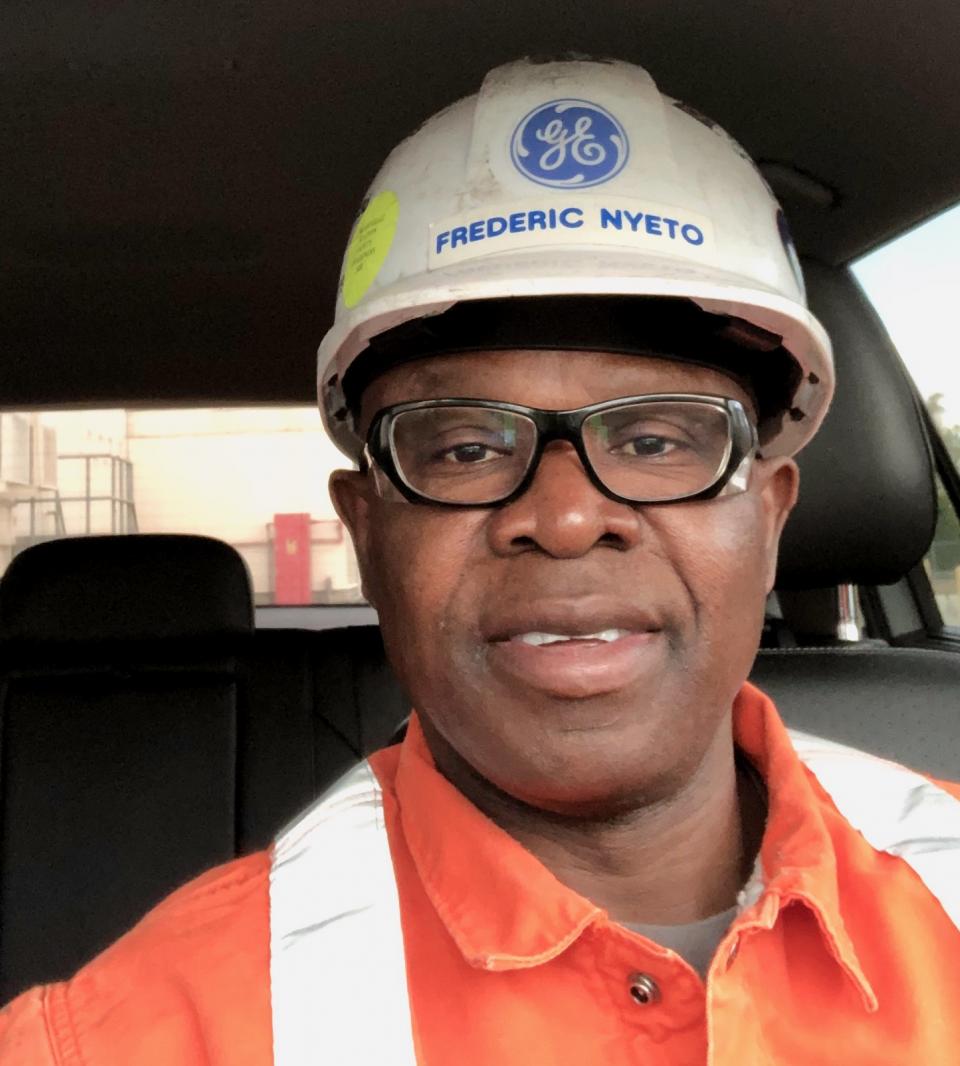 Over four weeks, GE Grid Solutions service technician Frederic Nyeto drove from British Columbia to Washington state, then Atlanta and back to Arizona — some 5,000 miles in all. Image credit: Frederic Nyeto.
Frederic Nyeto had always dreamed of taking a road trip across the United States, and this spring he got his chance — sort of. As a five-year veteran of GE Renewable Energy's Grid Solutions service team, based outside Montreal, Nyeto often travels to handle planned repairs on power plants. In March, his supervisors were looking for a technician to perform vital maintenance on massive circuit breakers at a few sites in the U.S. But the circumstances were out of the ordinary: Because of the coronavirus, that technician would have to travel solo and practice social distancing measures. Nyeto raised his hand.
Thus began his great voyage. Flying to the Pacific Northwest, Nyeto rented a car and proceeded to drive 5,000 miles across the country, through 21 states. Going this way and then that, he started at a hydroelectric plant in Chelan, Washington, and then on to a generator in need of repair in Atlanta, and then back again toward Tempe, Arizona. It was a lot of time in the car and hotels outside of city centers, a lot of plastic-wrapped fruit and veggies from various local groceries. But, Nyeto said: "Boring? Certainly not! It is almost a dream to travel across these vast stretches of western and eastern United States. All these long straight roads, which seem to go on forever, allowed me to discover other facets of rural America. It's a wonder. It's almost like a fairy tale."
Carlos Jimenez realized in March that he could no longer bear to watch the suffering that had enveloped seemingly every aspect of life. "I would move boxes or whatever else I needed to do," he says. "I wanted to go to the trenches and do my part." Images credit: Carlos Jimenez.
When the father of his closest friend died of COVID-19, Carlos Jimenez decided he needed to do more to fight the pandemic. "I wanted to go to the trenches and do my part," he said. In his case, the trenches were IFEMA, the largest fairgrounds in Spain, which were being converted into a makeshift medical center. That's where Jimenez wound up volunteering his time. As an executive account manager for GE Healthcare in Spain, Jimenez had overseen various medical equipment installations, and at IFEMA his task was similar — but on a much tighter time frame. And there were some logistical challenges to overcome.
Becoming familiar with IFEMA — a capacious campus of nearly 2.5 million square feet — Jimenez saw that life-saving equipment, like ventilators, was scattered throughout the facility, making it time-consuming to track it down. So he applied a lesson learned at his day job: The philosophy of lean, a system of continuous improvement that occupies an honored place in manufacturing and business operations and is now at the heart of GE's turnaround. Jimenez and colleagues got to work taking inventory and organizing the place, and began to see results within days. "That was the most gratifying thing to see," Jimenez said. "It was not just implementing order for the sake of order, but eliminating any undue stress on clinicians."
Categories