The severity of COVID-19 grew chillingly real for Carlos Jimenez by the third week in March, when it claimed the life of the father of his closest friend, a man he had known and revered since he was a teenager. It was then that Jimenez, a 41-year-old resident of Madrid, Spain, realized that he could no longer bear to watch the suffering that had enveloped seemingly every aspect of life. "I would move boxes or whatever else I needed to do," he says. "I wanted to go to the trenches and do my part."
But another close friend, José Pérez Blanco, wanted more from him than moving boxes. As director of a major hospital outside of Madrid, Blanco was responsible for setting up a makeshift COVID medical center at IFEMA, the largest fairgrounds in Spain. IFEMA spans nearly 2.5 million square feet — roughly as large as 32 soccer pitches — and would be used to treat the overflow of patients from the region's hospital system. As an executive account manager for GE Healthcare in Spain, Jimenez had overseen various medical equipment installations for Blanco's hospital. Now Blanco wanted him to do something similar at IFEMA — but on a much tighter schedule.
Jimenez quickly realized that he couldn't help Blanco while also doing his day job. So he requested to take off all his upcoming vacation time for 2020 at GE Healthcare, as well as unused days from last year. And on March 28, his vacation began.
The marching orders for his new job were short and clear, Jimenez says: "I was told: 'People will reach out to you with needs. Your duty is to meet those needs. If you are unable to do so, you must find someone who can.'"
He started by touring the facility, which comprised three pavilions with additional ones set up for storage, logistics management and food services. The COVID center was designed to handle a lot of patients, with one of the larger pavilions possessing 750 beds and enough equipment to treat up to 1,350 patients. The problem was that important life-saving equipment, such as ventilators, electrocardiograms (ECG) and monitors, were scattered throughout the facility, making them difficult and time-consuming to locate. "It was clear to me that people did not have what they needed when they needed it," says Jimenez, who once located an ultrasound device hidden behind boxes of bandages.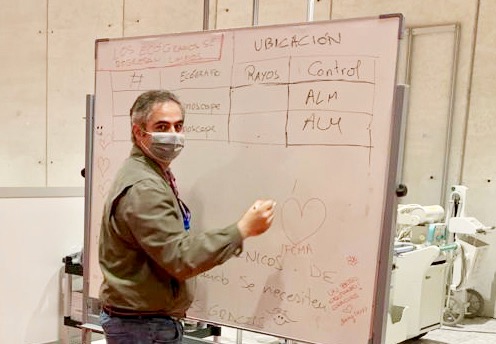 Carlos Jimenez realized in March that he could no longer bear to watch the suffering that had enveloped seemingly every aspect of life. "I would move boxes or whatever else I needed to do," he says. "I wanted to go to the trenches and do my part." Top and above images credit: Carlos Jimenez.
Jimenez realized that it was time to get "lean" at IFEMA. Lean management is a system of continuous improvement used throughout GE's businesses. It focuses on boosting production efficiency by reducing waste and creating more value with fewer resources. For the staff at IFEMA, that meant having critical equipment on hand when they needed it most. So Jimenez and his team began taking inventory, scouring every inch of the medical facility to hunt down ventilators, ECG systems and other technology.
They moved the gear to storage areas placed in front of each nursing station, arranging each item on shelving or carts. "That way people could raise their heads and see what was available," says Jimenez. Next they standardized how to store each machine, such as always placing rarely used equipment on the bottom shelf below eye level. To keep track of their equipment, Jimenez set up old-school chart boards for inventory all over the hospital, requiring healthcare workers to check the equipment in and out.
As anyone who has ever organized a closet knows, well-ordered spaces can quickly fall into disarray. To avoid this fate, Jimenez and his team set up visual cues that walked people through storing equipment properly. They lined the floors with tape to demarcate where each machine belonged, posted simple pictures of the proper setup and slapped what Jimenez describes as the "biggest, ugliest" red inventory numbers on each piece of equipment to easily spot its whereabouts. Within a few days of the new measures being put into place, the number of broken machines dropped by 98%, and caregivers were able to deploy critical equipment within minutes. "That was the most gratifying thing to see," says Jimenez. "It was not just implementing order for the sake of order, but eliminating any undue stress on clinicians."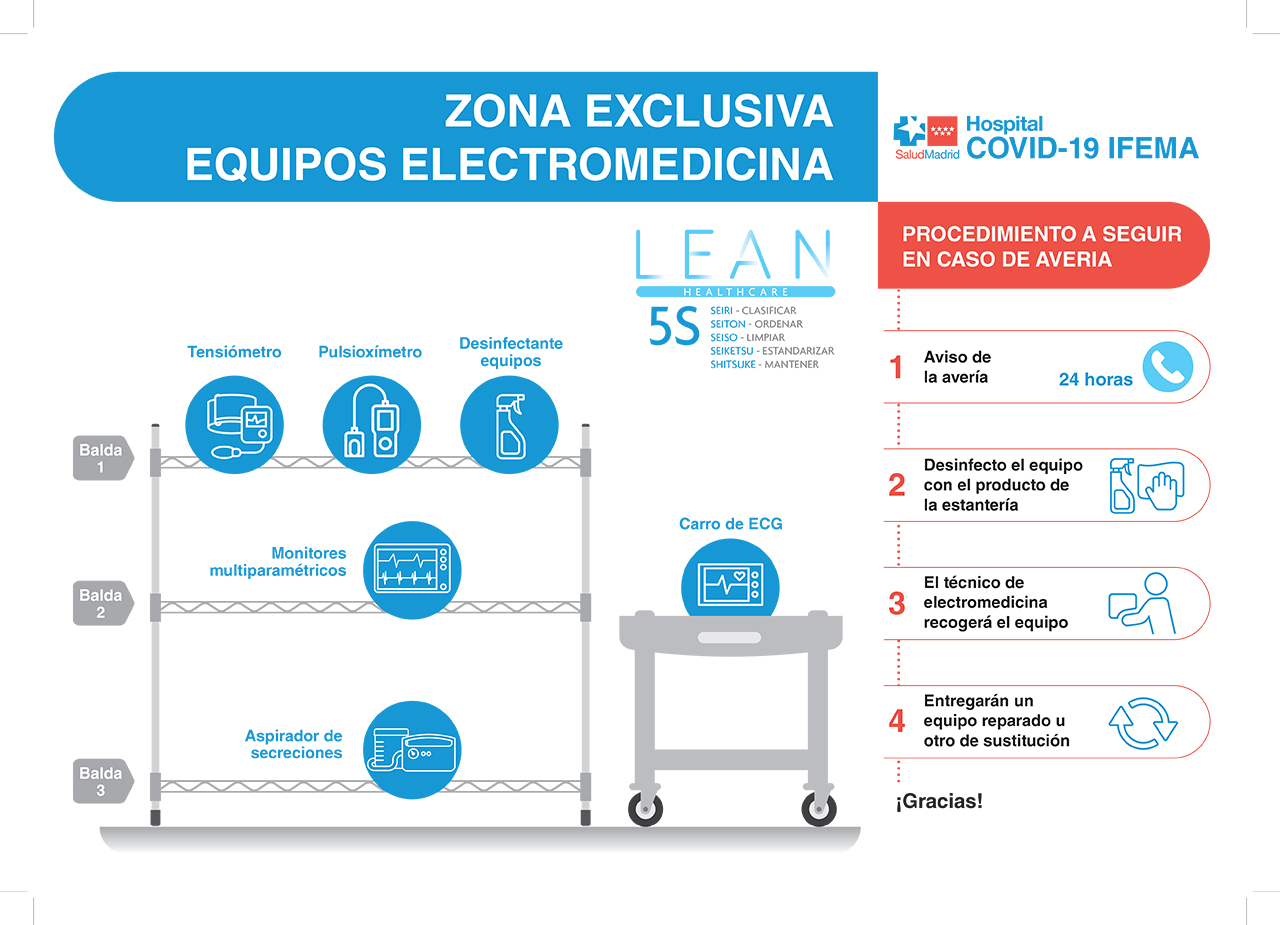 Jimenez and his fellow volunteers used lean management to make sure that the staff at IFEMA had critical equipment on hand when they needed it most. Image credit: Carlos Jimenez.
On May 1, IFEMA discharged its last patient. The hospital had treated almost 4,000 people in 40 days, housing 1,300 at the outbreak's peak. But rather than pausing to acknowledge their hard work, the hospital staff and its volunteers spent the next week figuring out a strategy to quickly relaunch the facility if another outbreak arises. Jimenez is hoping those exercises will be unnecessary. But that didn't stop him from helping the staff to formalize the lean storage system.
In the meantime, he returned to GE in early May with a deeper understanding of what is needed to operate efficiently in an emergency. Jimenez is already discussing ideas for using visual cues in future projects. However, what he talks about most is the inspiring people he met at IFEMA. Whether it was workers from competing medical gas companies who came together to install piping for oxygen or military officers helping engineers lug around heavy machinery, Jimenez marvels: "The entire time, I saw people coming here and working 24 hours, not willing to go back home and not asking to be paid."
People like him.
Categories
tags