For the last 20 years, Alberto De Monte has spent much of his free time driving an ambulance through the picturesque streets, avenues and back roads of his hometown of Milan, Italy. During nights and weekends, the GE Healthcare sales manager has helped care for victims of car accidents and fires, and even people trapped in collapsed buildings. Yet not even these disasters prepared him for the task he faced this spring when the coronavirus descended upon Italy, infecting 238,000 and claiming the lives of more than 34,000 as of June 22, according to The New York Times.
Doctors and nurses were fighting to save his neighbors at the hospital, but first De Monte had to get them there safely. And that meant banning family members from climbing into the ambulance with their loved ones —not knowing when they would see each other again — to minimize the risk of spreading the infection. "I am used to seeing the pain of the patient," he says. "Now I see pain of relatives because they have to stay at home and cannot come with us." The chain of victims linked to each COVID-19 patient seemed endless.
While De Monte has developed a knack for staying calm and providing comfort to people — usually by glancing back at them with a reassuring smile as he drives — he found the task of helping COVID-19 victims difficult at first. "It's not like going to a big car crash where you have the evidence of what is happening," he says. "Here you must operate as though everyone is a possible COVID-19 patient. You need to take care of yourself." Also, protective goggles and face masks precluded him from making meaningful eye contact or sharing his trademark smile.
And smiling was a lot to ask anyone in Milan during those days. The streets were eerily still, void of fashion designers seeking inspiration, businesspeople walking with purpose or tourists searching for ancient sites. Oddly enough, the absence of traffic also cleared Milan of pollution, creating the most intensely blue skies De Monte had ever seen.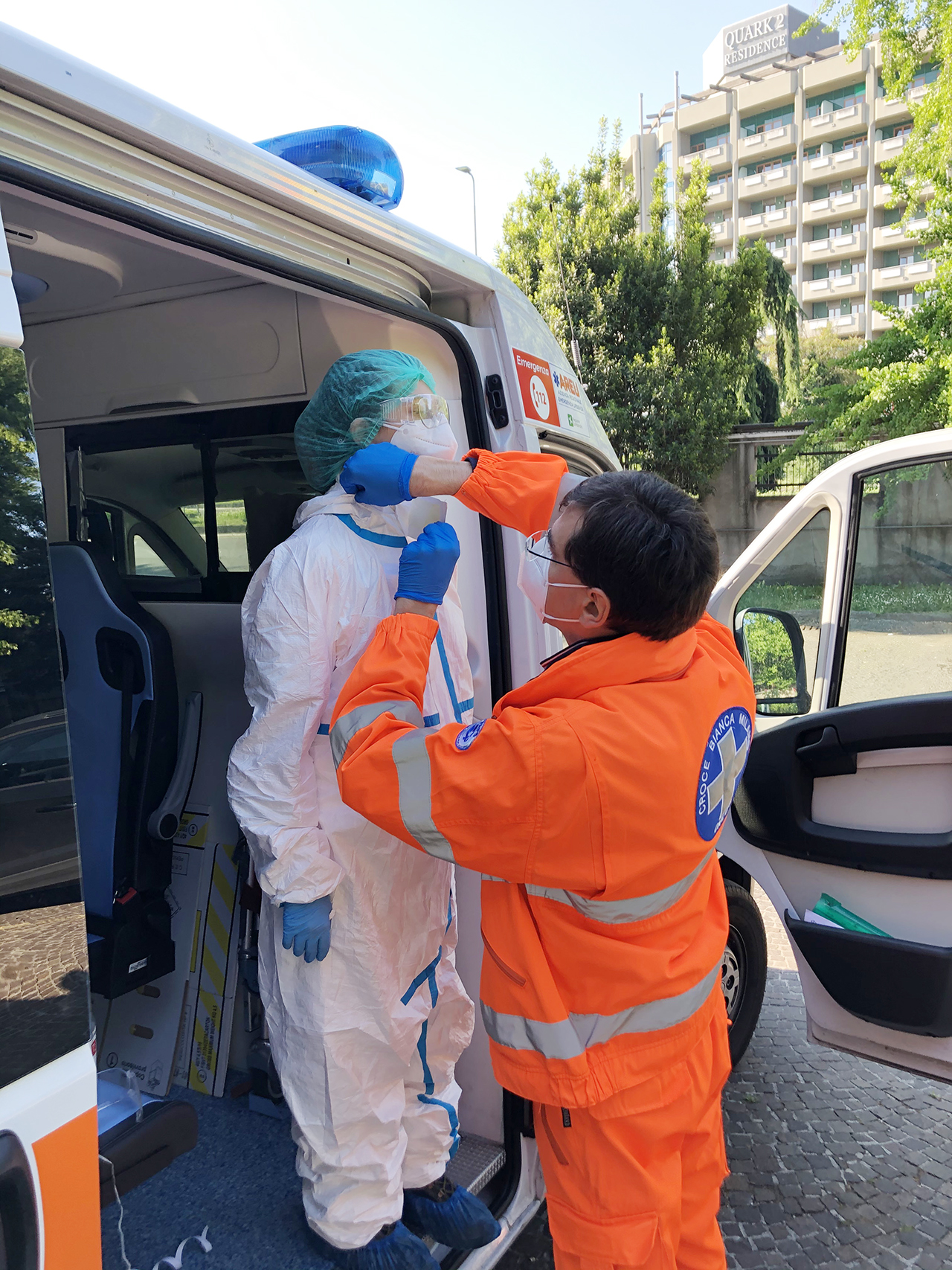 At the hospital, COVID patients were rushed through a separate entrance into an isolated section of the emergency room, leaving a second route for other patients. Inside, things were even more shocking. "It was crazy the number of deaths that we were seeing in the emergency room," says De Monte. "It was really unbelievable."
For centuries, Italy has depended on a team of dedicated volunteers to help its ambulance corps during the nights and weekends. De Monte joined as a university student to experience other parts of his city and spent his free time riding along and observing the crew. After completing a yearlong certification program for emergency care, he eventually worked his way up to team leader. In 2010, he added driver to his volunteer job title, though he continues to serve as team leader as well. To De Monte, the experience has provided him with an invaluable education in the struggles many of his fellow Milanese face regularly. "I have been exposed to stories of poverty that, if I didn't do this kind of service, I would never see," he says.
Yet nothing prepared De Monte for what he's witnessed in 2020. And he has certainly been afraid at times — for himself, for his family and for his country. But he kept showing up at the ambulance dispatch center. "You do feel fear, but also a feeling that you can be part of the solution," he says. "When you receive a call and see how many people are part of the solution, you don't think. You just do." And that is the very definition of a hero.
Categories