Tyler Vermey knew something was happening when his boss called on a Sunday. The engineer, who was relaxing at home in Salt Lake City with his wife, Krista, and their beloved springer spaniel, Bruno, doesn't get many weekend calls from his manager. "I was caught a little off-guard," he admits. But his boss had an urgent message: Vermey was needed at GE Healthcare's manufacturing plant in Madison, Wisconsin — pretty much immediately.
Vermey had some idea why. The Madison factory, which makes ventilator machines, was gearing up for a huge production boost as the fight against COVID-19, the disease caused by the novel coronavirus, reached global dimensions. Vermey has formidable knowledge of ventilator valves, the vital components that regulate the oxygen and airflow in and out of a patient's lungs. In fact, he knows so much about these precision components, he's been called "the valve guru."

"While we attempt to automate parts of the process, there's a certain amount of expertise and hands-on experience that is so valuable in making valves," says Mark Goyette, general manager of Life Care Solutions (LCS) Operations at GE Healthcare. "Tyler was the manufacturing engineer in that area for many years. He knows the test equipment, the intricacies of assembly and the fine details of what to look for. He's the perfect person to help train the second and third shift."

Vermey is now safely situated in Madison, but his 1,400-mile journey from Utah to Wisconsin is already the stuff of legend with his colleagues at GE Healthcare. The morning of Wednesday, March 18, the day before he was set to fly to Madison, a 5.7 magnitude earthquake struck the Salt Lake City area. It was the strongest quake in decades: "That was an experience — I felt it pretty significantly," Vermey says. "It must have lasted 15 seconds, but it felt like a few minutes." He and Krista grabbed Bruno, who is paralyzed, and dashed outside to safety. Vermey took it as a sign. "We decided to drive to Madison as a family," he says. "We packed up and got out of the house."

But Mother Nature wasn't finished with them yet. The Vermeys had decided to split the 20-hour journey to Madison — which stretches across all of Wyoming, Nebraska and Iowa — over two days, starting Wednesday morning. But that plan was scuppered Wednesday night, when they hit a massive snowstorm near the Wyoming-Nebraska border. "It was like nothing I had ever seen before," Vermey says. They stopped at the next town to escape the whiteout and spent Thursday in a hotel room while it blew through.

Team Vermey finally made it to Madison just before dawn Saturday, after three full days on the road. "I felt like Bruce Willis in 'Armageddon,'" jokes Vermey. It's a fair comparison to the 1998 movie: Willis plays an ordinary guy with extraordinary expertise (deep-sea drilling) who ends up making the difference.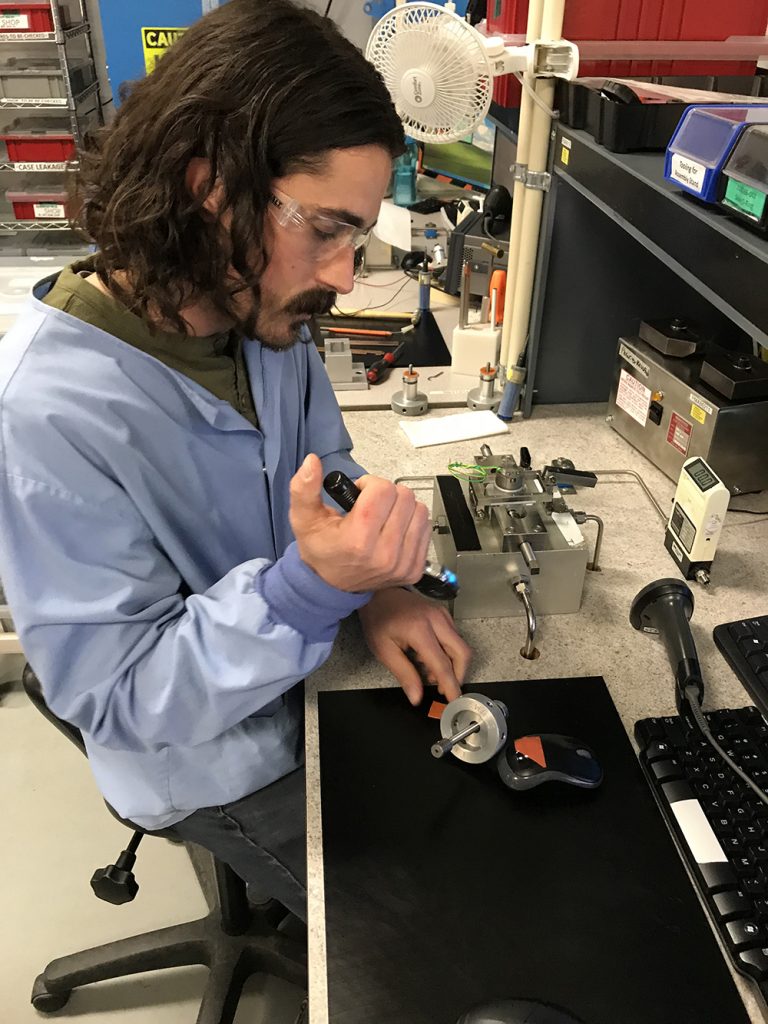 Tyler Vermey has been called the "valve guru" because of his intricate knowledge of the ventilator parts that regulate oxygen and airflow in and out of a patient's lungs. He got his start at GE Healthcare in 2016 after graduating from the University of Wisconsin-Madison. Top and above images credit: GE Healthcare.

In more normal times, Vermey works at GE Healthcare in Salt Lake City, supporting the production of components that help sharpen X-ray images. But he also knows ventilator valves inside-out and back to front. After graduating from the University of Wisconsin-Madison, Vermey joined GE Healthcare in the summer of 2016, just as the company was bringing its valve production in-house. The ensuing six months was a crash course in valve procurement and production. Vermey says he quickly learned the names of all the suppliers and their products, and more than a thing or two about the science of valve manufacturing. Along the way, he started to understand the intricate valves and their unique quirks.

Valve production is complex and requires careful calibration. "It's tough to put into words," the guru says, then launches into a detailed technical description of the two-inch, high-flow ventilator control valve for the machines Madison is pumping out around the clock.

This valve has four main components, Vermey explains: the nozzle, seat, bellows and armature. Each part is precision-made to within a tenth of a millimeter — about the width of a human hair. This allows regulation of airflow to and from the patient as required.

Mixed materials add to the complexity. While the housing of the flow control valve is made from aluminum, the nozzle and seat, which are manufactured together to work as a pair, are made from steel. "We use a special crystallized slurry to get the nozzle and seat to a certain surface finish," Vermey says.

Once Vermey and his fellow ventilator experts check the parts, it's time to assemble the valve. The process includes a tricky step called "nozzle-jacking": "You insert a special rod into the nozzle and hit it with a hammer until you feel it go in." It's not easy to articulate how he knows the rod is set, Vermey says. "I just know."

These delicate operations all take place in the controlled environment of the valve room. About the size of a two-bedroom New York City apartment, it uses humidifiers to maintain moisture levels and air monitors to measure measure particle concentration. "If tiny pieces of debris get in the valve, it will affect how it functions," Vermey explains. "That's why everyone wears a smock." The valve room is windowed off from the production line, so each side can see the other in action.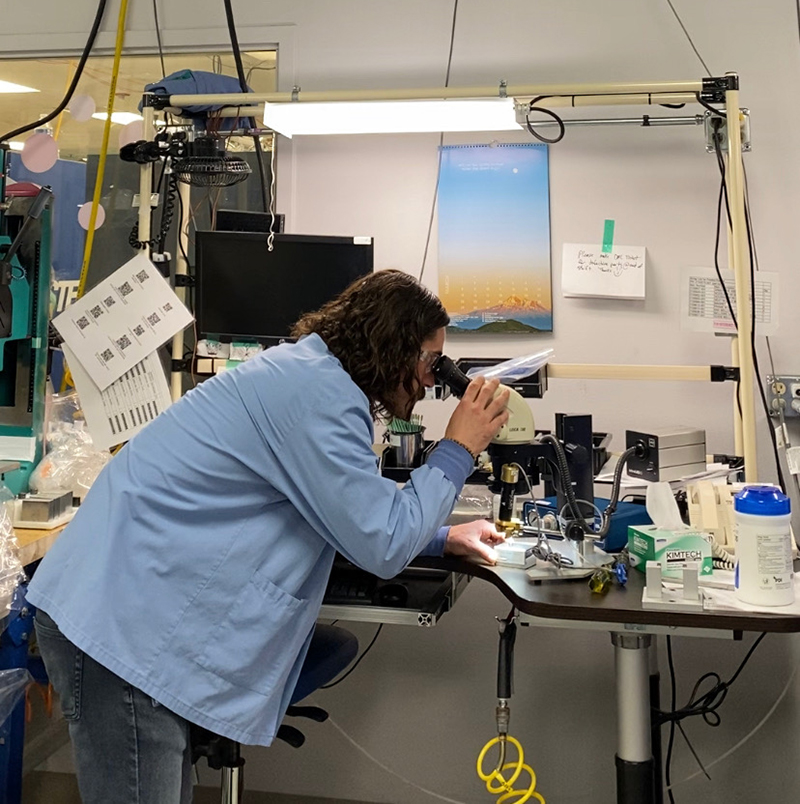 Some 100 extra workers and volunteers have shown up in Madison in recent weeks to join the ventilator-production effort. Vermey, who normally works on X-ray machine components in Salt Lake City, acts as a teacher, a quality-control expert and an all-around trouble-shooter. Image credit: GE Healthcare.

Vermey is now working seven days a week on a newly staffed third shift from 11 p.m. to 7 a.m., but he isn't zeroed in on assembly all night. He wears three hats in the valve room: teacher, quality-control expert and all-around trouble-shooter. A typical shift sees him bouncing between the room's work benches to share his expertise with shift workers, some of whom are old friends. "I already know many of the volunteers from my time in Madison, so it's nice to come back and see some familiar faces," he says.

"People [like Vermey] want to do whatever they can to help to improve lives in moments that matter," says Goyette, the Life Care Solutions general manager. "He's the perfect person to train up others even as production continues in the background. He knows the test equipment, the intricacies and fine details of assembly."

Indeed, Vermey is one of 100 added workers and volunteers who set aside their normal lives to converge on the factory floor in Madison. These paperwork prodigies, assembly-line ninjas and component gurus all bring something to the table. "We've got engineers, product workers from different factories, retired people, materials specialists, shop supervisors," Goyette says. "It's phenomenal to see [these] men and women coming together like this."

The Madison factory's usual workers are also pulling out all the stops: Goyette mentions Michael Ferris, a veteran manufacturing engineer who has put in long hours in recent weeks, and Jimmie Beacham, a supply-chain chief who has been instrumental in beefing up Madison's capacity. Their efforts have helped to double capacity of ventilator production at the factory since the outbreak of COVID-19, and they plan to double it again by the end of June.

Under his watch, Vermey's friends and colleagues are quickly mastering valve production. Material handlers deliver the finished article to the main production line, where it meets all the other components of a ventilator: the base metal plate, circuit boards, ventilation engine subsystem, software, tubing, a touchscreen display and other electrical fittings.

It's a process that will be repeated several thousand times in coming weeks. But Vermey, the man who drove 1,400 miles to do his part, isn't afraid of the long haul: "This is definitely a marathon and not a sprint, so I am trying to make sure I transfer my knowledge as best I can." In the meantime, the valve guru is grateful for Bruno and Krista. "She's given up what she's doing so I can come and do this," he says. "I can't thank her enough." And just like that, he heads back to the valve room.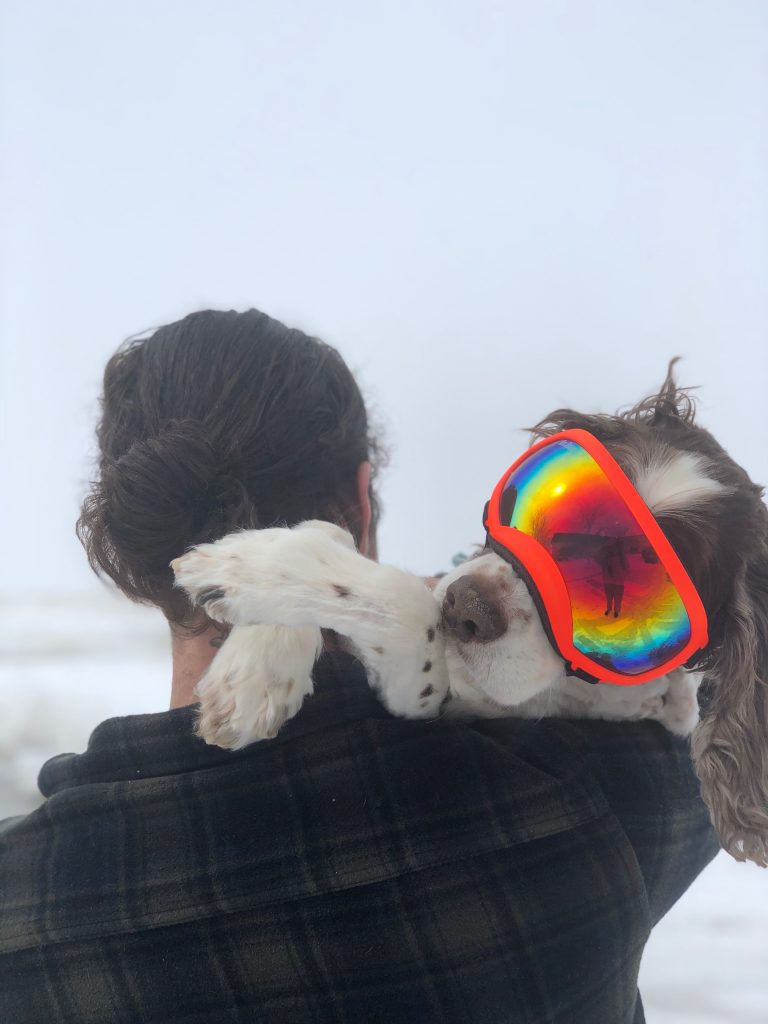 Categories
tags