One afternoon in July at the Oshkosh airshow in Wisconsin, Brad Mottier made his way through the crowded exhibition grounds to see BlackFly, an ovoid, all-electric one-seater that can take off vertically and zip across the sky like an insect at 60 miles per hour. He spent the next 20 minutes talking to the builders while studying the propulsion, construction, design and other features of the alien-looking craft. "Electric flight is coming, and the aircraft of the future may not look like anything we have now," he remarked, before rushing off to another appointment.
This was a typical day for Mottier at the Experimental Aircraft Association's annual EAA AirVenture show, a gargantuan summer gathering of pilots and flight enthusiasts that has been compared to Woodstock for aviation fans and regularly draws half a million visitors. Mottier is the president and CEO of GE Aviation's Systems business, and he has been to the show 40 times, frequently arriving in his own plane, like thousands of others. He goes to Oshkosh to recharge his batteries, look for inspiration and spot new trends while they're still in someone's garage or hangar. The BlackFly was just one such example. "When you're here at the show, you see so many new things," Mottier says. "In that respect, it's kind of like brainstorming. You come up with new ideas just by walking around and seeing what other people are doing."
New ideas and innovation are at the core of what Mottier enjoys. GE Aviation's Systems business employs some 5,000 people at 14 sites around the world who make "important aviation products that are not an engine," as he puts it. That includes avionics and core computing systems for planes like the Boeing 787 Dreamliner and the Boeing 777X, electric power generation, conversion and control systems, flight recorders, systems for space rockets for customers that include Aerojet Rocketdyne and Blue Origin, as well as large propellers for high-power turboprops. "Although aviation is our biggest market, we also have products on ships, in space and on ground vehicles," Mottier says.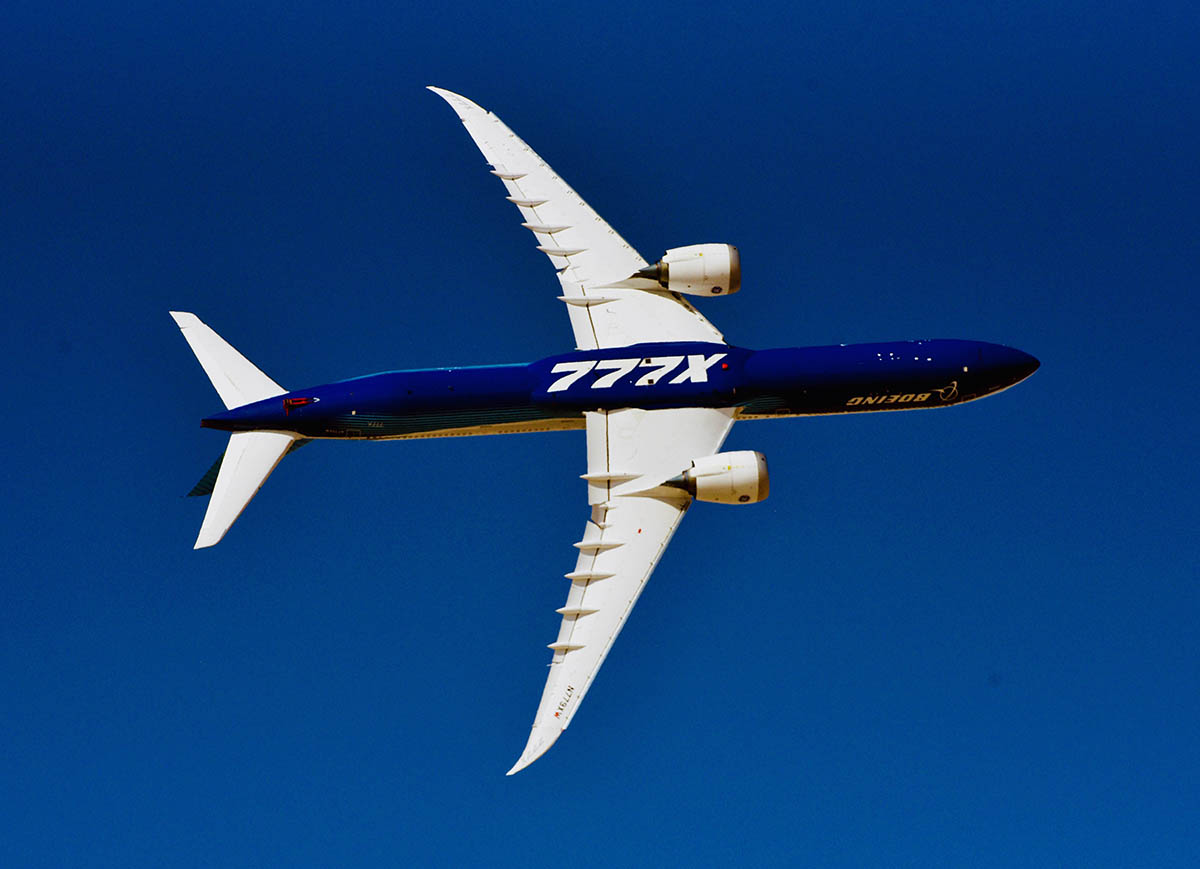 Last summer in Oshkosh, it was hybrid-electric and electric flight that kept Mottier occupied. "We're very focused on sustainability, and we think that in GE Aviation Systems we have a lot that we can bring to the table," he says. "Our avionics and autonomous flight systems can lead to better flight paths with reduced pilot workload. Batteries, electric power generation and conversion, and hybrid-electric and electric propulsion can help move the needle, and so can propellers designed for electric and hybrid-electric propulsion."
GE invested $1.8 billion in 2020 on aviation research and development, including new advanced materials and technologies that can help cut fuel consumption and emissions and even enable hybrid-electric design. In June, for example, CFM International, a 50-50 joint company between GE and Safran Aircraft Engines, unveiled the CFM RISE Program — short for Revolutionary Innovation for Sustainable Engines — which aims to develop technologies such as open-fan designs and hybrid-electric systems that could help improve fuel efficiency in new engines by more than 20% by the middle of the next decade.
In 2020, GE also made a commitment to become carbon-neutral in its own operations by 2030. And in its 2020 Sustainability Report, released last summer, the company announced that it is going even further, with an ambition to be net zero by 2050 — including the Scope 3 emissions that result from the use of sold products.
There are many ways to build a sustainable engine. They can involve new materials, manufacturing tools, sustainable aviation fuel, electrification and electronics. Engineers at the power unit of GE Aviation's Systems business, for example, are working on electric power systems to support pure electric or hybrid-electric propulsion.
But there are many other less obvious ways to support sustainability, Mottier says, like how improving the accuracy of an engine sensor by a few percentage points can lead to significant fuel and cost savings and help reduce emissions. "Today, optimizing engine performance is governed in part by the accuracy of sensors that feed parameters to the digital engine control," he says. "Improving the accuracy of those sensors can wring a bit more efficiency from the engine, lowering fuel burn."
Concepts like this one come intuitively to Mottier. He grew up in a flying family and spent his entire life around planes and aviation technology. "Being a pilot gives you an opportunity to see things from a different perspective," he says. "It's very tranquil when you are flying yourself and you get to think about things, you are not distracted by telephones or people knocking on your door."
You could say that Mottier found that perspective in his cradle. His parents met in college after serving in World War II, his dad as a U.S. Marine in the South Pacific and his mom as a U.S. Navy WAVE officer in New York City. After graduation, they wed and decided they wanted to make up some of the time lost during the war by living their lives on a broader scale than the average person. "They went out and bought an airplane, even though neither one was a pilot," he says. "My parents were very can-do, active people, and both became pilots, so I grew up in a family where we used an airplane just like a family car, traveling on weekends and weekdays. I kind of grew up in it, in that respect."
He started coming to Oshkosh with his family as a teenager in the 1970s. On the first trip in their postwar Navion aircraft, it rained so hard that they ended up sleeping in the plane — uncomfortable for sure, but a small price to pay for being at the world's largest aviation event. Mottier got his own pilot license while studying engineering at the University of Illinois at Urbana-Champaign, and in 1980 he flew himself to his first job interview in Rockford, Illinois.
That flight changed Mottier's life. He got the job as senior development engineer — he was actually the only engineer — at a small private company called Slick Electro, designing ignition systems for piston engine aircraft. That business grew into Unison Industries, which in 2002 became part of GE Aviation. Over the years, Unison's core competency had grown into electrical and mechanical systems and components for harsh environments used on planes, but also communication satellites, the International Space Station and even nuclear submarines. Along the way, a Unison ignition system flew on the Voyager, the first plane to fly nonstop around the world without refueling, in 1986, which is now in the Smithsonian Museum. Numerous other world aviation records were also enabled by Unison technologies.
At Unison, Mottier, who holds several patents, developed his passion for seeking ideas in the rough and using them as inspiration. During one trip to a car show, for example, he discussed a potential ignition system for a dragster that led to an idea about how to make a plane engine start easier by giving an added electrical energy boost as it rumbled to life. With this inspiration, "we literally drew the thing out at the airport on our way home, built and field-tested a prototype, got it certified and turned it into a product that is now installed on tens of thousands of planes," he says. For him, "it's not about sitting there and trying to figure out 'How do I solve this problem?' by looking only at the problem. It is sometimes thinking, 'How can I go and get a different perspective and apply something related in a different way?'"
Unison also provided Mottier with a perspective on how to run a business. "When I was at Unison, it was our money that was invested in the business," he says. "You really have a focus on making sure that the business survives. Safety, for the aviation product, was obviously No. 1. You have to have customers to sustain and grow your business, and cash flow is also very important, especially when you are paying down debt."
Safety, customer focus, quality and a steady cash flow are also some of the key tenets and outcomes of lean management, the business philosophy at the core of GE's business turnaround.
Like other GE employees, Mottier is working with his team to roll out lean across his business. The GE unit has been holding workshops for employees to identify the most pressing transformational priorities for the business — hoshin kanri, in lean's nomenclature. They are now working to put in place standard processes to lower inventory, deliver products to customers on time, design new products and innovate more affordably, and increase "first-time production yield so that things go through the assembly line once instead of having to come back through the re-do loop," Mottier says. It's all connected, he adds. "Lean helps you with a better yield, and better yield gives you better cash flow."
It is also important to him that employees are connected. "We are working lean transformation on the shop floor, but for a company to be lean, it really requires an enterprise team effort, a lot more than the shop floor. All functions — engineering, supply chain, sourcing, sales, programs — must come together." Says Mottier: "We try to go out of our way in GE Aviation Systems to give people the opportunity to understand how an entire business operates, not just the function they're assigned to at the time. I think that makes it more interesting, and that broader perspective helps people grow their contributions to the business and their careers."
Reflecting on his time at Unison, Mottier says it's important to keep an eye on the future, not just in terms of technology but also in the way a business operates. "The focus we have on cash flow today and getting back to basics, which is lean, is the right approach," Mottier says. "We are earning customer trust and succeeding through delivering value at a decent price, with a focus on cost. As a private business, that is what we did at Unison for 22 years before becoming part of GE, and that is what we are doing at GE Aviation."
Categories
tags