It's been four years since aviation fans, industry executives, aerospace engineers and investors last descended on the local airport in Farnborough, a quiet town about an hour southwest of London. Normally, the Farnborough International Airshow takes place every two years, alternating with the Paris Air Show. Together, they are the focal point for the aerospace industry. The pandemic disrupted this rhythm, but starting Monday the Farnborough show is back on track.
Farnborough allows aviation watchers to take stock of the latest developments in the industry. Airlines come here to purchase new planes and engines for their fleets. Aircraft builders unveil their new plans, and engine-makers, like GE, display the latest technologies. Despite the pandemic disruption, this year is no different, and GE Reports will be on the ground to tell you all about it.
But even before we got on the plane to England, we went to GE Aerospace, one of the largest engine-makers in the world, and asked them what they are bringing to the show. The company is a good place to start, because a commercial plane powered by GE Aerospace or one of its partners takes off somewhere in the world every two seconds.
One topic dominating the air-show agenda is innovation, and GE is ready to lead the conversation, from the engines designed to use less fuel it is delivering for customers today to the breakthrough technologies it is pursuing for a more sustainable tomorrow. Last year, CFM International, a 50-50 joint company between GE and Safran Aircraft Engines, launched the Revolutionary Innovation for Sustainable Engines (RISE) Program with the goal of developing advanced technologies for the next generation of engines that will use 20% less fuel and produce 20% fewer CO2 emissions than the most efficient jet engines built today.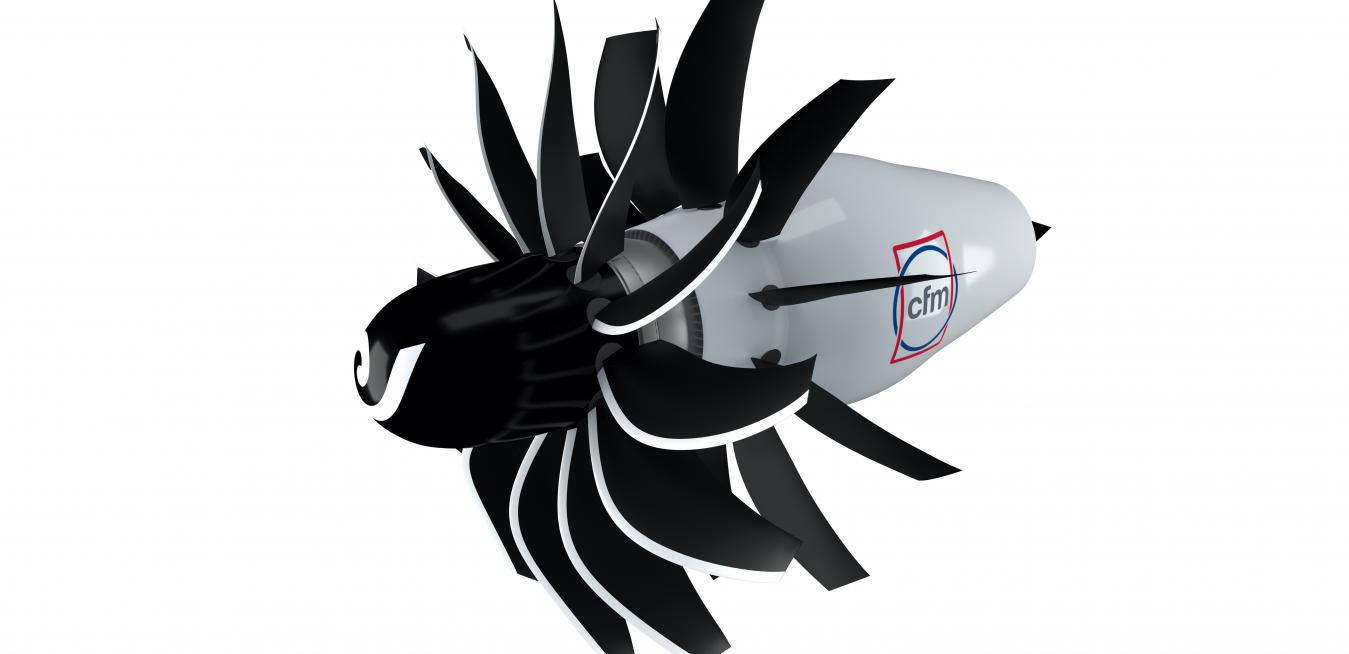 This project is working with so-called open-fan architecture, an engine design that GE — and Farnborough — have tested before. In 1988, GE's experimental "unducted turbofan" engine, called GE36, stole the show when a McDonnell Douglas plane powered by it completed the first transatlantic flight.
The engine helped GE pioneer innovative technologies like rotor blades made from carbon-fiber composites. These blades and materials allowed GE to build larger, lighter and more fuel-efficient engines and gave birth to a line of GE Aerospace's high-bypass jet engines, including the GE90, the GEnx and the GE9X, now the world's most powerful jet engine.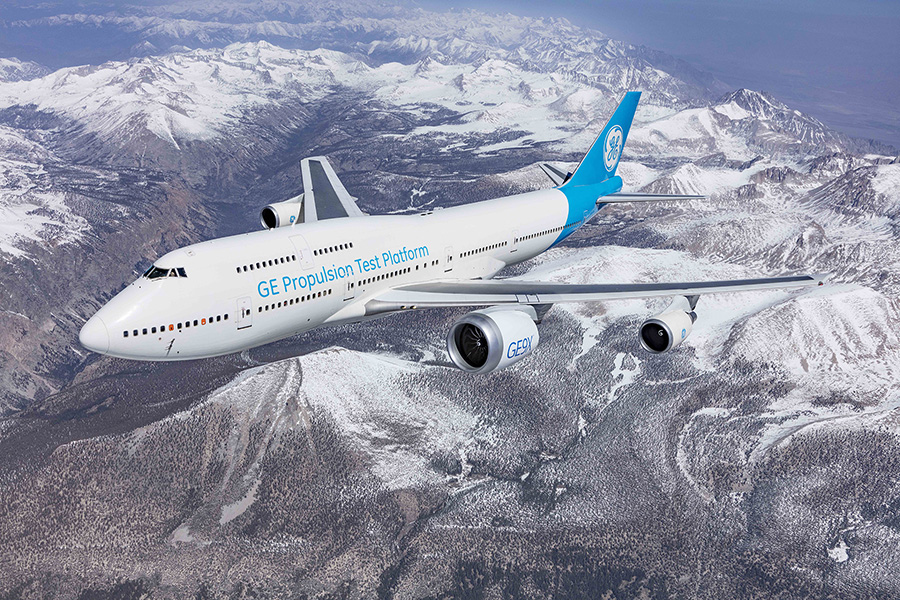 The GE90 and the GEnx are on display here this year, as is their cousin the LEAP engine, developed by CFM. The LEAP engine, which also features 3D-printed parts and components from other advanced materials, is the fastest-selling engine in aviation history. The technologies help make the engine 15% more fuel-efficient than its predecessor, the CFM56. This is important because fuel costs now represent about 24% of airlines' overall costs.
CFM and Airbus also announced they'll collaborate on tests of a GE aircraft engine fueled by hydrogen. Around the mid-2020s, the team plans to mount the engine on a modified Airbus 380 for flight testing, with the goal of placing a hydrogen-powered passenger plane into service about 10 years later. Such a plane would produce zero CO2 emissions during flight.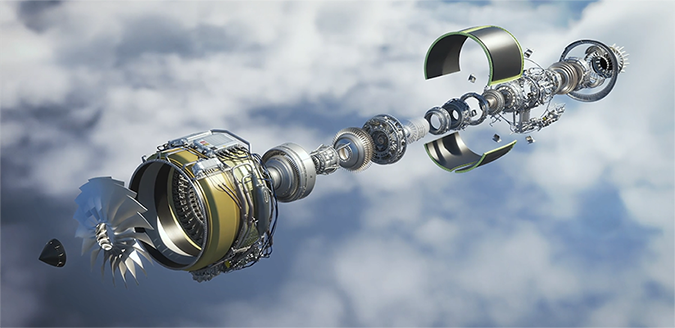 Further on the horizon is the work GE engineer Christine Andrews and her team are doing. They are collaborating with NASA and Boeing to develop a technology demonstration of a hybrid electric engine for commercial aircraft. The project could help GE Aerospace reach its goal of net-zero CO2 emissions for its sold products by 2050. GE Aerospace has been working on hybrid electric systems for more than a decade. The goal is to put everything together by the mid-2020s for ground and flight tests of a megawatt-class hybrid electric propulsion system. "Once we go electric, we are never going back," she told GE Reports.
Expect GE and others to also address sustainable aviation fuel, or SAF. Last December, United Airlines became the first carrier to operate an experimental passenger flight using only SAF in one of its engines. This is a big deal. By switching from petroleum to SAF — when you take into consideration the entire life cycle of the fuel — the aviation industry could reduce its carbon contribution from fuel by up to 80%, according to the Air Transport Action Group and the International Air Transport Association. "Stopping climate change and achieving environmental sustainability is imperative, it's possible, and I plan to do everything I can to help," said Jeff Shaknaitis, who had a seat on the flight and who now leads customer sustainability programs at GE Aerospace.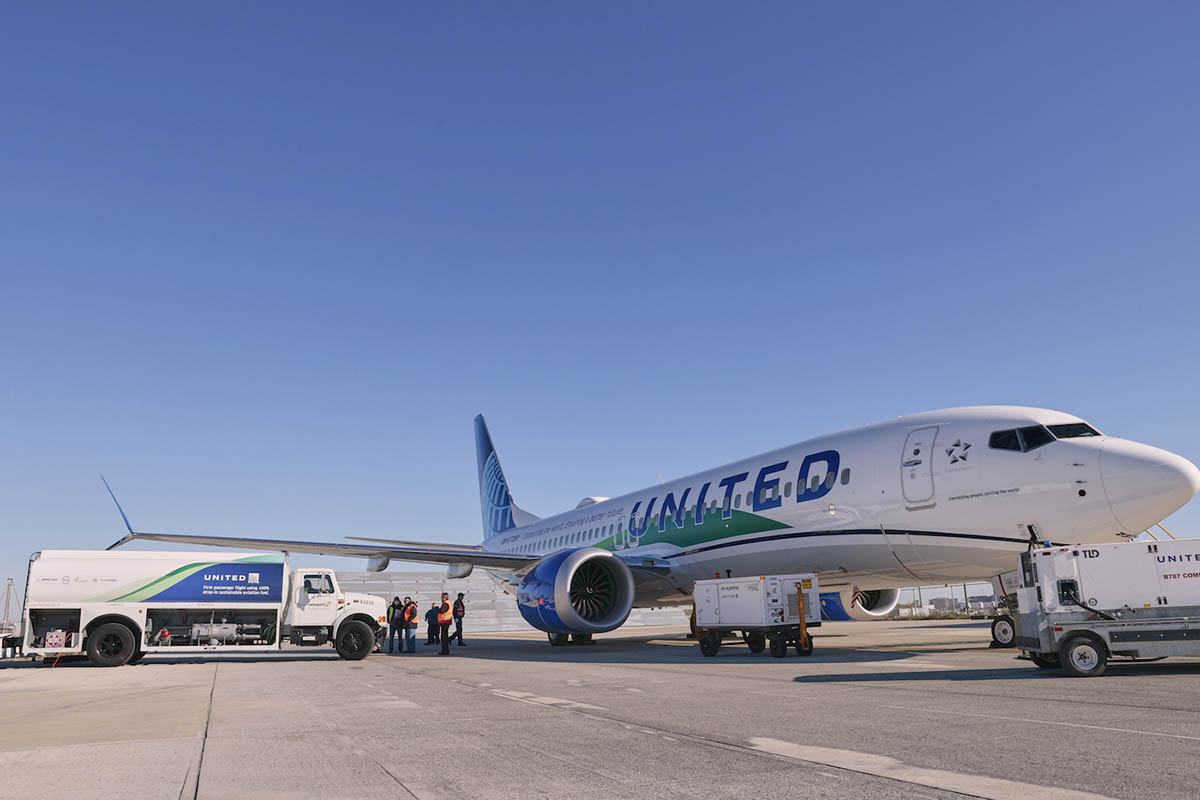 Finally, there's software. Aviation algorithms from GE Digital are already helping airlines navigate the course for "the perfect flight," an effort aiming to help them operate at their peak efficiency and reduce their carbon emissions at the same time. Using fuel smartly and being able to measure the savings is an important part of that journey. If "you fly two planes to Atlanta three times a day, data can tell you that one has a very different CO2 profile," says Andrew Coleman, who runs GE Digital's aviation software business. "Maybe you carried too much fuel and all that extra weight made your fuel consumption and emissions go up. It can be a million things, and we can help you find out what it is."
Farnborough is the perfect place to talk about the future, as the airport is steeped in aviation history. The American-born aviation pioneer Samuel Cody completed the first powered flight in Britain at the Farnborough airfield in 1904. Queen Elizabeth II visited here in the 1960s to look at early designs for the Concorde, the first and only supersonic passenger jet to enter scheduled service.
GE has been coming to Farnborough since it first opened its gates in 1948. We will make sure that in these pages, in our newsletter, the GE Brief, and on LinkedIn that you know what it has to offer this year, even if you can't make it.
Categories
tags