Wind and solar have grown so fast in the past decade that they now generate more electricity globally than nuclear power. But all that clean energy needs a support structure to balance out the hours when the wind doesn't spin the blades and the sun turns down for the night. One way to support wind and solar growth is through simple-cycle natural gas turbines. Smaller, mobile, and modular, these turbines — often referred to as "aeroderivative" because they are derived from jet engine technology — don't need to be housed in traditional stationary natural gas plants. Rather, like a minuteman soldier, a simple-cycle turbine can be trucked into a wind-solar-and-storage system and put to work almost immediately in a supporting role.
Two prominent examples are GE's TM2500— a highly mobile trailer-mounted turbine — and GE's LM2500XPRESS, which is built in modules for quick assembly on-site. To date, these machines have been assembled at GE Gas Power's service center in Veresegyhaz, Hungary. But in response to the anticipated demand growth for these versatile turbines, especially in North America, the company announced this week that it will be expanding its manufacturing facility in Greenville, South Carolina, to build more of the units. GE will invest up to $5 million to boost output of its TM2500 and LM2500XPRESS aeroderivative units at its Greenville Global Technology Center. 
GE sees the total global simple-cycle turbine segment growing from annual demand of 7.9 gigawatts (GW) in 2020 to annual demand of 9.3 GW in 2030, according to Edward Stefanik, the general manager of the GE Greenville site. "It's nice to have a North America manufacturing presence to go along with the European presence that we have," he says. "It really fits nicely into what we do every day, and we expect to see growth in North America." Unlike the big-daddy combined-cycle gas turbines typically parked in fixed locations in natural gas plants, these smaller simple-cycle turbines are about 50 feet in length and specialize in at-the-ready on-off capability.
"The niche these are trying to fill is the need for peakers, when you have high-volume renewables but need to support them," says Stefanik. "If you have additional load [demand], you bring the turbine online for a period of time, and then you turn it back off." Simple-cycle turbines are so versatile they can even be used to stitch back power supply in areas where electricity has been knocked out, for example by natural disasters.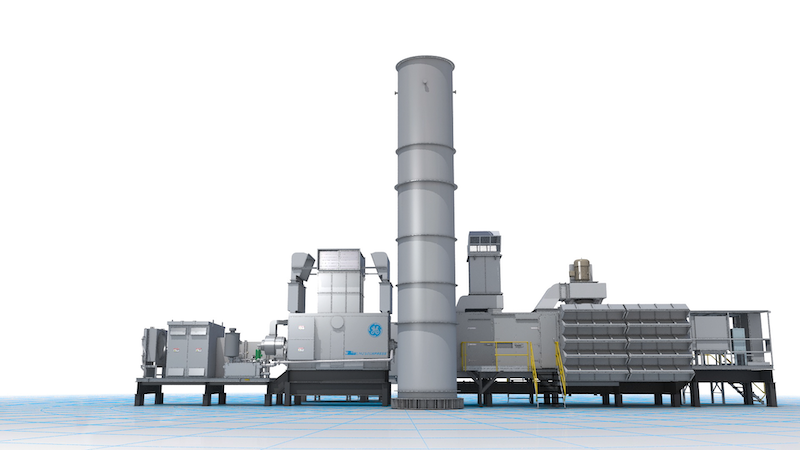 In a U.S. power system that generates about 4,000 terawatt-hours (TWh), wind and solar already provide about 480 TWh, or 12% of the total. This is now expected to soar toward 25% or higher by the end of the decade, following recently signed federal legislation that includes $369 billion in climate and energy provisions. The International Energy Agency has dubbed solar power "the cheapest energy source in history," and those alluring economics mean it's much more affordable to plug in battery storage or simple-cycle turbines while keeping total costs manageable. Last year, for example, Colorado Springs made the transitional move to retire an old coal plant and bring in six of GE's LM2500XPRESS turbines as it presses forward on filling up its own grid with renewables. The new climate provisions aim to go far beyond utility-scale incentives, reaching deeply into rural areas and niche urban microgrids, with strong incentives to adopt renewables. These are the perfect settings to deploy simple-cycle turbines in a supporting role.
To handle this growth, GE's site in Greenville will take a "lean-line" approach, employing lean concepts that GE has been putting to work company-wide to bring "continuous improvement" to operations. But as Stefanik explains, that doesn't mean simply "doing things with less." Rather, it's all about a safety, quality, delivery, and cost approach. "It's really a complete culture of doing things continuously, learning, reducing defects," he says. Employing best practices, Stefanik says they will stop the production line and address any problems that arise on the spot, making sure fixes are deployed effectively before continuing. "It's about treating the production associates as surgeons, having all the right tools in the right place at the right time and letting them do the value-added work that our customers care about, without adding additional complexity to it."
Looking ahead, the robust growth of smaller simple-cycle turbines will be part of a growing trend in global power. Microgrids, commercial rooftop solar and battery systems, and even small modular nuclear reactors are growing in popularity as businesses and utilities take a more local view. The history of the power sector has always been about building big things, but sometimes, as the saying goes, small is indeed beautiful. 
Categories
tags