Few U.S. states have been as tested by climate change as California. Heat, drought, wildfires and smoke have caused distress for residents and for utilities supplying them with electricity. To be sure, the most populous state has been aggressively adding renewables to lower its carbon emissions, but it also needs other sources of energy to supply baseload power when the sun stops shining, the wind stops blowing and water starts running low, affecting hydropower output.
But there's a way to achieve that: GE Gas Power's aeroderivative gas turbines. The turbines are essentially grounded jet engines that have been reconfigured to run on natural gas and generate electricity. They can be mounted on a trailer and quickly employed and connected to the grid. In California, GE and its local partners finished the job in just 42 days.
The parties involved in the project, which include the State of California's Department of Water Resources, the government body responsible for managing the state's water supply, the engineering firm Kiewit Power Constructors Co., the power plant site owners and GE have installed — at the Roseville and Yuba City power plants, north of Sacramento — four GE TM2500 turbines with a combined capacity of 120 megawatts. That amount of power is theoretically enough to supply the equivalent of 120,000 U.S. homes. "We are helping the state of California meet its renewables and carbon targets, while providing reliability to the electrical system when renewable resources are not sufficient to meet the state's electricity demand," said Eric Gray, Americas CEO at GE Gas Power.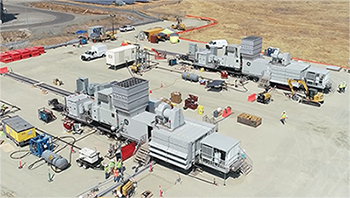 The turbines are called aeroderivative because their beating heart is technology GE Aviation originally developed for the CF6 jet engine. The units can ramp up very quickly — just like lifting Air Force One, which uses four CF6 engines — and can also quickly power down. The GE aeroderivative turbines' ability to generate power on demand within minutes makes it an effective bridge for utilities seeking to move away from baseload power supplied by coal and support more use of wind and solar power — which is all part of GE's larger gas and renewable power and sustainability strategy.
This is not the first time aeroderivative turbines have stepped up. Earlier this year, a utility in Colorado ordered six of the turbines to replace an aging coal-fired power plant in Colorado Springs. Once the aeroderivative gas units are up and running, Colorado Springs Utilities forecasts CO2 emissions will decline 80% by 2030 — a big win for the community.
One version of the turbine fits on a large cargo jet, and GE deployed it in parts of the world that needed to quickly boost their electricity output. In Lombok, an Indonesian island next to Bali, the robust machines can not only supply the local tourist and pearl industries, but also helped locals power through a devastating earthquake that struck the area in 2018. Mexican officials deployed the TM2500 to work around parts of the grid damaged by a hurricane that slammed the Baja California peninsula in 2014.
Categories
tags