Located a short walk from downtown, the hulking blue edifice of Martin Drake Power Plant is hardly a destination site for people visiting Colorado Springs, Colorado. Still, it could soon serve as a blueprint for energy providers seeking to cut their carbon footprint and bring more renewables online.
The 40-year-old plant is one of the two coal-burning power stations that supply electricity to customers in the area and two years ago, Colorado Springs Utilities, the plant's operator, started looking for a way to retire it. The utility wanted an energy source that would produce fewer carbon emissions, save money — coal plants are relatively expensive to run — and support the deployment of more renewable energy sources on the grid. It set a target date of 2035 to complete the project. But now it has found a solution that will allow the utility to move that deadline forward by more than a decade.
Springs Utilities, as it is locally known, will use six innovative GE LM2500XPRESS* gas units to reach its goal. Once commissioned, the technology will be able to generate a combined 204 megawatts for the utility's customers. Springs Utilities serves 500,000 households in the Colorado Springs area and important government and military customers that include Peterson Air Force Base, Fort Carson, the U.S. Air Force Academy and the North American Aerospace Defense Command (NORAD), which monitors United States airspace against potential attack.
If anyone will have tech envy, it's a sure bet it will be Springs Utilities' Air Force customers. GE calls these units "aeroderatives" because their beating heart is technology that GE engineers originally developed for the CF6 jet engine. Their flexibility enables them to ramp up very quickly, just like lifting Air Force One, which uses four CF6 engines, and quickly power down like a plane that has just landed. This flexibility will enable Springs Utilities to support the growth of more renewables. "As we take on more renewable power from wind or solar, there's volatility," says Thomas Cook, engineering manager for Springs Utilities' operating engineering group. "We need to have units that are responsive and able to fill any gaps to help ensure the reliability of our system is solid."
But being able to vary output at a moment's notice is just one benefit of the technology. The units, which run mainly on natural gas but can also use diesel, will be less expensive to run and maintain than the coal plant they are replacing. "Things break down and old plants need maintenance," Cook says. He anticipates that "there will be substantial cost savings."
Money won't be the only thing the LM2500XPRESS units will save. They will help the utility cut CO2 emissions by up to 80% by 2030 from 2005 levels, lower nitrogen oxide emissions, and emit less particulate matter.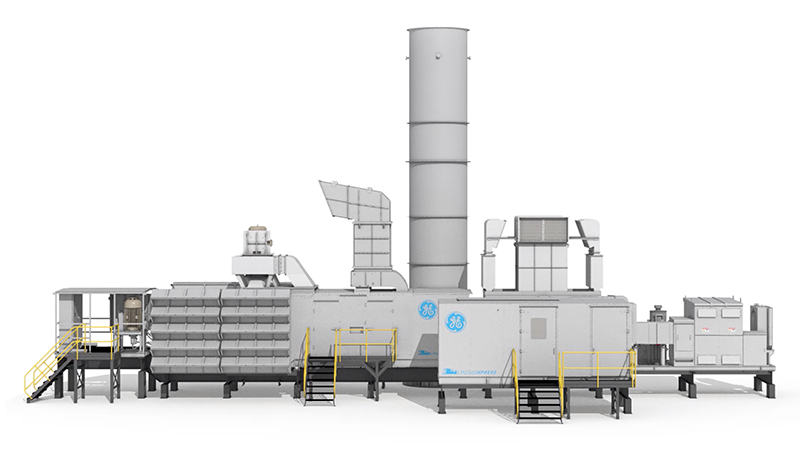 Before selecting the GE units, Springs Utilities went through a review process that included input from customers. "As a public utility, we are receptive to and interested in what the public is interested in," Cook says. Managers at Springs Utilities compiled 19 separate portfolios of solutions for limiting emissions and shutting down the Drake plant, making reliability, environmental impact, and affordability their key factors.
Leaders in Colorado state government are among a growing number of state and local governments seeking to lower CO2 emissions. Colorado passed legislation last year that calls for an 80% reduction of carbon emissions statewide by 2030 and for utilities to convert to 100% renewable energy by 2040.
"GE is committed to a decade of action for industry-wide decarbonization through the strategic and accelerated deployment of complementary gas and renewable energy technologies. We are pleased to help Colorado Springs Utilities achieve a faster path toward decarbonization using GE's LM2500XPRESS units. The flexible concept of this breakthrough technology made it Springs Utilities' ideal choice with a quick installation, small footprint, and the ability to easily relocate the equipment in the future," Eric Gray, CEO of GE Gas Power for the Americas.
Natural gas as a power generation source is a fast, effective way to shift utilities from coal to a cleaner energy pathway, with gas emitting 50% less carbon. Gas can also play a role in the future of energy with many eyeing renewable resources as reported in a recent white paper published by GE that looks at the fastest ways to decarbonization. But sometimes, the wind doesn't blow and the sun doesn't shine. This is where GE gas turbines come in. "It's a way to allow a large amount of renewables to come on to the grid but still deal with the intermittency that is part of the nature of renewables," says Ty Remington, director for GE Gas Power Systems.
Springs Utilities is targeting the spring of 2022 to turn on the LM2500XPRESS units. The power producer can be confident in that target as GE manufactures the units into modules in the factory so projects can move faster. Then, the units can be assembled on-site in less than three weeks.
GE calls the units the LM2500EXPRESS, where LM stands for land-mounted — there is also a trailer-mounted "TM" version on wheels. It is the latest model in the LM2500 family of turbines which has installed more than 2,500 units globally accumulating more than 100 million operating hours.
GE Gas Power installed the first LM2500EXPRESS in Germany last year. The six turbines in Colorado with be the first of their kind installed in North America.
Categories
tags