Taiwan, like many entities around the world, has set a target of achieving net-zero emissions by 2050. To get there, it aims to reach a 25% share of renewables in its power mix by 2025, up from only 5.4% in 2021. This jump means Taiwan also needs to find a way to deal with the periodic pauses that come with wind and solar power. The wind can stop blowing and the sun can set or hide behind clouds just as demand for power grows.
But there are ways to solve the problem, even in the absence of grid-scale batteries. Several utility companies around the world have been looking to so-called aeroderivative gas turbines to fill in the gaps. These nimble gas turbines are really jet engines modified to use natural gas as fuel — hence the word "aero" in their name. They can ramp production up and down in minutes in response to changing supply and demand.
The Taiwan Power Company (TPC) just became the latest utility to show interest in aeroderivative gas turbines: this week it ordered six of GE's advanced LM2500XPRESS power packages for its Tung Hsiao Power Plant Renewal Project, on Taiwan's west coast. TPC's 175-megawatt (MW) plant will use the turbines to help it manage power shortages, stabilize the grid and speed up the integration of renewables.
The beating heart of the turbines comes from GE's CF6 jet engine, which has powered many Boeing 747 jumbos, including the U.S. president's Air Force One, and other planes.
The package also includes a gas compressor, an emissions control system and a black-start diesel generator, which can be fired up in the event of an outage without the need for lights or power from the grid.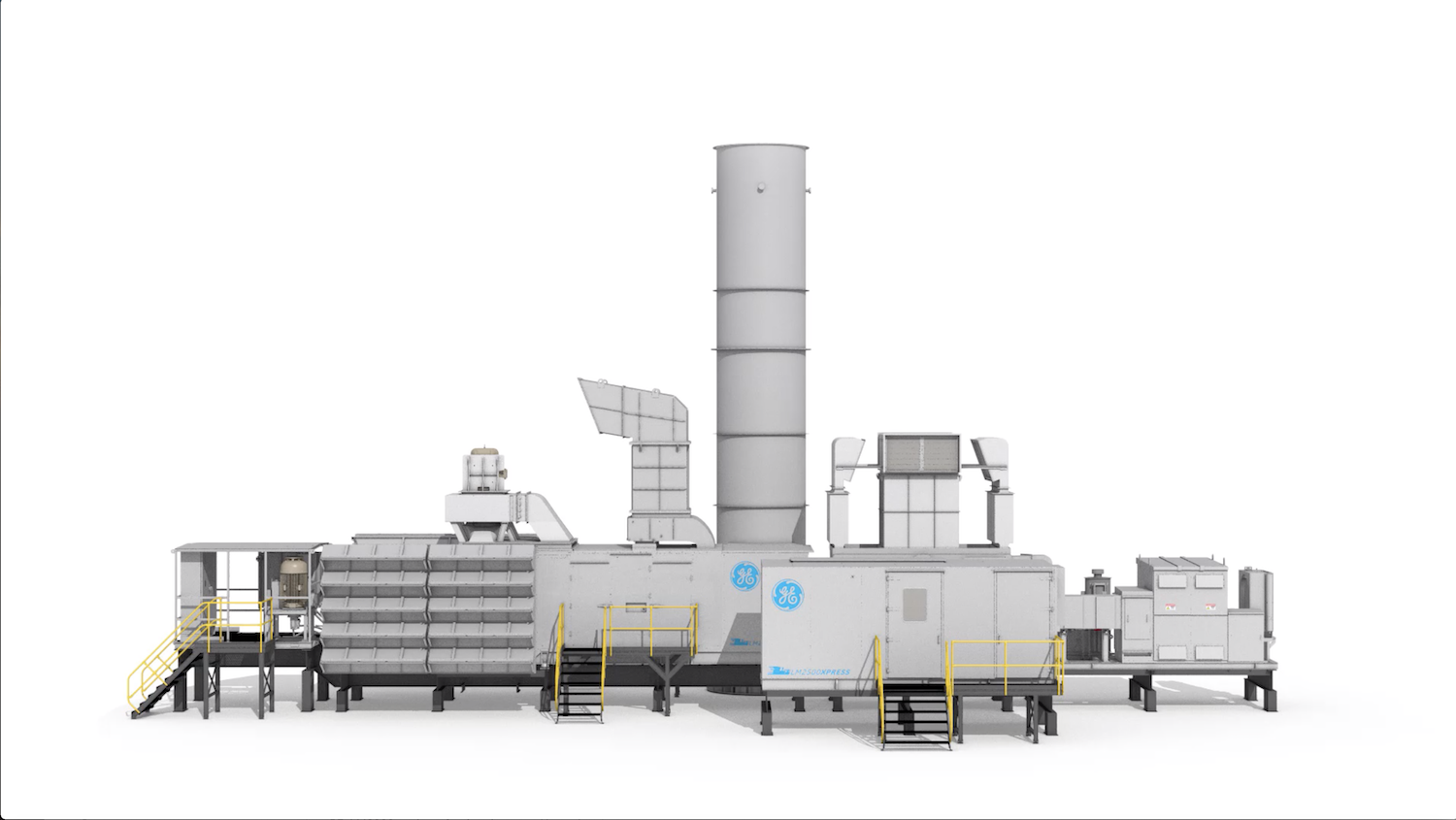 The "plug and play" configuration — 95% of the system is factory-assembled by GE in modules — can be put to work quickly after delivery. GE says a team of 20 people can install the system in about 13 days. After it's in place, the LM2500 turbines, like the engines on a 747, are capable of firing up and shutting down fast — within 5 minutes from a cold start.
The LM2500XPRESS made its debut in December 2020 in Germany. A few months later, Colorado Springs Utilities became the first utility in the U.S. to install the LMXPRESS package when it ordered for six turbines to take the place of a 40-year-old coal-burning power plant. The goal is to help the utility cut CO2 emissions by up to 80% by 2030 from 2005 levels. The turbines also lower nitrogen oxide emissions and emit less particulate matter than the previous coal plant.
Since its introduction more than two decades ago, the LM2500 has ticked off more than 100 million operating hours in over 60 countries, with more than 2,500 units sold. The LM2500 can operate in either simple configuration (which uses only a gas turbine), delivering up to 34 MW, or combined-cycle configuration, which converts heat from the exhaust of a gas turbine into steam that powers a steam turbine. The combined-cycle arrangement delivers up to 47 MW and raises efficiency from less than 40% to nearly 55%.
The LM2500 also has a sibling named the TM2500, which is even easier and faster to mobilize. It's able to get up and running in as little as two days. Last summer, when drought in California caused a severe drop in hydropower, the state called on four of the 32-megawatt TM2500s. In six weeks, teams were able to stabilize the grid with enough electricity to supply the equivalent of 120,000 U.S. homes in time for the season's peak electricity demand.
GE expects to have the gas plant for TPC's 175-MW Tung Hsiao Power Plant Renewal Project up and running by the end of 2022. The units will be assembled at GE Gas Power's Manufacturing Excellence Center in Veresegyhaz, Hungary.
"Taiwan's rapidly changing energy mix from reduced coal and nuclear to an increase in renewables is creating opportunities for Taiwan to diversify into fast, flexible, more efficient gas technologies that will help balance the electricity grid and also help meet future demand," said Ramesh Singaram, president and CEO of GE Gas Power Asia. "GE's LM2500XPRESS will enable TPC to support the increased use of renewable solar and wind power."
Categories
tags