For decades, the blazing plumes of oil-site gas flares have featured in fossil-fuel news reports and dystopias like Blade Runner — emblems of the massive economic waste and carbon emissions most assume are just costs of doing business. According to a 2021 estimate, the volume of gas flared worldwide at oil sites that year exceeded the amount of gas the European Union's member states imported from Russia.
But GE is looking to offer a two-for-one solution that could sharply mitigate the problem: capture the flared gas emitted in oil extraction and use it to generate electricity, thus cutting carbon emissions, connecting more homes and businesses to electricity, and enabling economic development. That approach was used in Ghana, and it underlies a new order that GE recently won from Masila Petroleum Exploration and Production Co., an oil and exploration company in Yemen.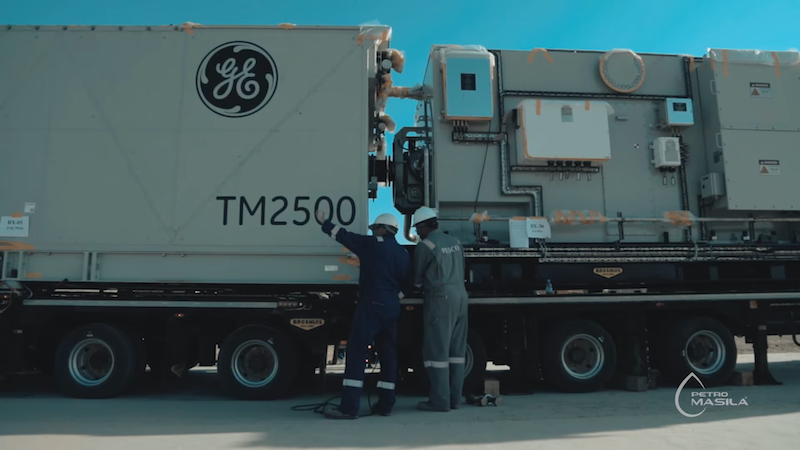 As part of its ongoing energy transition plan, PetroMasila is installing an additional GE trailer-mounted TM2500 aeroderivative gas turbine — a "power plant on wheels," as GE commonly describes it — at an oil site in Yemen. Initially, the unit will produce electricity using flared gas to power PetroMasila's oil extraction work, replacing more harmful diesel fuel. And once it is connected to the local grid, more than half of the electricity produced will be delivered to power the equivalent of 50,000 homes in Yemen. In 2022, PetroMasila installed three TM2500 units in Yemen's eastern Shabwa province, and those units generate 50% fewer emissions than the previously used diesel engines.
This is particularly beneficial for Yemen, a country whose electricity system has been severely damaged by conflicts and economic challenges and needs quick power solutions. "In a country in which nearly a million people have yet to connect to the grid, choosing an alternative fuel source for power generation sets Yemen way ahead on its journey to reduce carbon emissions," says Aman Joshi, general manager of GE Gas Power's aeroderivatives business. "When the world says, 'Hey, stop burning coal, reduce your emissions,' many developing nations say, 'We don't have a choice.' Success in Yemen will change this narrative and provide a model for much of the world." 
As the name suggests, aeroderivatives use technology derived from aviation engines, adapting the same gas turbine that's been at the core of aircraft travel for some 50 years. "We've all flown on this engine," says Joshi. "It's on Boeing 767s, 777s, you name it, and it comes with aviation's high standards of availability and reliability." This means extending maintenance intervals and ultimately, reducing operational costs for oil-field operators.
GE has sold more than 300 TM2500 units worldwide, from California to Angola to Ukraine; about 70 of them are in the Europe, Middle East, and Africa region. The units often serve to provide quick and mobile power where it is needed, and their modularity can solve a range of issues specific to electricity production. Site operators tend to vent and burn gas as a means of regulating dangerously high and variable pressures during extraction. "Aeroderivatives are incredibly flexible," says Joshi. "You can quickly start and shut down based on your gas supplies, and plant operators can use as many or as few of the units as a site requires." These assets are crucial for electricity production for remote or inaccessible drill sites and industries with less expertise in electric power. "They're oil and gas companies— producing electrons isn't their business," Joshi continues. "They don't want the complexity of managing an entire power plant."
The TM2500 has also been used in fracking to convert gas flared at the sites into electricity. GE has sold four units for use in the Permian Basin, Joshi says. While this promising trend was slowed down by COVID and by a reduced oil demand, among other factors, he says analysts still see tremendous potential for the technology to rebound in fracking.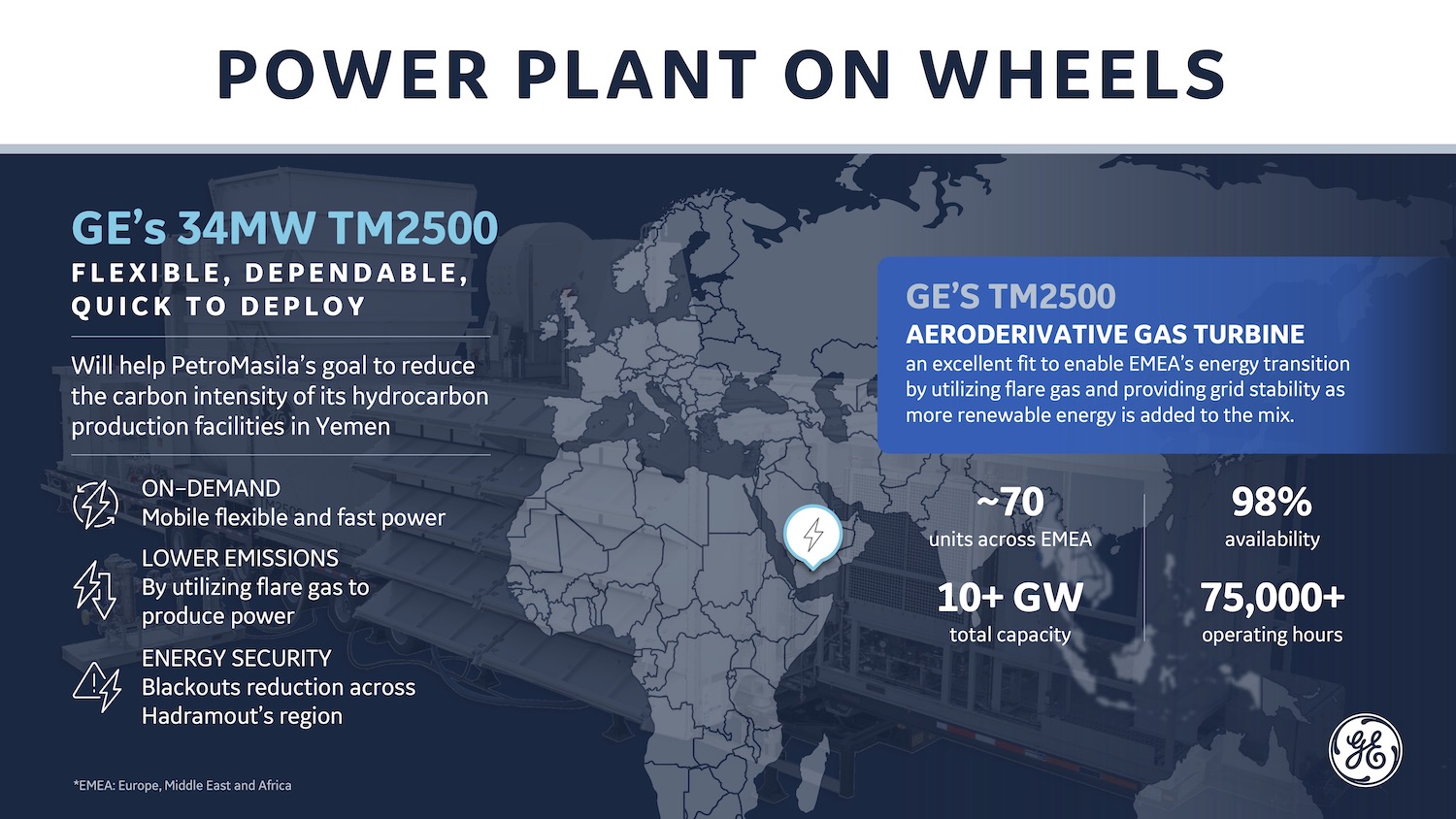 The environmental benefits can be immense. Rafts of global reports attest to the destructive gases released in flaring. In 2021, according to the World Bank's 2022 Global Gas Flaring Tracker Report, 144 billion cubic meters of gas was burned in flares at upstream oil and gas facilities across the globe, resulting in approximately 400 million tons of carbon dioxide (CO2) equivalent emissions. And it goes well beyond CO2, contributing "a significant amount of methane slip," says Absar Kazmi, product champion for GE Aero in the Middle East and Africa. A UN report found that roughly 40% of human-caused methane emissions come from leaks in fossil fuel exploration, production, and transportation — an amount that rose by nearly 50% between 2000 and 2019.  Over a 20-year horizon, Kazmi says, citing calculations, methane is almost 80 times more responsible than CO2 and carbon monoxide in terms of its impact on causing global temperatures to rise.
Using flared gas for electricity also reduces reliance on other fuels with higher CO2 emissions to power a grid. "In countries like Yemen, Nigeria, Iraq, and Algeria, what you are often offsetting is diesel-based power generation," says Kazmi. Three TM2500s earlier installed in Yemen replaced diesel generators that produced approximately 50% more emissions than gas turbines. "If a country has an opportunity to use this technology, they will," Kazmi says. "If people have the right incentive, they'll change."
Categories
tags