When the last 747-8F freighter rolls out of the completion center at Boeing's wide-body aircraft factory in Everett, Washington, on Jan. 31, it will be a poignant moment for Dave Kircher.
"In aviation, everybody can probably tell you two things: the first time they flew anything and the first time they flew on a 747," he says. For Kircher it was a British Airways flight to London early in his career. "I'll never forget being on that upper deck of a 747. It's just iconic."
Kircher, who serves as the general manager of the GEnx product line, can't help but think of all the people who worked on the program before him, going all the way back to 1974, when a CF6-powered 747 passenger plane took off for the first time. "I think of all these retired GE-ers that I know who worked on the CF6 engine to get the whole thing launched," he says. "And now, nearly 50 years later, the last plane is going to be delivered. It's a historic moment."
For more reasons than one: that last 747-8F will also be powered by GEnx-2B engines which rolled off the line at GE Aerospace's engine production and assembly facility in Durham, North Carolina.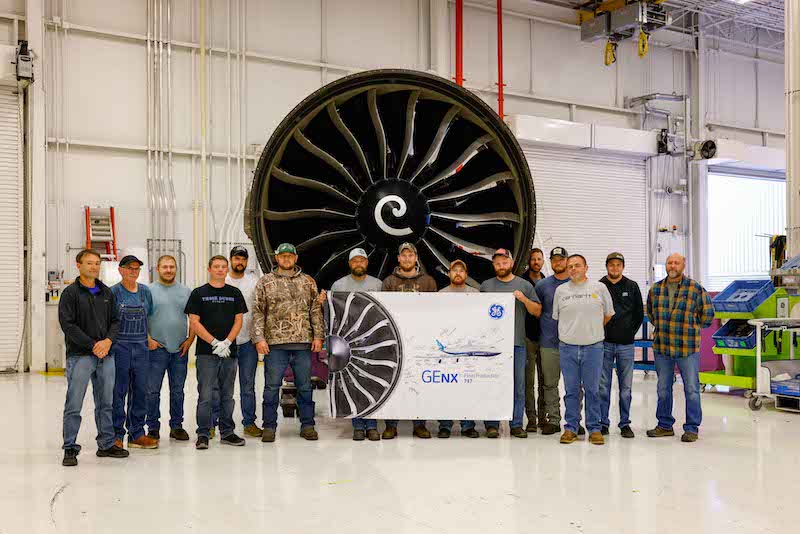 "I don't want to say we're 'bidding farewell,'" he says. "But it's a little emotional." Kircher takes pride in the fact that 42% of the more than 1,500 747s delivered have been GE-powered, and that the last 155 of them have been equipped with GEnx engines. "And you know, there are still 747s flying today that were delivered 30 years ago," he says. "So the products that we're delivering to Atlas Air could be in service for decades to come."
On the continuum of aircraft engine durability, that's a pretty big deal. As Kircher notes, the end of the production line is likely the beginning of decades in service. So far, since first entering into service, GEnx-powered 747s have chalked up more than 17 million flight hours and 2.7 million cycles (a takeoff and a landing). They have also carried more than 43 million passengers and over 58 million metric tons of cargo.
That kind of frequency and capability keeps the 200 field service engineers around the world who serve within GEnx's customer product support group busy. "I think of them as the eyes and ears of our product," says Kircher. The field engineers work with the airline customers and report back to GE's operations centers in Cincinnati and Shanghai, which monitor the performance of all those engines on a constant basis.
"We're monitoring those engine parameters in real time, 24 hours a day, so we can see if there's an event or if something" — such as a part — "is trending out," he says. "And we connect with our field service engineers and the airline engineers to say, 'Hey, we think you should take maintenance action.'"
Often the fixes and adjustments can be done on-wing, but periodically an engine has to be removed for more "surgical" repairs or an overhaul at one of the company's nine On Wing Support sites around the world.
"This product is just going to keep working for our customers," Kircher says. "The 747 freighter is such an efficient airplane. It hauls a lot of volume, and with the nose opening you can get huge things inside of it. It's going to keep flying for a long time."
That's the objective. And to achieve it, the GEnx team has a number of technical innovations on hand to improve engine performance and increase what's known as "time on wing." GE's 360 Foam Wash, developed with the help of GE Research in Niskayuna, New York, cleans engines like the GEnx that over time can see a buildup of cement-like dust particles due to exposure to hot and harsh climates. By breaking down and removing the buildup, 360 Foam Wash can help improve engine compressor efficiency, reduce fuel consumption, lower CO2 emissions, and extend time between shop visits.
Then there's the FlightPulse app, developed by GE Digital, which allows pilots to measure their fuel use and other statistics against those of their peers or against their own previous flights so they can self-discover areas to optimize operations and efficiency.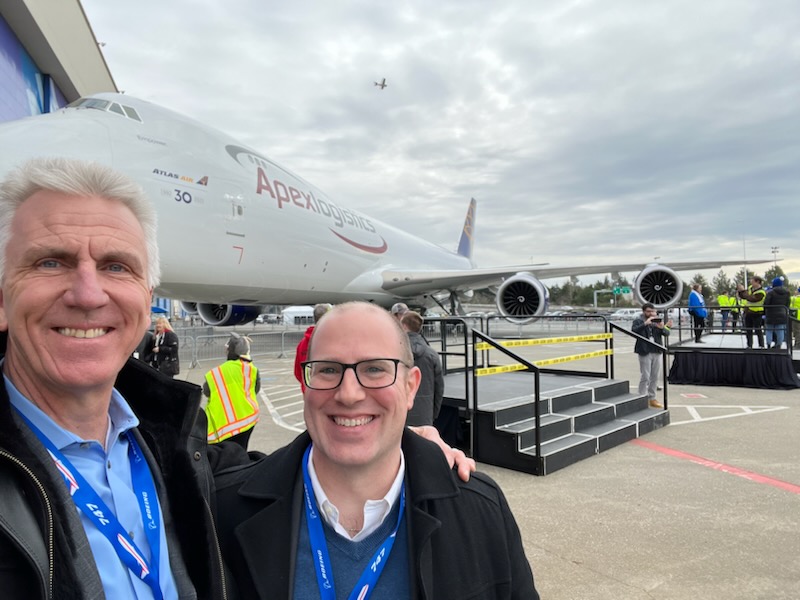 They've made improvements inside the GEnx as well. "Over the last year, our engineering team finished an upgrade to the hot-section hardware inside the combustor and the high-pressure turbine blades," Kircher adds. "This is the part of the engine where all the efficiency, all the magic, works. That upgrade will help reduce the operating cost of the engine by improving time on wing."
Despite the wind-down of the 747, going forward the GEnx team is focused on being "the engine of choice" on Boeing's 787 Dreamliner passenger jet, as well as the 787 freighter. "Most customers, when they select a 787, they have an option between a GEnx-1B engine and another [competitor's] engine," says Kircher. "Our engine is at least 1.4% more fuel-efficient for a nominal 787 mission. That equates to $400,000 per airplane per year in fuel savings." It also equates to a reduction of 2.2 million pounds of CO2 per aircraft annually. "It's an incredible part of our commitment to a more sustainable future," he says.
Kircher concedes that the final delivery of the 747-8 with the last GEnx-2B engine signals the end of an era. But now it's on to the next one.
"We're just privileged to have been part of that for nearly 50 years," he says. "And we're going to keep working with Boeing on this. We're going to do what we always do at GE — make our engines better, make them more efficient, make them more reliable. It's all about the customer: How do we make that customer experience great? How do we help make their business more successful? How do we make it so seamless to them that the engine just works?"
He's got a few decades to figure that out.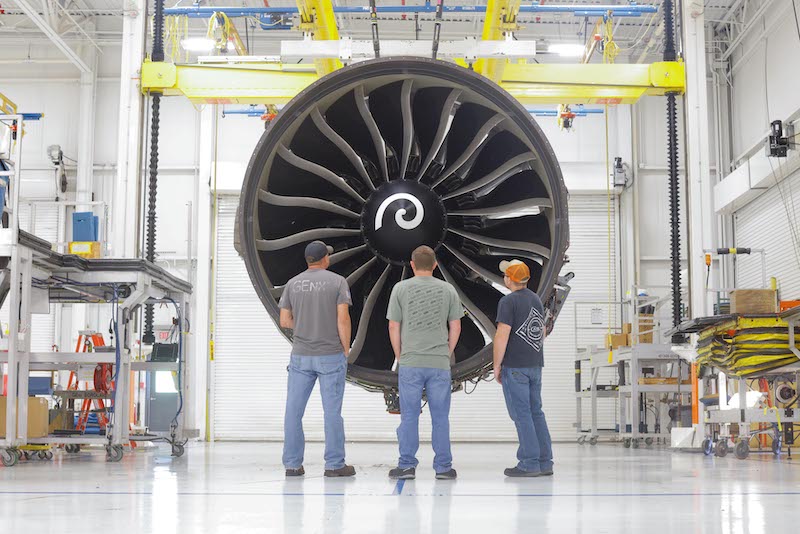 Categories
tags