The blades for the Haliade-X, the most powerful wind turbine in operation, are a sight to behold. Longer than a football field, the sinuous blades stretch 107 meters from end to end, enabling them to wring megawatts of renewable energy from offshore winds.
LM Wind Power, a subsidiary of GE Renewable Energy, shipped the first one in 2019 from a new factory in Cherbourg, France. Now, with demand for the turbines rising, the plant is set to expand production.
GE Renewable Energy said last week that it has added a second mold for making the blades to the Cherbourg plant. The company is also building an additional hall for finishing blades before they are shipped. The factory is also planning to hire 200 workers, which would bring the total number of employees at the site to 800. "Our teams here in Cherbourg are thrilled to take an active role in the energy transition and to be part of the successful journey for GE's Haliade-X offshore wind turbine," said Olivier Fontan, president and CEO of LM Wind Power.
Typically, workers make blades from layers of fiberglass fabric and balsa wood. The result, which looks like squished phyllo dough, is called a composite. They line the individual sheets and wood inside special molds honed and polished to produce the right aerodynamic shape. Next they cover the layers with foil, pump the air out to create a vacuum and inject a special resin to fuse them together. The vacuum helps the resin seep into the tiniest nooks and create a solid shell.
The process sounds straightforward, but workers, wearing white Tyvek coveralls, respirators and protective eyewear, must work fast and infuse the huge mold with resin that quickly turns from liquid to solid.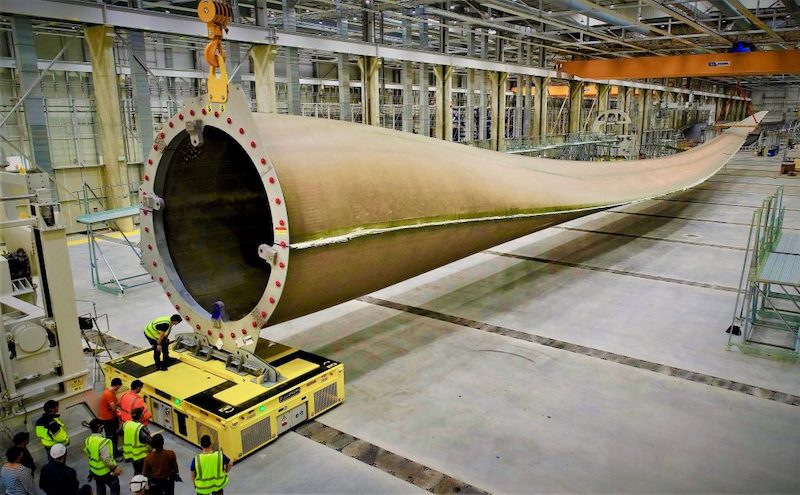 When the blade shells harden, crews remove them from the mold and join them together — two half shells to make a blade — inside a long, curving clamp that looks like a piece from the set of the movie "Alien." Finally, they sand, polish and paint the blades and dispatch them to customers.
GE is also building another plant for the long blades in Teesside, an industrial port on England's North Sea coast. Workers at the plant, which is scheduled to open in 2023, will supply blades for Haliade-X turbines at the Dogger Bank Offshore Wind Farm. When completed in 2026, Dogger Bank is expected to be the world's largest offshore wind farm, with a planned installed generation capacity of 3.6 gigawatts.
In October, GE also received an order to supply 62 Haliade-X turbines to the 800-megawatt Vineyard Wind 1, the first utility-scale offshore wind farm in the United States, to be built 15 miles off the coast of Martha's Vineyard, Massachusetts.
Categories
tags