In 2020, after the COVID-19 pandemic had all but halted global air travel, about 50 KLM Royal Dutch Airlines employees began brainstorming big ideas to present to company leadership. One of these Bold Moves initiatives launched this spring. The Sustainable Flight Challenge will have KLM and 15 other carriers — all members of the SkyTeam Airline Alliance — operate 22 flights with the goal of beating their own personal bests in reducing carbon emissions. They plan to share all data they gather during the flights freely within the aviation industry to drive innovation.
"We've seen such a great response," says Michiel Potjer, who leads the Sustainable Flight Challenge for KLM. "Although we had the biggest crisis in our history, it became an opportunity to really challenge the executive committee about our future."
Another upside of the challenge is that engine manufacturers, producers of sustainable aviation fuel and other partners have been involved. "This spirit of cooperation makes greater sustainability possible and feasible," says René de Groot, chief operating officer of KLM.
The other airlines joining KLM in the Sustainable Flight Challenge are Aerolíneas Argentinas, AeroMexico, Air Europa, Air France, China Airlines, Delta, Garuda Indonesia, ITA Airways, Kenya Airways, Korean Air, MEA, Saudia, Tarom, Vietnam Airlines and Xiamen Air.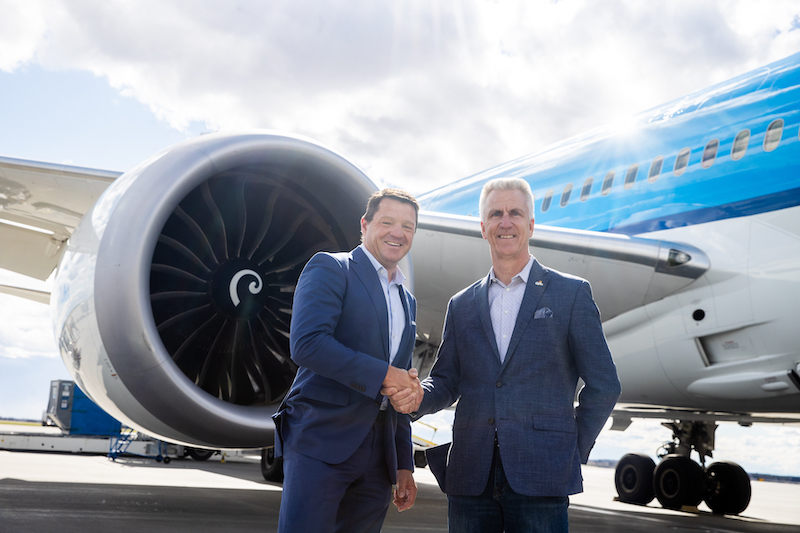 "We are helping customers around the world to achieve their sustainability goals, and this challenge has broadened and deepened the ecosystem of sustainability between our companies significantly," says GE Aviation's senior customer support manager, Niels Brouwers. "This is a great example of customer collaboration."
Departing from Amsterdam Airport Schiphol, KLM itself completed two flights on Saturday, with a medium-range trip to Porto, Portugal, and a long-haul flight to Edmonton, Canada. The aircraft KLM chose for its Edmonton run, the Boeing 787 Dreamliner, is equipped with GE Aviation's GEnx engines. These advanced turbofan jet engines used 39% sustainable aviation fuel (SAF) on their Canada run, with the capability to burn up to 50% SAF in each engine. KLM Cityhopper also participated in the challenge with a GE-powered CF34-10E Embraer 190 using 39% SAF.
"GE Aviation has a robust technology pipeline to significantly reduce CO2 emissions in future aircraft engines," said Dave Kircher, general manager of the GEnx engine program for GE Aviation, who was on the KLM Dreamliner flight. "We're also committed to partnering with our customers to reduce emissions today with the fleet in service. The GEnx engine is more fuel-efficient than its predecessor. Reduced fuel consumption and CO2 emissions, coupled with the ability of all our aircraft engines to run on approved sustainable aviation fuel, can help our airline customers and partners like KLM Royal Dutch Airlines reduce their environmental impact."
The KLM-GE relationship goes back decades. In 1972, the Dutch carrier first took delivery of GE engines — the CF6 models used on its DC-10 fleet. Brouwers said that besides the GEnx engines, GE is "exploring other services to further support the airline's commitment to cutting carbon, including GE's emissions-reducing digital software and 360 Foam Wash," a method for cleaning deposits out of an engine to improve its performance and lower emissions.
The International Air Transport Association (IATA) has set a goal of making the airline industry net zero by 2050. It's an ambitious target in a world where annual worldwide airline passenger flights are set to double by 2040, to 10 billion, according to the U.N.'s International Civil Aviation Organization. Two of the biggest tools to help the industry get there are more efficient engines and cleaner fuels.
The GEnx engines, which entered service in 2011, are up to 15% more fuel-efficient (based on an equivalent CO2 reduction) than their predecessor, the CF6. All GE engines are capable of operating on approved SAF, a technology that GE is prioritizing for research and development. Chemically identical to traditional refined-kerosene aviation fuel, SAF can be sourced from plant-based materials, algae, used cooking oil, municipal solid waste, alcohols and sugars, and captured carbon. There are seven types of SAF approved for use in jet engines today, and since 2011 more than 400,000 flights have been operated worldwide using SAF.
These fuels are critical to the aviation industry meeting its goal of net-zero CO2 emissions by 2050. By making SAF with alternative feedstocks and processes instead of fossil-based feedstock, producers can significantly reduce life-cycle CO2 emissions. The goal is to increase the usage of these cleaner fuel options and support technical innovations as the aviation industry grapples with the future of flight in a world that's fast approaching a warming threshold.
Says KLM's Potjer: "As we learn lessons from this first challenge, we want to improve it and share the knowledge with other airlines to inspire different innovations, and then we hope to push the boundaries for the second and third year and so on. It's something that the whole industry should adopt, and our hope is that it becomes a foundation in which any airline or other organization can participate. We shouldn't compete on sustainability or safety. It's a joint effort, and we all have a responsibility to create a better future."
Categories
tags