Reporting GE's first-quarter results, GE Chairman and CEO Larry Culp said, "The GE team improved services, orders and cash while scaling lean in all businesses to drive margin expansion. Our continuous operational improvements set us up to reinvest in innovation across GE, and our businesses remain focused on growth, supported by continued recovery at Aviation and strong demand at Healthcare."
Culp said that orders were up 13% organically, with strength in both services and equipment. GE's Aviation and Power units reported double-digit growth. He also said that revenue was up slightly, driven by growth in higher-margin services in all GE businesses. GE Aviation showed continued momentum with double-digit revenue growth.
GE's adjusted profit margin* expanded 110 basis points organically, driven by higher services and continued efforts to reduce costs across the company. GE's Aviation and Power businesses saw margins "improved substantially," while the Healthcare and Renewable Energy units were "meaningfully pressured due to both inflation and supply chain constraints," Culp said.
Services growth and margin expansion led to adjusted earnings* of $0.24 per share, up 85% year over year.
Free cash flow* was negative $880 million. This is typical for the first quarter, given the inventory buildup needed for the second half of the year. The figure increased by $1.7 billion from the same period last year, excluding discontinued factoring.*
Culp said, "Overall, services are recovering in all our businesses, our total orders are strong and our cash generation continues to improve."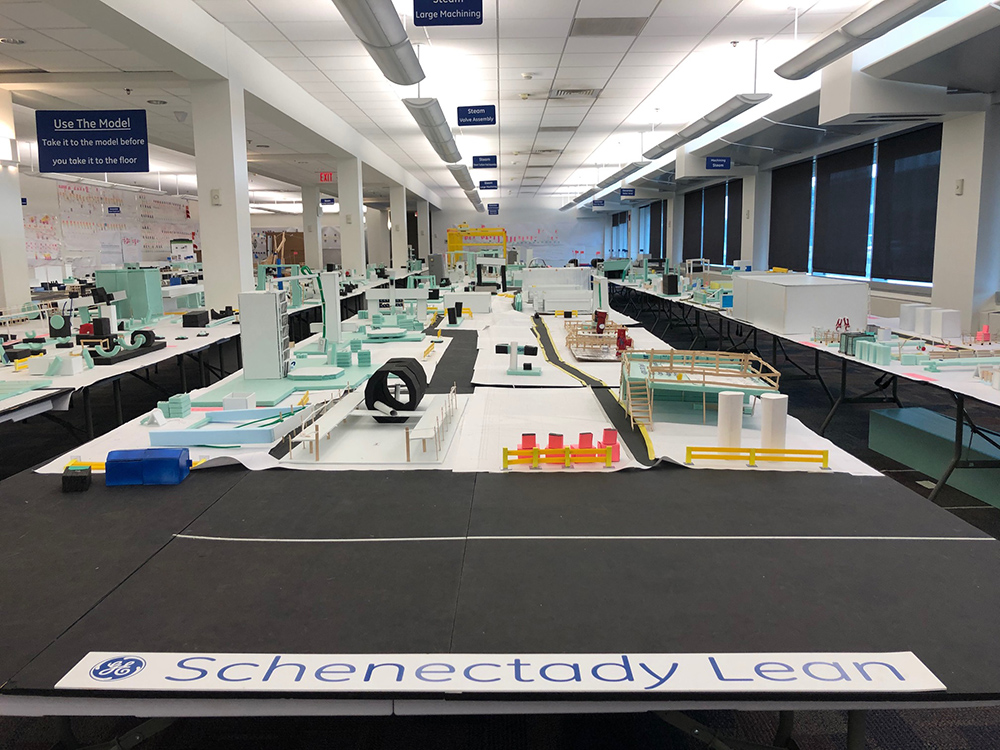 At the company's Investor Day in March, GE's leadership team discussed key risk factors driving the range in its 2022 outlook. During the earnings call, Culp said, "We're holding the outlook range we shared in January, and working through these pressures … But given the fluidity around the duration and magnitude of these factors, we're trending toward the low end of the range."
Amid these challenging dynamics, GE is focused on "what's in our control," he said. "In all our businesses, we're driving growth, price and cost-out."
The company continues embedding lean across its businesses — it's all about serving the customer, eliminating waste and prioritizing ruthlessly. GE Aviation's military business used lean to improve first-time yield in key lines manufacturing the popular T700 engine for helicopters by about 40% and increased shipments by more than 35% over the previous quarter. By shifting to make-to-stock inventory, GE Healthcare's Ultrasound team simplified planning and execution, optimized infrastructure cost and reduced lead time by 30%.
Of GE's Renewable Energy business, Culp said, "We're now managing this business in a more decentralized manner, closer to our customers, as well as improving our own execution." The business is "being more selective on deals internationally, with our pricing and market focus on defined geographies where we've identified product fit, services opportunities and an ability to execute." And it's already yielding results, including improved order pricing, up high single digits this quarter at Onshore Wind International."
GE Aviation is partnering with Boeing on a hybrid electric flight test demonstration program. Last October, NASA and GE Aviation announced a new partnership to mature a megawatt-class hybrid electric engine that could power a single-aisle aircraft. GE Aviation is working with Boeing to modify the plane that will test the propulsion system in the air.
GE Healthcare announced development of its Edison Digital Health Platform, a data aggregation platform powered by AI. It aims to help solve some of the fundamental challenges that impact patient care: integrating AI into the workflow and helping doctors turn data into insights so they can spend more time with patients and less time in their electronic medical records (EMR).
A consortium between GE's Grid Solutions business and BOND Civil & Utility Construction was awarded a contract to provide onshore and offshore high-voltage equipment to the 816-megawatt Empire Wind 1 project in New York, integrating renewable energy to the New York Power Grid. Once operational, the installation is expected to power more than 500,000 New York homes.
Commercial execution, technology innovations and improving operations underscore the progress GE is making as it plans to form three independent companies positioned to realize their full potential in the future of flight, precision health and the energy transition.
Culp said the company appointed three new board members, "who bring deep domain expertise in GE's key industries." The company also hired Scott Reese as CEO of GE Digital, which will be part of GE's global energy portfolio. Chief People Officer Betty Larson and General Counsel Frank Jimenez joined GE Healthcare, and the business remains on track to spin off in early 2023. "We have more than 1,000 people engaged in the separation process," Culp said. "We are also moving forward with purpose on important areas."
"In summary, we're taking actions in this difficult environment to serve today's customers while investing in tomorrow's innovation," he said. "We're using lean principles to improve our results and our culture. We're confident this is improving operational and financial performance and fortifying our competitive positions globally, ultimately unlocking further potential across GE."
* Non-GAAP financial measures
Categories