There's just one offshore wind farm generating electricity in the United States, but things are quickly changing. Several huge wind projects along America's Eastern Seaboard are already in various stages of development, and the industry is also set to get a multi-billion-dollar boost from the Infrastructure Investment and Jobs Act, passed last year.
But placing wind turbines far off the coast is just one part of the engineering problem. Operators also need an efficient way to bring the electricity they generate to consumers on land.
That's where GE technology comes in. This week, a consortium composed of GE Renewable Energy's Grid Solutions and New York's BOND Civil & Utility Construction announced it was selected by Empire Offshore Wind, a joint venture between Equinor and BP, to provide the high-voltage equipment that will bring power from the planned 816-megawatt Empire Wind 1 project to New York State.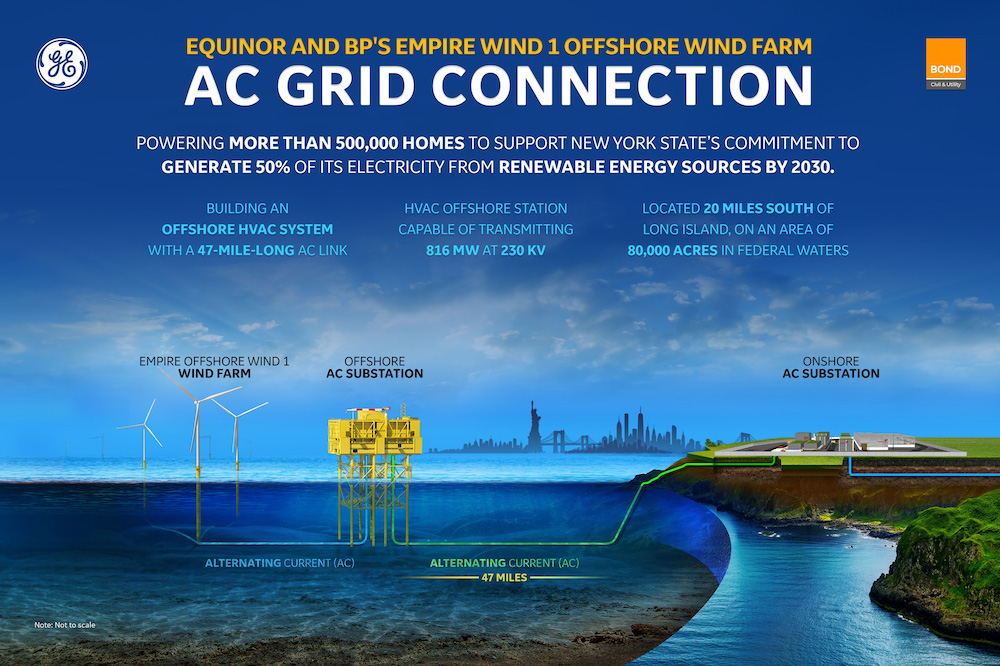 The technology will gather alternating current (AC) from dozens of turbines spread across some 80,000 acres of the Atlantic shelf inside a yellow, castle-like substation. The station will then send it onshore via a 47-mile-long subsea cable. The cable will terminate in a substation built by the consortium that will connect the wind farm to the grid. Once operational, the installation is expected to power more than 500,000 New York homes. "This contract award marks another big step for the Empire Wind project," said Siri Espedal Kindem, president of Equinor Wind US. "Through this commitment we will continue to advance this flagship offshore wind development, generating local jobs and shaping the growth of this industry."
GE's Grid Solutions is a leader in power transmission technology, supplying systems for grid operators around the world. Besides AC technology like the system that will go to New York, the company has also developed high-voltage direct-current (HVDC) transmission systems especially suitable for sending power over long distances.
One such HVDC system is set to transmit electricity from the planned 1.4-gigawatt Sofia wind farm, off the coast of England, through a 136-mile-long subsea cable.
Categories
tags