Last October, NASA and GE Aviation announced a new partnership to mature a megawatt-class hybrid electric engine that could power a single-aisle aircraft. Today the project got one step closer to takeoff. GE Aviation has selected Boeing to modify the plane that will test the propulsion system in the air.
The NASA-GE partnership is part of NASA's Electrified Powertrain Flight Demonstration (EPFD) project. The five-year, $260 million effort is being funded by investments from NASA, GE Aviation, Boeing and other partners.
"We're pleased to contribute our extensive research and testing of hybrid electric propulsion systems … for a project that will no doubt be an important milestone on the path to more sustainable air travel," said Naveed Hussain, Boeing's chief technology officer and vice president and general manager of Boeing Research & Technology.
Boeing and its subsidiary Aurora Flight Sciences will modify the test plane, a Saab 340B aircraft powered by GE CT7-9B turboprop engines. That work includes the manufacturing of the nacelle — the pod that holds the engine under the wing — flight deck software and interface design, tools to analyze the plane's performance, and other systems integration.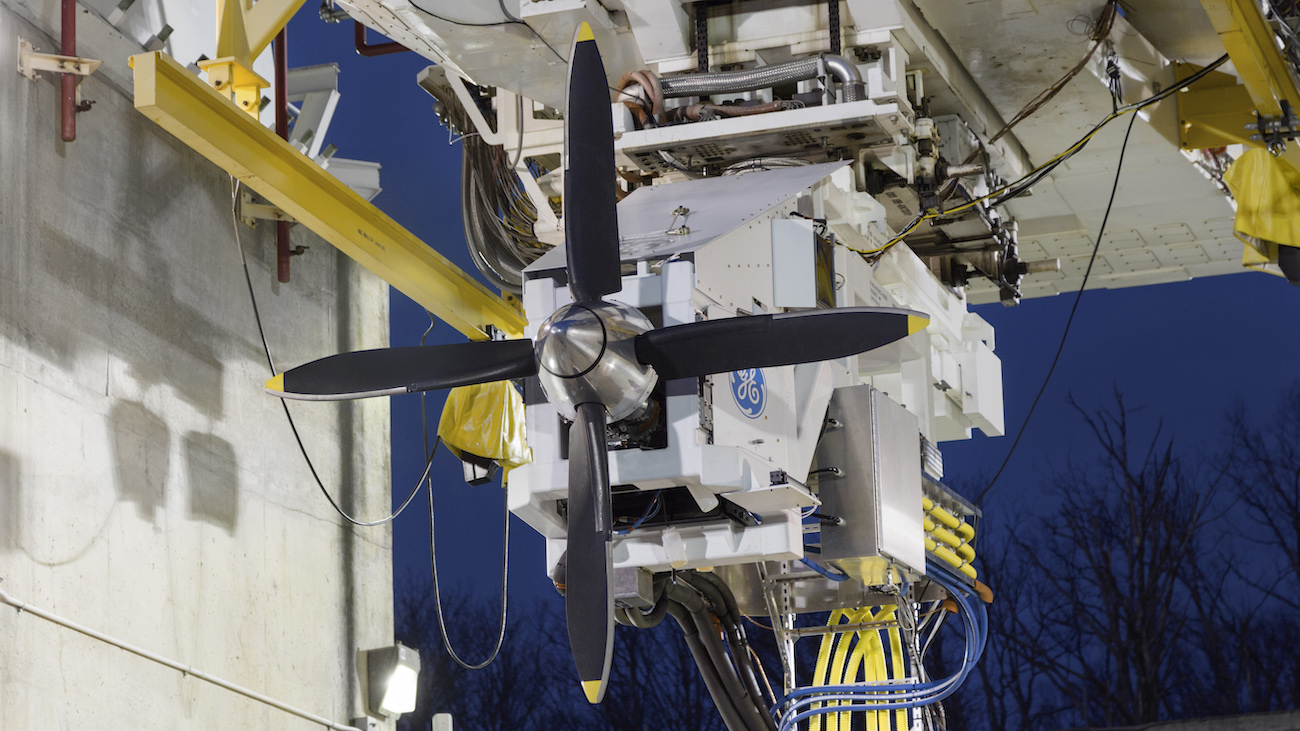 Boeing acquired Aurora, a leader in electric flight propulsion, in 2017. Aurora will produce nacelles at its plants in Mississippi and West Virginia. The systems engineering and testing work will take place at its Virginia headquarters
"NASA's Electrified Powertrain Flight Demonstration project is an opportunity for GE Aviation and Boeing, world leaders in aviation technologies, to show hybrid electric propulsion is real and possible for the future of commercial flight to reduce carbon emissions," said Mohamed Ali, vice president and general manager of engineering for GE Aviation.
GE Aviation has developed and tested hybrid electric systems, including motors, generators and power convertors, for more than a decade. These technologies can help save fuel and optimize engine performance. They are compatible with sustainable aviation fuels and hydrogen, and also with new engine designs like the open-fan concept.
The NASA project is not GE's only foray into electric flight. GE designed electrical systems for Boeing's 787 and 777X passenger jets, among other planes. Scientists at GE Research are also working with the U.S. Department of Energy's Advanced Research Projects Agency–Energy (ARPA-E) division to design an electricity-driven propulsion system for aircraft. The concept behind that system is to mix gasified biofuel and compressed air to produce electricity and heat, with the electricity spinning the engine fan and the heat exhaust being used to add more propulsion, not unlike the use of exhaust in a combined-cycle power plant. The goal is to create a system both powerful and light enough to keep aloft a 175,000-pound commercial airliner and its 175 passengers.
GE is committed to decarbonizing flight. The company released its Sustainability Report last June, and made a commitment to become carbon neutral in its own operations by 2030, and subsequently announced an ambition to be net zero by 2050, including Scope 3 emissions from the use of sold products. In October, the International Air Transport Association committed to achieve net-zero carbon emissions by 2050.
Categories
tags