At the 2021 UN Climate Change Conference (COP26) in Glasgow, Scotland, more than 100 heads of state and 20,000 attendees are exploring ways to keep the planet's temperature from rising more than 1.5 degrees Celsius.
Some visitors may have already experienced one of those ways, perhaps unknowingly. British Airways has been operating flights between London and both Glasgow and Edinburgh during COP26 using aircraft that are powered by a mix of sustainable aviation fuel (SAF).
The first flight, on Sept. 15, involved an Airbus A320neo powered by a pair of LEAP engines developed by CFM International, a 50-50 joint company between GE and Safran Aircraft Engines. The airline said the jet, wearing British Airways' new sustainability livery, used a fuel blend containing 35% SAF supplied by BP. The flight, which was part of British Airways' "Perfect Flight" demonstrator, reduced CO2 emissions by 62% from the original Perfect Flight between the two cities more than a decade ago — 34% of the total reduction coming from more efficient aircraft and operations and 28% from the use of sustainable aviation fuel. High-quality, verified carbon offsets accounted for the remaining 38% of the total number, the airline said.
"This flight offered a practical demonstration of the progress we're making in our carbon reduction journey," said British Airways chairman and CEO Sean Doyle. "By working together with our industry partners we've delivered a 62% improvement in emissions reductions compared to a decade ago. This marks real progress in our efforts to decarbonize and shows our determination to continue innovating, working with governments and industry, and accelerating the adoption of new low-carbon solutions to get us closer still to the Perfect Flight of the future."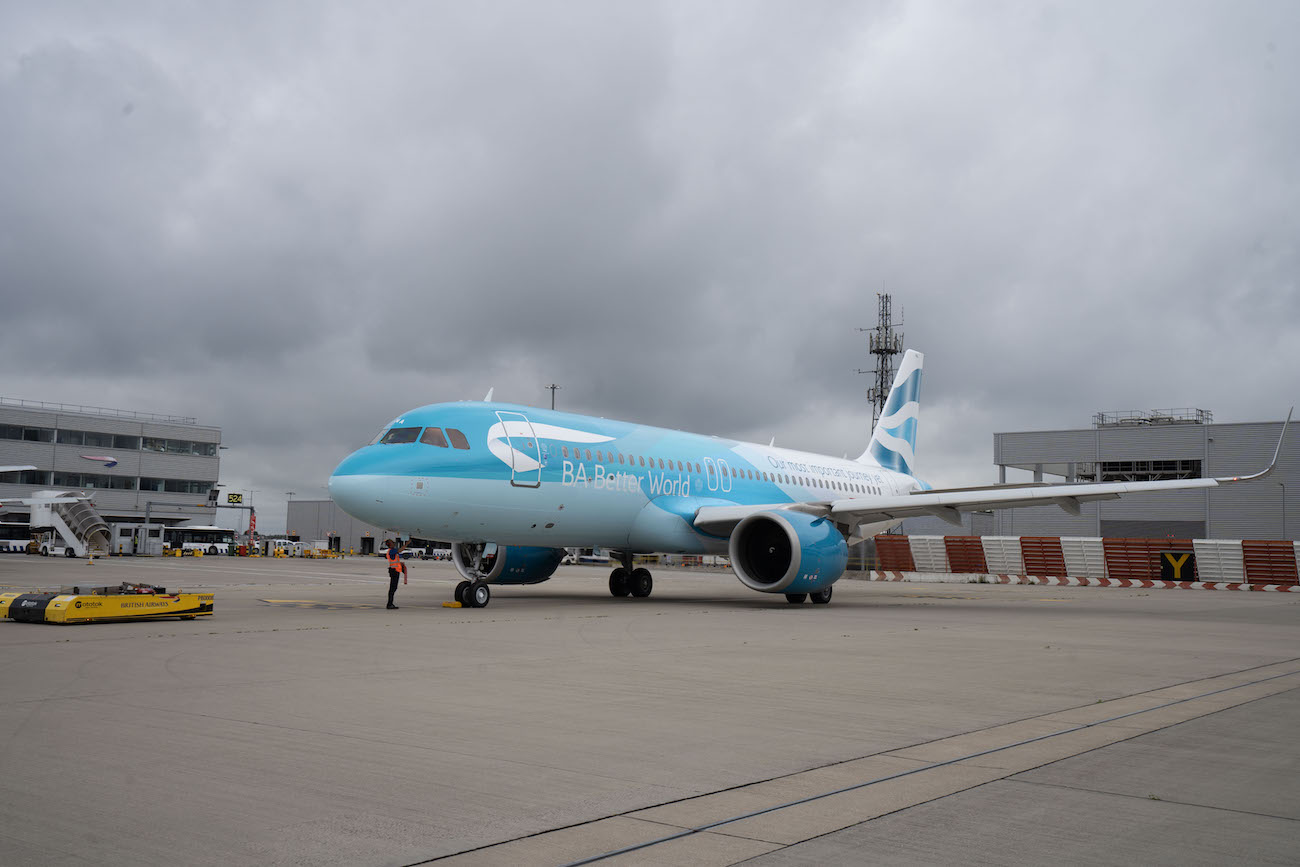 British Airways' partners included the U.K.'s NATS (formerly the National Air Traffic Services), Heathrow Airport, Glasgow Airport, Airbus and BP.
Other airlines are also flying with SAF. Spain's Iberia, which merged with British Airways to form the International Airlines Group, flew its own Airbus A320neo with LEAP engines in early November using a SAF mix on a route between Madrid and Bilbao. The SAF was supplied by Repsol and the flight reduced emissions by 1.4 tons of CO2.
In October, United Airlines flew a Boeing 737 MAX, which is also powered by CFM's LEAP engines, on 100% SAF on a demonstration flight in Houston that had only pilots on board.
Later in October, a scheduled long-haul Boeing 787 flight from London to Abu Dhabi operated by Etihad Airways scored a 72% reduction in carbon emissions using existing technologies. The flight used sustainable aviation fuel, employed innovative route planning to avoid creating contrails and even served passengers on sustainable dishes, The 787 was powered by GE Aviation's GEnx engines, used GE Digital's Fuel Insight software to analyze data and make fuel-saving adjustments within minutes and used GE's 360 Foam Wash, a cleaning system that can help improve engine performance and reduce fuel consumption by removing dust and dirt from inside the engine.
The use of innovative technologies like ceramic matrix composites and fan blades made from carbon fiber composites in LEAP engines enabled CFM to improve fuel efficiency by 15% compared with the previous generation of CFM engines. In fact, since the first CFM engines entered service in the early 1980s, the company has reduced its fuel consumption and CO2 emissions by 40% compared with the engines it replaced. 
In June, CFM announced the launch of the Revolutionary Innovation for Sustainable Engines (RISE) Program to demonstrate advanced technologies for the next generation of engines that will be designed with the goal of using 20% less fuel and producing 20% fewer CO2 emissions than the most efficient jet engines built today. Engineers at GE Aviation and GE Research are also working on hybrid-electric flight propulsion and sustainable aviation fuels and pursuing other research to help decarbonize the industry.
GE Aviation has also been testing SAF in its engines. By switching from kerosene to SAF, the aviation industry could reduce its carbon contribution from fuel by up to 80%, taking into consideration the entire life cycle of the fuel.
"Sustainable fuel is not a research project that we are doing on the side," says Gurhan Andac, GE Aviation's engineering leader for aviation fuels and additive. "It is happening. We are flying today with SAF blends." 
Categories
tags