The accolades keep rolling in for Colin Parris. In January, the GE senior vice president and GE Digital chief technology officer won a 2022 BIG Innovation Award from the Business Intelligence Group. In February, he was elected to the prestigious National Academy of Engineers. And earlier this month, while Parris was onstage at GE's Diversity, Equity & Inclusion Symposium at Crotonville, GE Chairman and CEO Larry Culp paused the presentation for a surprise announcement. In front of colleagues and an audience of about 100 attendees, Parris learned that he will be the recipient of the 2023 Black Engineer of the Year Award, presented by Career Communications Group (CCG) and US Black Engineer & Information Technology magazine.
"It is a humbling honor," Parris said, thanking Culp and colleagues past and present for their support. He also thanked his longtime friend Tyrone Taborn, chairman at CCG, who'd dropped in to deliver the news. Parris has been working with Taborn to promote diversity in the field of engineering for more than 25 years. "I will remember this moment," he said. "And [that] it happened at Crotonville."
The Black Engineer of the Year Award (BEYA) has celebrated scientists in both the public and private sectors since 1986. Candidates are nominated by their companies, and winners are selected by a consortium of engineering deans from the country's historically Black colleges and universities, who choose them for their outstanding leadership and innovation.
Parris certainly checks that box. Since joining GE's Software and Analytics Research team in 2014, he's propelled the company's work in digital transformation. With expertise in analytics, software systems, and artificial intelligence, Parris develops GE Digital software that helps grid management, power generation, aviation, and manufacturing businesses increase efficiencies in their operations. His Digital Twin Initiative, respected throughout the world, provides operators with new, highly visual ways to model and monitor a plant's equipment in real time, helping them keep machines running at top efficiency. His most recent work focuses on digital technologies that support the energy transition, with a goal of creating more secure, affordable, and sustainable power systems in the years ahead.
"Colin's career has been one marked by a constant pursuit of innovation for the greater good," says Culp, who led GE's efforts in nominating Parris for the award. "His extensive knowledge across multiple industries — software, energy, aviation, healthcare, banking, and manufacturing — has been invaluable to GE."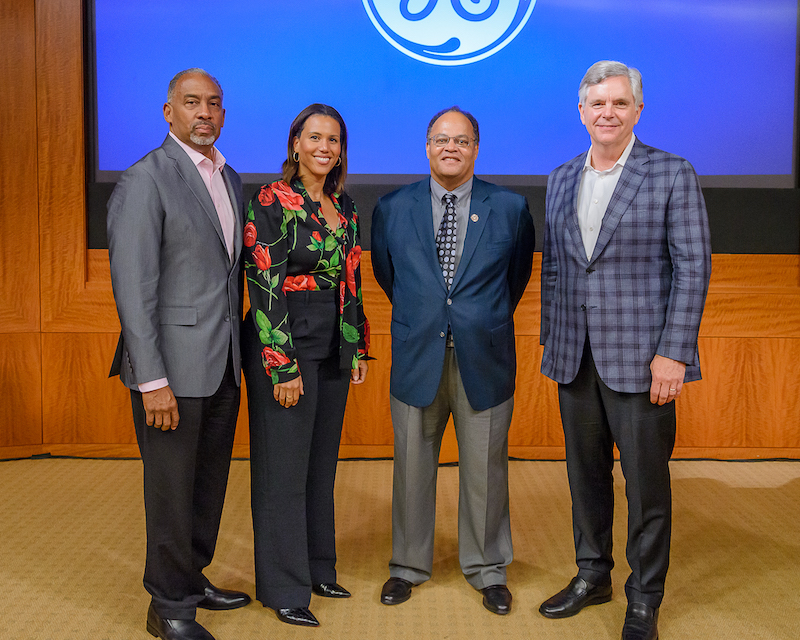 Culp also praised Parris for his commitment to mentoring young people with diverse backgrounds as they pursue STEM (science, technology, engineering, and mathematics) education and careers — a subject that still demands attention in a country where Black people make up about 12 percent of the U.S. workforce but hold only 5 percent of the country's science and engineering positions. Parris is active in several professional development initiatives at GE, including the Edison Program, which supports young engineers, and Women in Engineering. He also serves as executive sponsor of GE Digital's African American Forum.
Parris holds a bachelor's degree in electrical engineering from Howard University, the country's first historically Black college. He also earned master's and doctorate degrees in electrical engineering and computer science at the University of California, Berkeley. After launching his career at AT&T Bell Laboratories, he spent 20 years at IBM, where he worked on digital technologies, before coming to GE.
Parris will officially receive the Black Engineer of the Year Award in February, at the 37th BEYA STEM Conference in Washington, D.C.
Categories
tags