One day in March, Walid Kodia and his team got an alert about a possible problem in one of the power plants he helps oversee at Tunisia's state-owned electricity and gas utility, Société Tunisienne de l'Electricité et du Gaz (STEG). Gas turbines, which provide most of the power to STEG, are complicated machines that have an array of sensors to tell their operators when something's off. This alert came from software running at GE Power's monitoring and diagnostics center in Atlanta, staffed by engineers and data analysts. They had noticed that the position of a fuel valve on one of the gas turbines had strayed from normal. Kodia's response team, part of STEG's Monitoring and Diagnostic Center, inspected the equipment and avoided an unplanned shutdown that could have left customers without power — and cost STEG an estimated $60,000.
In less than a year, GE Digital's predictive analytics software has helped STEG potentially avoid a total of 37 unplanned shutdowns, saving the company $1 million in costs and lost revenue, Kodia says. Just as importantly, it's shifting how STEG manages its power plants as Tunisia transitions toward renewable sources of energy like solar and wind, while the demand for power continues to soar. "With the use of digital solutions, we are now changing the mindsets of the people who work with us," says Kodia. "It's changing the way we understand the machines."
It's a transformation happening across the energy industry as the push to convert to renewable sources of energy forces companies to embrace technology and manage their assets in a more precise fashion than was traditionally accepted. GE Digital's software may have been built to monitor turbines, typically the most complex and expensive part of any fossil fuel power plant, but the algorithms that enabled Kodia and his team to save money can work on a broad swath of machinery, including equipment with no moving parts, like the inverters that transform solar power so it can work on the grid. That matters because peripheral equipment such as transformers — the so-called balance of plant — can be as critical to power production as a turbine but historically might have had less data coming from it and fewer people watching those numbers. The result is a more data-driven way of managing not one machine but a company's entire portfolio of assets and facilities.
"Customers tell us that we are embedded in the way that they operate their facilities and really an instrumental part of how they're doing their business today," says Linda Rae, general manager for GE Digital's energy generation business.
A Complex Task
Perhaps best known for airplane engines and MRIs, GE has been making engineering software to help its customers run more efficiently for decades, reducing bottlenecks in factories, trimming airline fuel costs, and helping utilities manage electricity grids, among other applications. These software efforts, scattered across many of GE's business units, were consolidated under the GE Digital name in 2015. Five years later, GE businesses that write software for power companies, oil and gas producers, and chemical firms joined the GE Digital fold, linked by a common cause: serving customers whose livelihoods depend on their machines being up and running as long as possible.
That's an increasingly challenging goal in an era of complexity. Utilities, for example, are being tasked with providing more power, cutting costs, and reducing emissions all at the same time. Oil and gas producers have to make sure they're in compliance with regulations. "What we're trying to do is help them address all of those challenges simultaneously," says Rae. "Many of our customers started their digital transformation journey a long time ago, but a lot of the companies in the spaces that we focus on are still very early in that transformation."
Enter APM
At the heart of GE Digital's software is Asset Performance Management, or APM. APM is designed to monitor the health of physical assets like turbines, solar installations, and even nuclear power plants and can help users rank how critical each piece of equipment is so that there's a plan to both prevent problems and react to them when they occur. APM technology also predicts when machinery might fail and helps companies weigh the costs and benefits of various plans to maintain and replace their equipment.
Here's how it works for the turbines like those that Walid Kodia and his team must oversee. Each second, data from similar turbines around the world is streamed to GE, totaling 30 billion numbers each day, says Rahul Chadha, a vice president of digital solutions design. To detect signs of impending trouble, GE Digital's algorithms are designed to parse them and compare the values of, say, air intake temperatures or how long a specific valve remains open against benchmarks the GE team has developed using historical figures from each machine.
If the software spots a potential problem, it sends an alert that is passed on to the customer for further investigation, says Chris Held, former senior director at GE Power's remote monitoring and diagnostics team, which is spread across 13 countries so it can respond to clients around the clock. The result is a powerful tool that can take into account variations in vibration, temperature, and other factors and still accurately predict when an unplanned shutdown might occur. "We can have very prescriptive recommendations and very high confidence in the recommendations we make to the customer," Held says.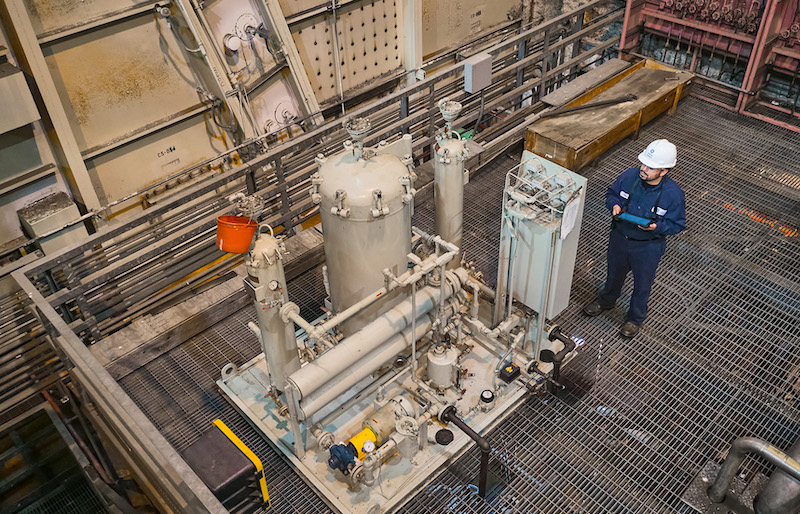 With the ability to know what's happening within STEG's gas turbines second by second, for example, Kodia can instruct his engineers and power plant maintenance teams on when to perform preventive maintenance and repairs, ensuring customer access to stable, reliable power and avoiding costly unplanned shutdowns.
Each unplanned shutdown, or "trip," in the lingo, on a turbine results in lost revenue and potentially a scramble to provide promised power. Just restarting a turbine can take up to an hour as well, never mind fixing what caused the trip in the first place. Trips aren't rare, either: Last year there were 6,000 of them in the 1,000 plants GE monitors. There's a long-term cost, too: An unplanned shutdown typically reduces a turbine's life span at considerable cost, says Held.
As more data is fed into GE's computers, the algorithms get smarter, and the company is investing several million dollars a year into research and development to further improve the system's ability to spot problems. A recent move to Amazon's cloud enabled more efficient coordination with customers. "It's a much more collaborative discussion, because we're using the same tools and we're looking at the same data, and we couldn't have done that a year ago," Held says.
Taking the Temperature Down a Notch
STEG's predicament is an example of the dilemmas electric utilities across the world face in the years ahead and of how smarter software can help overcome them. Tunisia's capital, Tunis, hit a record 120 degrees Fahrenheit last year, and the country's already scorching climate is warming along with the rest of the planet. STEG relies on natural-gas-burning turbines for most of its power production and, thanks to the laws of thermodynamics, the hotter it gets outside, the less power they produce, even as soaring temperatures cause demand for electricity to peak. That makes it essential for STEG to keep as many turbines running as often as possible to meet demand for reliable, affordable power.
At the same time, Tunisia's government has raised its renewable target in the power mix to 35% by 2030 and decided to invest in renewable energy sources like solar and wind that produce power only when the sun shines or the wind blows. That will change how STEG operates its gas turbines, says Kodia. Instead of acting as the "baseload" power that is always on, his natural gas plants will need to be more versatile in order to compensate for the intermittent nature of that renewable energy, turning on and off frequently. APM software can help STEG understand how turbines will operate under those conditions, even if STEG has never run them that way, and the software can do the same for energy and power producers that are shifting how they run their entire operations, not just one type of machine, says Rae.
"Climate change and the energy transition is creating new challenges for our customers that they didn't necessarily have to tackle in the past," says Rae. Oil and gas companies are looking to reduce their own emissions and investing in renewables and hydrogen, for example, complicating their already sprawling operations. To meet demands for reduced carbon emissions, utilities want to be able to produce just the right amount of power so that they're not wasting money and carbon guessing what the grid will want. "We help them understand the relationship between asset health, asset operations, and carbon emissions."
Adapting to a Changing World
Geopolitics is also bringing urgency to modernize how power plants are managed. In a soon-to-be-announced deal, a European utility has committed to using APM to increase the reliability of its entire plant as the continent faces a winter of doubts about whether it will have enough energy to meet its needs because of the war in Ukraine. Like utilities around the globe, they are turning to software to gain visibility across their assets to help reduce failures, control costs, and increase production availability. This will help them respond dependably to more dynamic operating models.
GE Digital's software can be remarkably flexible, says Steve Deskevich, a vice president of product management and a former nuclear engineer who helped design the APM program. Operators want to see what's happening around their plants. Mining companies want to know how well their massive dump trucks are performing. Power companies want the ability to predict outages across all of the equipment they operate, and they want the same predictive analytics they have for fossil fuels applied to wind turbines and solar installations. While today most data is generated by sensors, Deskevich gets excited about the potential to use nontraditional sources of information to help reduce emissions related to less efficient activity.
For example, a customer in Australia has to monitor hundreds of dams in remote locations by sending employees in trucks to inspect them for cracks. Deskevich knows that images snapped by drones could instead be converted into time-series data that GE Digital software would be able to crunch to see by how many millimeters a crack has expanded. This could save time and energy.
Rachel Farr, a senior director of product management, is working to make renewable power more predictable than the weather by integrating data from a slew of different sources. Her team is building software designed to combine data on weather, maintenance schedules, and reliability and should be able to tell a utility how much solar energy they can expect in the following 24 hours. Together with information on how much power will likely be available across their region, the system should be able to help power companies figure out when and whether to produce power, and from which source (gas, solar, wind, etc.), in order to meet customers' needs profitably, Farr says.
Today, customers can use GE's predictive analytics software to get early indications of when a piece of equipment might need maintenance, says Rae, which is essential to keeping power generation consistent and stable. In the future, energy producers will use software to understand how much carbon a plant produces, down to each piece of equipment — knowledge that will help them make changes that should enable cleaner, more efficient energy production.
In early 2024, GE plans to execute the tax-free spin-off of GE Vernova, GE's portfolio of energy businesses, and GE Digital is planning to begin a new chapter as part of GE Vernova.*
"Transforming their businesses at the same time that they are performing their businesses — there's no way to do that without software," says Rae.
*These plans may be subject to the outcome of legally mandated consultation in some parts of the world
Categories
tags