Mimmo Catalano still remembers his first business meeting. It changed his life.
He was only 5 years old when his father, who worked for an Italian airline, took him to his office at the airport. "That day I saw airplanes for the first time, and I loved them immediately," he says. "From them on, I kept asking my father, 'Hey, are you having a meeting at the airport? I want to come with you.' It was love at first sight."
Catalano went on to a career as a pilot, spending the past 16 years at Etihad Airways. He's now helping to set the path for the entire aviation industry as it seeks to find ways to become more sustainable and reduce its carbon emissions. One notable achievement: On October 23, Catalano was the captain of a commercial long-haul flight from London to Abu Dhabi that notched an important industry milestone. It reduced the trip's carbon emissions by 72% compared with a typical journey, using existing technologies.
The Etihad Airways Boeing 787-10 Dreamliner piloted by Catalano put in place an array of measures to achieve the savings. It used a mix containing sustainable aviation fuel, planned its route using innovative software to avoid creating heat-trapping contrails, served meals on sustainable dishes and even rewarded passengers for packing light. The jet, which was powered by GE Aviation's efficient GEnx engines, also relied on GE Digital's Fuel Insight software to make fast fuel-saving adjustments. And to improve engine performance and reduce fuel consumption, the airline applied a special engine-cleaning system called 360 Foam Wash that removes dust and dirt from inside the engine.
These technologies came together through Etihad's Greenliner Program, a product of the carrier's 2019 pledge to reduce its carbon footprint by 50% by 2035. The program is an industry partnership that has so far brought together 51 organizations, including large companies like GE and Boeing, and smaller players like the contrail mitigation specialist SATAVIA. Etihad is using its fleet of modern Boeing 787 jets to test the program's improvements. "When it comes to sustainability for Etihad, it's never about us alone," says Mohammad Al Bulooki, the airline's chief operating officer. "Etihad doesn't believe that one airline or one partner can fix it. When we launched the Greenliner Program in 2019, we said that we are going to partner with anyone."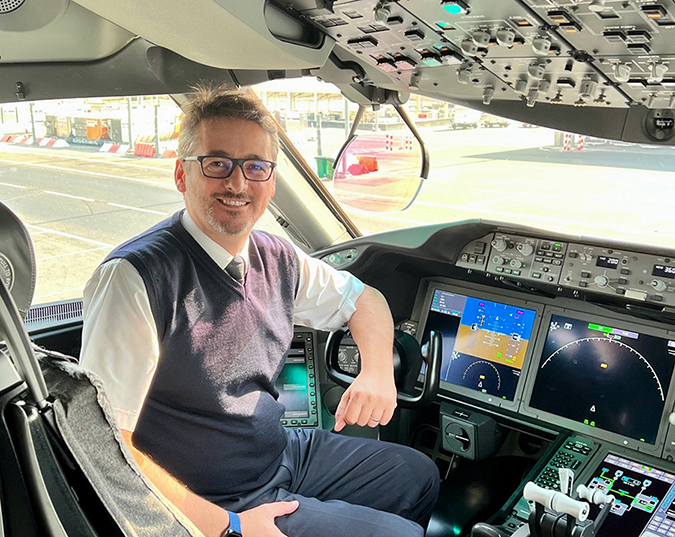 Etihad's Captain Mimmo Catalano at the 2021 Dubai Airshow (top) and in his cockpit. Top image credit: GE Reports. Above: Etihad.
Catalano is one of the first pilots to apply the program's insights to flight planning and management. But he is quick to stress that a lot needs to be done before the savings he and his colleagues achieved on the Abu Dhabi flight become common. "What's unique about this flight is the fact it's unique," Catalano says. "We can't do this every day. Even though the technology's there, there are limitations, like the availability of the biofuel and the flight path, for example. You have to get special permissions. To optimize global flight paths requires a global will to come together."
In Heathrow, where the flight originated, the captain requested a stand close to the runway so that the plane would not have to taxi for a long time. "In London, if the airport is empty, from stand to runway you could use 150 kilos of taxi fuel," he says. "However, since London is a busy airport, we know that normally we use 400 kilos for taxi, because we have to stop and go and wait for passing aircraft." So Catalano asked airport operators for a continuous taxi from the gate to the runway, a step that allowed him to take on less fuel and depart lighter.
Etihad also worked closely with air traffic control (ATC) in London and aviation authorities from countries the jet crossed on the six-hour journey. Catalano and the Etihad flight support office went over every step of the route they normally fly from London to Abu Dhabi and then looked for possible ways to make it more direct. Next, they reached out to national authorities and applied for permissions to take off from the most favorable runway, descend without circling the airport and fly along the most optimal course. "Normally we need to abide by what the ATC is asking us to do due to traffic and other constraints, so our liftoff and descent is not really optimum," Catalano says. "But planning for that day, when the authorities heard that the goal of the flight was sustainability, they were all on board. I felt that everybody wanted to do something about it."
Etihad also applied the latest maintenance tech to the plane. For example, its technician cleaned the engines with GE's 360 Foam Wash system to make sure they operated as efficiently as possible and didn't use extra fuel. "You can see that something has been done when you look at your fuel flow meters," Catalano says. "You will see that the fuel flow meter is showing some kilos less."
The flight even tried to avoid areas where the plane could create contrails, the white water vapor lines that sometimes form behind jets at high altitudes. The idea is that contrails can trap heat and contribute to global warming. Greenliner partner SATAVIA has developed software that allows pilots to navigate around these areas and help them minimize contrails, while balancing the added fuel cost of detours. The software analyzed Catalano's route and highlighted areas with a high probability of contrails. "We knew that based on the conditions we have today, the temperature and the humidity, these are the areas where we would most probably form contrails," the captain says. Once airborne, he could ask ATC for permission to navigate around them.
Navigating around obstacles and pursuing goals comes naturally to Catalano. He got his pilot's license in high school and after graduation signed up with Alitalia as a check-in agent to be closer to planes. "I was working in the morning and flying in the afternoon, or the other way around," he says. "That was my life."
Next, he enlisted as a pilot with a small company in Sardinia. His duties? Flying out over the sea and helping fishermen spot schools of tuna. A position with an air ambulance followed next, and after that he landed with a charter airline. His ascent there was quick — he was soon flying narrow-body jets — and so was his descent: The airline filed for bankruptcy in 2004.
But there was good fortune in the timing of his misfortune. Etihad commenced commercial operations in 2003 and hired Catalano two years later. "Nobody knew about Etihad at the time, and I thought I'll just stay there a couple of months and then I'll find another job," he laughs. "But I came, I loved it, and here I am, after 16 years."
Today, Catalano is an Etihad captain and a flying instructor and examiner on Boeing 777 and Boeing 787 jets. On one memorable flight he piloted a Boeing 777 freighter powered by a pair of GE90 engines, still the most powerful jet engine in service. (The Boeing 777X, powered by even more powerful GE9X jet engines, made its public debut at the Dubai Airshow in November.) "I will never forget the first time I flew a Boeing 777 cargo jet empty, from Riyadh to Abu Dhabi," he says. "I was taking off with really the minimum power you can use on that aircraft, and I had 7,000-feet-per-minute rate of climb. It was like a rocket. Amazing. So powerful."
Catalano is a seasoned pilot who is helping the airline industry figure out its toughest challenge. But it's clear that his boyhood fascination with flight has never left him.
Categories
tags