Next week at Le Bourget Airport, north of Paris, more than 300,000 people are expected to descend — many of them literally, from the skies — for the oldest and most important gathering of the aviation industry. It's a tradition going back to 1909, when a Blériot type XI monoplane captivated showgoers after having completed, just months before, the first successful flight across the English Channel. This year's event, which will include nearly 2,500 exhibitors from 50 countries, will be the first in four years, after the normally biannual event was canceled in 2021 because of the pandemic.
A lot has happened in aerospace since the 2019 airshow. It was just two years ago that the Air Transport Action Group (ATAG), of which GE Aerospace is a member, set an ambitious goal of achieving net zero carbon emissions by 2050, in support of the Paris Agreement. Where does the industry stand today on meeting those goals? GE Aerospace, which has long been at the forefront of making flight more sustainable, recently commissioned a survey of 325 aviation decision makers in the U.S., the U.K., China, India, the UAE, and France to find out.
The results, released today, show that the industry is taking the challenge seriously, citing sustainability goals as their top challenge today, surpassing issues like supply chain and labor, and putting their money where their mouth is to meet it. Fully 76% of the aviation decision makers — who represent airlines, airframers, and airports, among others — say that the focus on sustainability has fundamentally changed the way the industry operates, and that these strategies have already had a major or moderate impact on how their company operates (74%), invests (73%), and hires (62%).
But even as two-thirds of stakeholders believe the aviation industry is united in its focus on implementing sustainability solutions, they also said that reaching the 2050 goal will mean stepping up the rate of progress. At the current trajectory, 46% believe the industry will meet its net zero goal by 2050, 32% say it will not, and 22% are unsure. Government needs to play a larger role in supporting sustainability efforts, with most (61%) believing that incentives and policy support should be prioritized over mandates and regulation, according to the survey, conducted by Ipsos.
"These results show that the aviation industry is focused on the goal of achieving net zero CO2 emissions by 2050, while also recognizing the need to accelerate efforts and ensure all key stakeholders are on the playing field," says Allen Paxson, vice president and general manager of commercial programs strategy for GE Aerospace.
Respondents also indicated that advancements in both fuels and engines will play the biggest role in making net zero a reality. Engines and fuels, as GE Chairman and CEO and GE Aerospace CEO Larry Culp points out, are "two areas in which GE Aerospace has taken a leadership role."
Culp is alluding to new technology development like CFM's* RISE technology demonstration program. RISE — which was unveiled two years ago this month — is advancing a suite of new technologies such as open-fan architecture with the aim of achieving at least 20% better fuel efficiency with 20% lower CO2 emissions than the most efficient engines today. Last summer, Airbus announced that it would participate in the RISE program by partnering with CFM to carry out a flight test demonstrator program on an Airbus A380 during the second half of this decade, to validate the open-fan engine architecture. A half-scale model of the open-fan architecture will be front and center during the Paris show — watch GE Reports in the coming week for more news.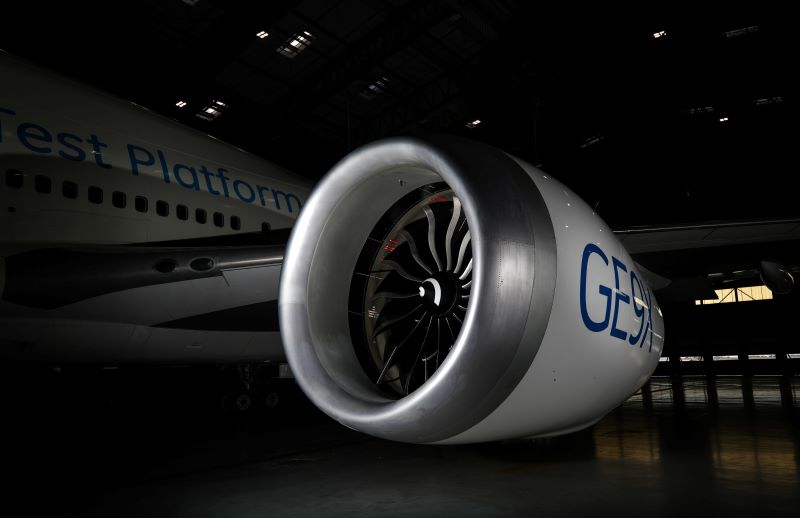 Attendees at the show will also find out what GE Aerospace has been up to in fuels research. Sustainable aviation fuel (SAF) is one area where the company has been notably ahead of the curve, through research efforts going back more than 15 years, and a partnership with United Airlines that demonstrated the successful use of 100% SAF in one engine on a passenger flight. These fuels, which can be made from plant-based material, fats, oils and greases, alcohols, waste streams, captured CO2, and other alternative feedstocks, have the same chemical composition as conventional Jet A fuel. They have the potential to lower life-cycle CO2 emissions by up to 80% compared with conventional jet fuel. All engines produced by GE Aerospace and its partners are able to run on approved SAF blends today.
"The use of sustainable aviation fuel is core to what we need to do to enable the growth in travel," said Sheila Remes, vice president of environmental sustainability at Boeing, earlier this year. "Our focus is to change the energy source and continue to innovate around more efficient airplanes." Respondents to the new GE Aerospace sustainability survey rank increased sustainable aviation fuel investment as the number one most important role for government to play in reaching the 2050 goal.
Another path is electrification, which has rolled out on the world's roads and could be coming to the skies soon. Under NASA's Electrified Powertrain Flight Demonstration project, a five-year, $260 million effort announced in 2021, NASA and GE Aerospace are advancing development of a megawatt-class integrated hybrid electric powertrain, with plans to flight-test it later this decade. Boeing and its subsidiary Aurora Flight Sciences will modify the plane and perform system integration and flight-testing services.
Christine Andrews, executive hybrid electric systems leader for GE Aerospace, said that it's "an engineer's delight to have a new landscape of technology development both in the actual hybrid electric system as well as in the adjacencies such as certification, airworthiness, quality, power electronics, and components we haven't looked at before."
In collaboration with Airbus, CFM International in 2022 announced plans to test a GE Aerospace aircraft engine fueled by liquid hydrogen.
"With GE Aerospace and our partner engines powering three-quarters of the world's flights, we recognize the important responsibility we have to meet the industry ramp and do so more sustainably and more efficiently for our customers," says GE's Paxson.
The 54th Paris Air Show takes place June 19–25. Stay tuned to GE Reports for breaking news, photos, and in-depth articles from the show.
*CFM International is a 50-50 joint company between GE Aerospace and Safran Aircraft Engines.
Categories
tags