Building a world that works: This is the motivating principle behind the work that's done at GE all across the planet. As we celebrate Earth Day, GE Reports shines a spotlight on a half dozen of its most impactful breakthrough technologies that are helping to usher in a more sustainable future — and some of the dynamic people leading these efforts every day. These are just six among many technologies you'll find on our interactive map showing where GE innovators around the world are working to realize a lower-carbon future.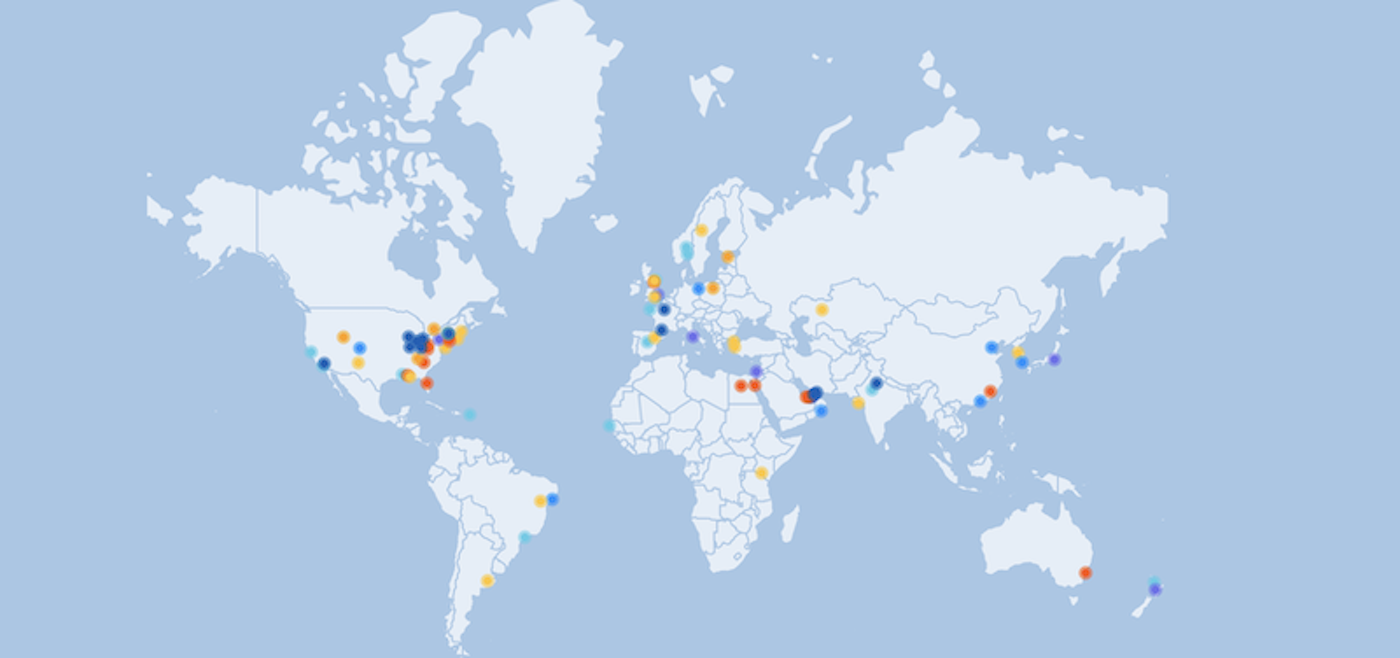 The first commercial-scale offshore wind farm in the U.S. is under construction off the coast of Martha's Vineyard. The 800-megawatt facility will draw on one of the world's most powerful wind turbines, the 13-megawatt Haliade-X. Vincent Schellings leads development of the turbine for GE Renewable Energy, and his work won him recognition from Fast Company, which named him one of 2021's most creative people in business. The powerful turbine will also be churning out high volumes of wind energy in places like the Dogger Bank Wind Farm, off the coast of England.
Nuclear energy can go a long way to fill in the gaps when intermittent renewable sources like solar and wind can't keep up with demand. Christer Dahlgren is the principal designer of the BWRX-300 small modular reactor (SMR), which offers a standardized design and a smaller footprint and can produce carbon-free electricity during generation. Last month, GE Hitachi Nuclear Energy signed an agreement with companies in Canada, Poland, and the United States to advance the development and deployment of the BWRX-300 and bring them online in those countries by the end of this decade.
At the recent Farnborough International Airshow outside London, GE Aerospace announced that it had become the first to successfully test high-power, high-voltage hybrid electric aircraft engine components at high-altitude conditions, at a NASA facility. Boeing, NASA, and GE Aerospace have also teamed up to tackle hybrid electric commercial flight through the Electrified Powertrain Flight Demonstration (EPFD) project. Christine Andrews, executive hybrid electric systems leader for GE Aerospace, is leading these efforts, which the company believes will help make hybrid electric flight a reality for everyday commercial air travel and help reduce carbon emissions associated with flying in the future.
Today's power grid is a complex organism, no longer a one-way street with current traveling from power plants to consumers and more like a busy superhighway with a lot of on-ramps and off-ramps. Data centers, industrial users with solar arrays, microgrids, wind farms, cities and communities, and even we as users are now adding energy back onto the grid, much of it renewable and intermittent. This requires us to completely rethink the way we keep the grid up and running. At GE Digital, Grid Software General Manager Mahesh Sudhakaran and his team have been developing and testing ways to help utilities orchestrate these changes, and this year they unveiled GridOS, an elegant, comprehensive software portfolio designed specifically to help electric utilities orchestrate this fast-changing electrical landscape.
Hydrogen fuel will play an important role in future decarbonization plans by utilities across the globe. GE has more than 100 gas turbines worldwide using blends of hydrogen, with more than 8 million operating hours on fuels containing hydrogen and similar low-BTU fuels, and last November during the COP27 climate conference in Egypt, a GE gas turbine ran on a blend of natural gas and hydrogen, a first for the African continent. Joseph Anis, the president and CEO of GE Gas Power Europe, Middle East, and Africa, said the demonstration was meant to show how existing gas turbines — of which GE has the world's largest installed base — can run on blends of up to 100% hydrogen, "an incredibly important point, given the billions of dollars invested in gas turbines across the world."
David Moore is the carbon capture breakout technology leader for GE Research. He and his research group have been exploring ways to tackle the "legacy" CO2 that has been building up in the atmosphere since the industrial revolution. They are currently testing a method of direct air capture, or DAC, that would vacuum up atmospheric CO2 and compress it for burial underground or utilization in such applications as sustainable aviation fuels, concrete, petrochemical products, and plastics. Moore called the initial testing a "tremendous milestone" and has plans to begin a large scale-up of the DAC process as testing continues next year.
Categories
tags