Many of the world's policymakers and major utilities who attended the 27th United Nations Climate Change conference in Egypt last month heard about GE's LM6000 aeroderivative turbine. GE has shipped 1,300 units to date, and the turbine fleet has clocked more than 40 million operating hours worldwide. The easy-to-deploy LM6000, which is derived from a jet engine, is particularly welcomed in developing countries that need a quick boost in grid capacity.
But on Nov. 15, during "Energy Day" at COP27, in a demonstration project at a thermal power plant operated by the Egyptian Electricity Holding Company (EEHC), an LM6000 unit ran on a blend of natural gas and hydrogen, marking the first time that the turbine has generated power from a hydrogen blend on the African continent.
"We wanted to show people firsthand that they can retrofit the existing installed base to run on hydrogen, which is an incredibly important point, given the billions of dollars invested in gas turbines across the world," says Joseph Anis, president and CEO of GE Gas Power Europe, Middle East, and Africa.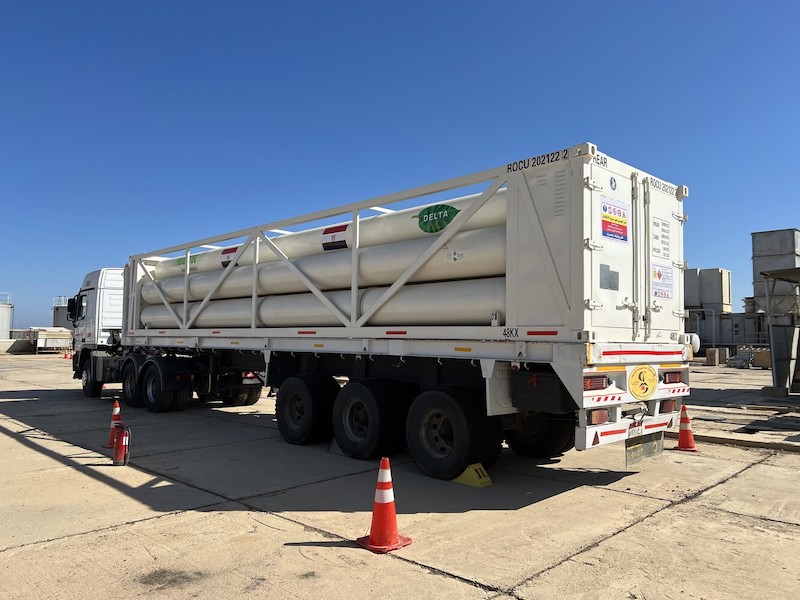 GE is no newcomer to using hydrogen in its turbines as it works to help decarbonize the world's gas-to-power sector. Not only has it manufactured more than half of the world's installed gas-to-power capacity, but its turbines have already chalked off more than 8 million operating hours on hydrogen blends and similar low-carbon-fuel operations. Hydrogen is beginning to take a prominent place in decarbonization plans by utilities across the globe. A pilot project with the New York Power Authority using the LM6000 has shown promising results in lowering CO2 emissions with hydrogen blends of 5% to 40% by volume. And in October, the Department of Energy awarded $6.6 million to GE to test retrofitting GE's big F-class turbines to run on blends containing hydrogen, with the goal of burning 100% hydrogen in the future.
"Developments in hydrogen-based power generation mean that GE's gas turbines offer great potential to operate at lower carbon intensity," Anis explains. "That helps to firm the grid as more variable renewable resources come online and shows that gas turbines can represent a destination technology, not just a bridging technology, as we transition toward a more sustainable energy future."
The Sharm El-Sheikh power plant, about a 15-minute drive from where COP27 was held, boasts six GE LM6000 gas turbines that together have a rated capacity of up to 288 megawatts. The demo was executed by the Egyptian Electricity Holding Company (EEHC), GE, Hassan Allam Construction, and PGESCO.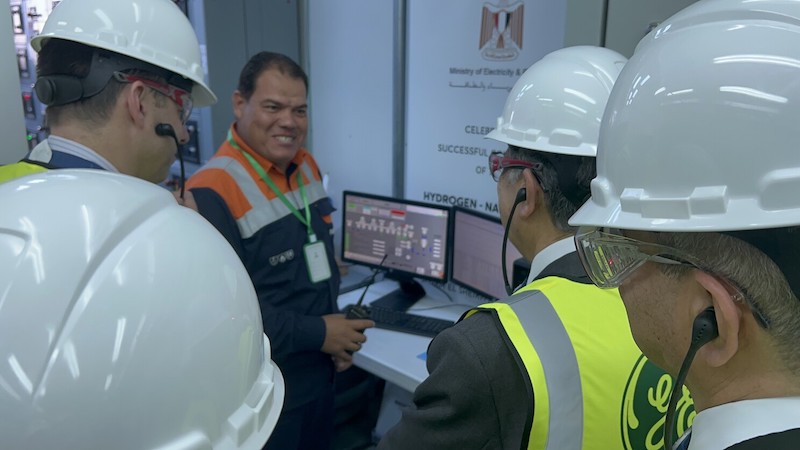 In addition to natural gas, the turbine can burn liquid fuels as well, which provides fuel flexibility to power producers.
For the hydrogen demo, GE's engineers made only minor modifications to the LM6000. They designed and installed a special blending skid, an assembly of steel pipes that supply and regulate fuel, to more safely mix the hydrogen with the natural gas and feed it to the machine.
If Egypt accelerates toward being a hydrogen society in coming years, GE's engineers can further retrofit the fuel-flexible machine to burn a blend containing more than 80% of the element. That would reduce the turbine's CO2 emissions by up to 60% compared with a version burning pure natural gas.
"Now imagine how much CO2 emissions would decline by each year if all six gas turbines at Sharm El-Sheikh ran at the highest level of hydrogen it is possible for them to operate on at baseload," says Anis. It's not a fanciful thought. GE already boasts more than 100 turbines that have run on hydrogen blends and generated power for grids worldwide. GE has also designed combustion technologies for its heavy-duty B-, E-, and F-class turbine families, which can operate on blends of hydrogen, some as high as 100%.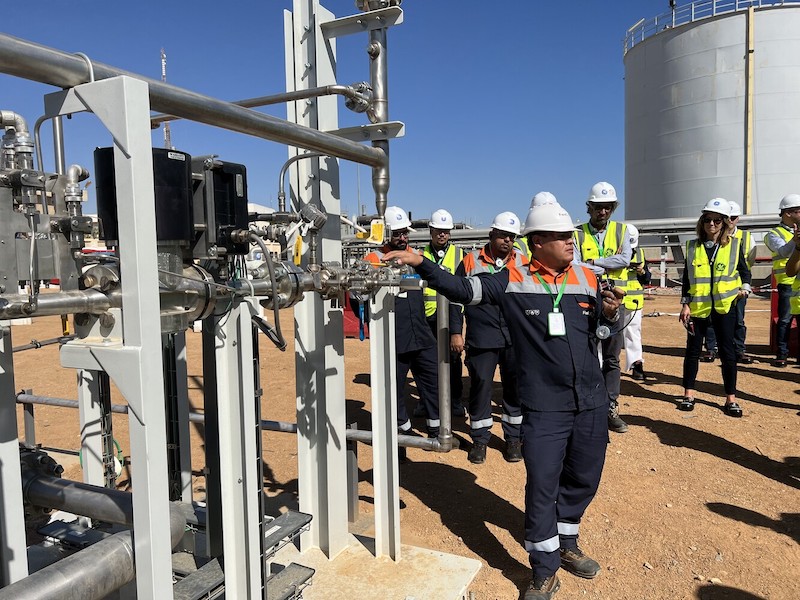 Turbine conversion is only one part of the hydrogen puzzle. Production of the gas and its storage and transportation were also formidable challenges for everyone involved in the project. Hydrogen's low volumetric density and flammability make the gas particularly hard to contain, as well as hazardous to move. GE partnered with PGESCO and Hassan Allam for the storage and transport of the element.
"With decades of experience in the power industry, Hassan Allam Construction is well positioned to take part in Egypt's transition toward sustainable energy," said Hassan Allam, CEO of Hassan Allam Holding. "Our contribution to the hydrogen/natural gas fuel blend project was comprehensive, covering the critical areas of procurement, construction, and electromechanical scopes. We are looking forward to the role the country will play in building global sustainability platforms, in which Hassan Allam Holding will be a key player."
"We are delighted to take part in the completion of such a unique project," says Ahmed Ramadan, CEO of PGESCO. "It is a milestone in Africa and the region, illuminating how we can use hydrogen-blended fuels for future energy production through global collaborations, thus potentially making a significant positive impact on the environment."
Learnings from the Sharm El-Sheikh experience will be studied and shared by EPRI, through the Low-Carbon Resources Initiative. "EPRI's engagement brings an element of global collaboration to the project that can inform future hydrogen-blending power projects around the world," explains Arshad Mansoor, president and CEO of EPRI.
And there lies the true value of the project: showing what it is already possible to achieve and what more can follow.
As H.E. Dr. Mohamed Shaker El-Markabi, Egypt's minister of electricity and renewable energy, said, "Today, as I announce the successful operation of a GE LM6000 aeroderivative gas turbine on hydrogen-blended fuel right here in the city of Sharm El-Sheikh during Energy Day at COP27, the world can see what is possible when you bring big dreams, strong resolve, and committed partners together."
Categories
tags