It's safe to say most people who have traveled by air have encountered GE Aerospace products during their journey. Engines made by GE Aerospace or its partner companies power three-quarters of the world's flights. Just as notable is GE's work with militaries around the world.
GE's world-class engines and integrated systems benefit from the company's investment in both military and commercial technologies, and their performance and reliability have earned them the trust of warfighters and nations across the globe.
GE Aerospace showed off its latest technologies this past week at the Paris Air Show, and we've collected some of the most important milestones from a half century of innovations and international partnerships — along with a look at the next era of military flight.
In Service Around the World
T700/CT7
With more than 25,000 engines delivered to over 130 customers in some 50 countries, the T700/CT7 turboshaft family has proven itself in the world's harshest environments. In four decades of service, it has surpassed 100 million total flight hours as the powerplant for the Boeing AH-64 Apache, Sikorsky UH-60 Black Hawk, Leonardo AW149, Agusta Westland EH-101/AW-101, Sikorsky MH-60R/S Sea Hawk, and Bell AH-1Z Viper helicopters, among others. The T700/CT7 engine line has grown more powerful and reliable with each of its dozens of variants, incorporating technological advances for enhanced performance.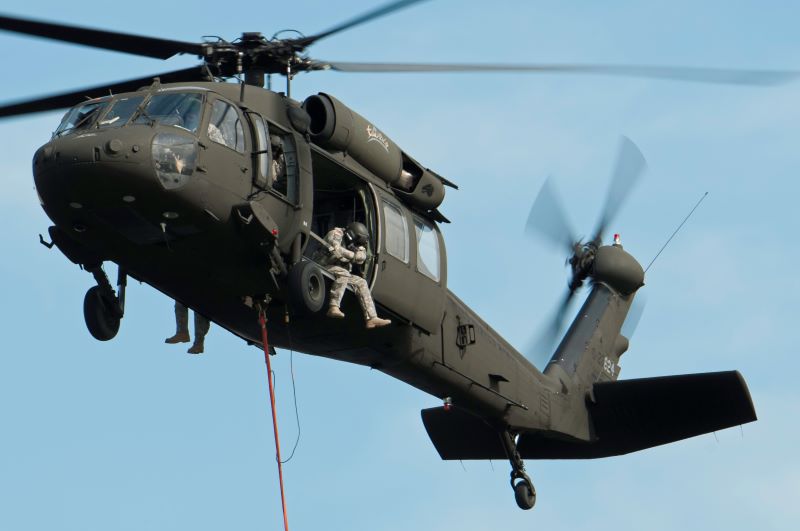 F404/414
With its rapid throttle response and strong thrust, the F404 is a versatile turbofan engine currently being put to use in 16 nations' militaries. Developed for the F/A-18 Hornet fighter, it also powered the U.S. Air Force's now-retired F-117 Nighthawk stealth plane. GE is preparing for a historic production ramp of the F404 to fulfill the U.S. Air Force's purchase of 351 Boeing T-7A Red Hawk trainer jets — which incorporate the F404-GE-103 variant — and a contract for 99 F404-GE-IN20 engines for India's HAL Tejas Mk 1/1A fighter.
Derived from the F404, the F414 has become the preferred engine for next-generation fighters around the globe, including the U.S. F/A-18E/F Super Hornet and EA-18G Growler; Saab's JAS 39E/F Gripen, in service in Sweden, South Africa, Hungary, the Czech Republic, Brazil, Thailand, and the U.K.; and Lockheed Martin and NASA's experimental X-59 Quiet Supersonic Transport.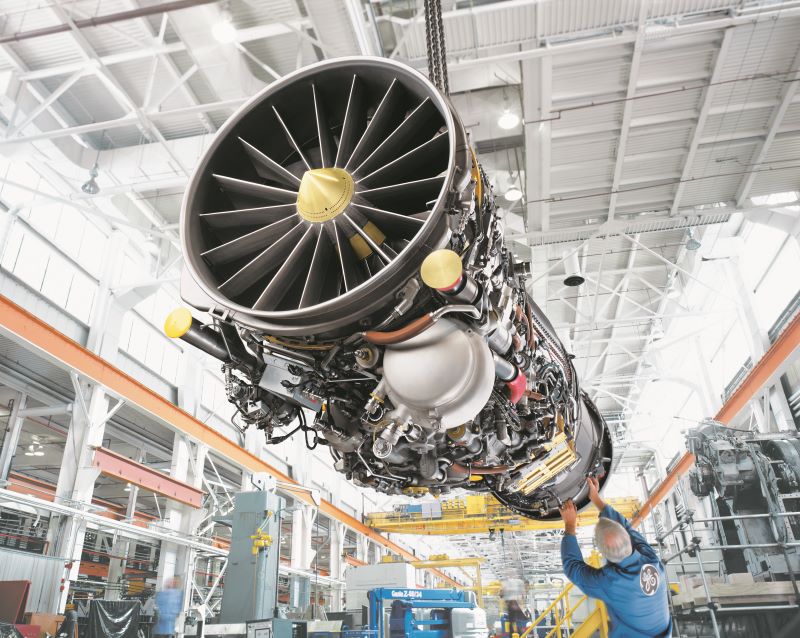 Global Relationships
Poland
Last September, the Polish military announced its intent to purchase 96 AH-64E Apache helicopters, powered by GE T700-701D engines. The order was four times larger than experts expected, but, with a watchful eye on tensions in the region, Poland is pushing to modernize its military. The following month, Warsaw selected the CT7-2E1 turboshaft for its 32 new Leonardo AW149 helicopters, citing the engine's reliability, performance, and low maintenance cost. When deliveries start this year, the aircraft will join a fleet of T700/CT7-equipped AgustaWestland AW101 and Black Hawk helicopters operated by the Polish navy, special forces, and national police.
Australia
GE engines power one-third of all Australian Defense Force platforms — the fruits of a multi-decade strategic partnership between GE and the nation's military. Australia's F/A-18F and EA-18F fighters are outfitted with GE F-414-400 engines, and the army recently announced plans to buy 40 Black Hawk and 29 Apache helicopters, both long-standing platforms for GE's T700-701D engines. The Royal Australian Navy is also slated to receive 12 MH-60R Seahawk helicopters — equipped with T700-401C turboshaft engines — by 2026.
South Korea
South Korea chose GE engines to power its next-generation indigenous fighter. The multi-role KF-21 Boramae, which flew for the first time last July, will replace the country's F-4D/E Phantom II and F-5E/F Tiger II, delivering significantly greater mission capability, extended combat radius, and a longer life span. GE will provide two F414-GE-400K engines for each of the 120 KF-21 aircraft, which are scheduled to be completed by 2026.
Other GE engines are already on the job in South Korea, including F404 engines in the T-50 Golden Eagle, a high-performance supersonic trainer; T700 engines in the utility helicopter Surion; and F110 engines in the F-15K fighter.
India
GE's history with the Indian military stretches back nearly 40 years. F404 engines have powered each generation of the Tejas, the Indian air force's light supersonic fighter. Working with the Indian military's research arm, GE has also developed a high-thrust variant of the F404, called the IN20, for the country's current fleet. The GE F414 was selected by India in 2010 to power the Tejas MkII Light Combat Aircraft, which is currently in development. In addition, Boeing and Sikorsky attack helicopters throughout the Indian military are equipped with GE T700 turboshaft engines, and India's frigates have relied on GE LM2500 aeroderivative engines since the 1980s
Greece
The U.S. government cleared in 2019 the sale to Greece of seven Sikorsky MH-60R multi-mission helicopters, which will be powered by 18 GE T700 engines. This won't be the first maritime aircraft powered by GE in the nation; Greece's in-service fleet includes the Sikorsky S-70b, which is outfitted with a T700 engine. Other GE-powered aircraft in the country include the Hellenic Air Force's F-16s, powered by GE's F110 engines.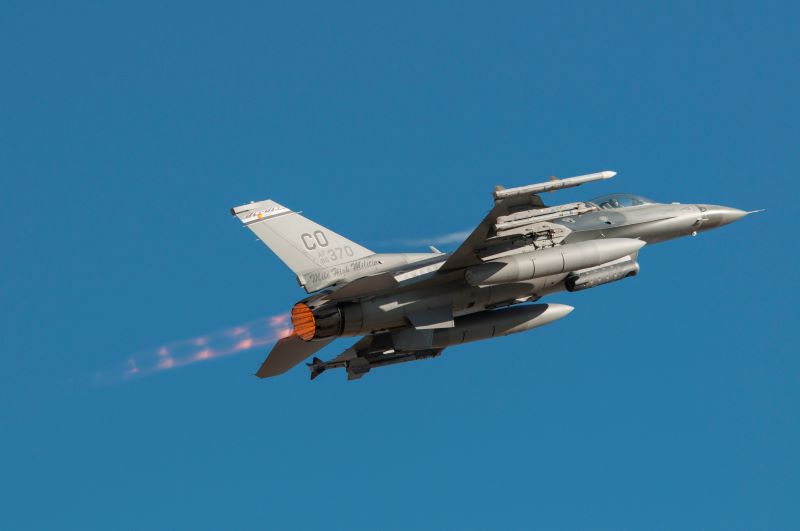 The Next Generation
XA100
GE is already working on technologies for military aircrafts of tomorrow. The world's most advanced fighter engine, GE's XA100, has been maturing adaptive cycle technologies that allow the engine to switch automatically between high-thrust and high-efficiency modes — creating more operational flexibility with greater range and enhanced combat performance with better acceleration. Compared to today's most modern fighter engine, the XA100 in high-efficiency mode improves fuel consumption by 25%, extending the aircraft's range by 30%. In high-thrust mode, the engine creates 10% more thrust, allowing the plane to accelerate 20% faster during takeoff and advanced maneuvers. It's three-stream architecture is also unlocking significant capabilities that enhance mission survivability and lethality. In September, the XA100 completed nearly two years of testing across two engines and following more than a decade of development. The results have shown the engine's potential to substantially leapfrog the capabilities of today's best combat engine thanks to its adaptive cycle, three-stream architecture, coupled with the integration of advanced materials and additive manufacturing. This engine represents the future for combat aircraft. 
T408
GE's T408 turboshaft is the engine of choice for the U.S. Marine Corps' most advanced heavy-lift helicopter, the Sikorsky CH-53K King Stallion. During more than 18,000 flight hours aboard the CH-53K, the T408 has demonstrated 57% more power and 18% better specific fuel consumption than its predecessor, the T64. In April, GE Aerospace was awarded a $684 million contract for the sixth, seventh, and eighth lots of T408 engines to power the CH-53K. This latest contract for engines and other services follows five previous contracts for T408 engines, the most recent being in January 2021.
T901
As workhorses for the American, South Korean, Japanese, Colombian, Israeli, Egyptian, and Dutch militaries for more than 30 years, Black Hawk and Apache helicopters have taken on an ever-growing list of capabilities — and an ever-heavier payload. In response, GE built on its experience with these aircraft to develop a successor to their engine, the T700. Based on the same design but using a simpler construction, the T901 provides 50% more power and 25% better specific fuel consumption, as well as longer range and enhanced maneuverability. The engine performs reliably whether in extreme heat, at high altitudes, or engulfed by sand and dust clouds. The T901 was chosen by the U.S. Army as the designated power plant for the next generation Future Attack Reconnaissance Aircraft. The first delivery to the service is scheduled for early in the government's fiscal year 2024.
Categories
tags