The Concorde completed its last transatlantic flight in 2003, but commercial aviation has been pining for a chance to rekindle the romance of flying at the speed of sound. That chance just got one step closer to reality.
In August, NASA took delivery of the first F414-GE-100 engine for its X-59 QueSST plane, a one-of-a-kind experimental aircraft that will fly faster than Mach 1 and higher than most high-performance aircraft at 55,000 feet.
Designed by NASA and Lockheed Martin, the X-59 QueSST (short for Quiet Supersonic Technology) made Popular Science's list of 100 Greatest Innovations of 2019. The plane's distinctive shape — a pointy, 30-foot nose and swept wing, reminiscent of the Concorde — has been devised for a specific purpose: to dial back the noise that supersonic aircraft create when they break the sound barrier, reducing the sonic boom that can rattle windows at ground level to a gentle thump.
The project began six years ago as design study for commercial supersonic technology research within NASA's aeronautics program. It has since evolved into what is now called the Low-Boom Flight Demonstration (LBFD) mission. And while many previous X-planes have had their origins in military programs, the X-59 has essentially been designed and built from scratch using existing systems from other high-performance aircraft. GE developed a new variant of the F414 fighter-jet engine to meet the X-59's exacting performance and reliability needs — the ability to accelerate and climb to a cruising altitude of 55,000 feet.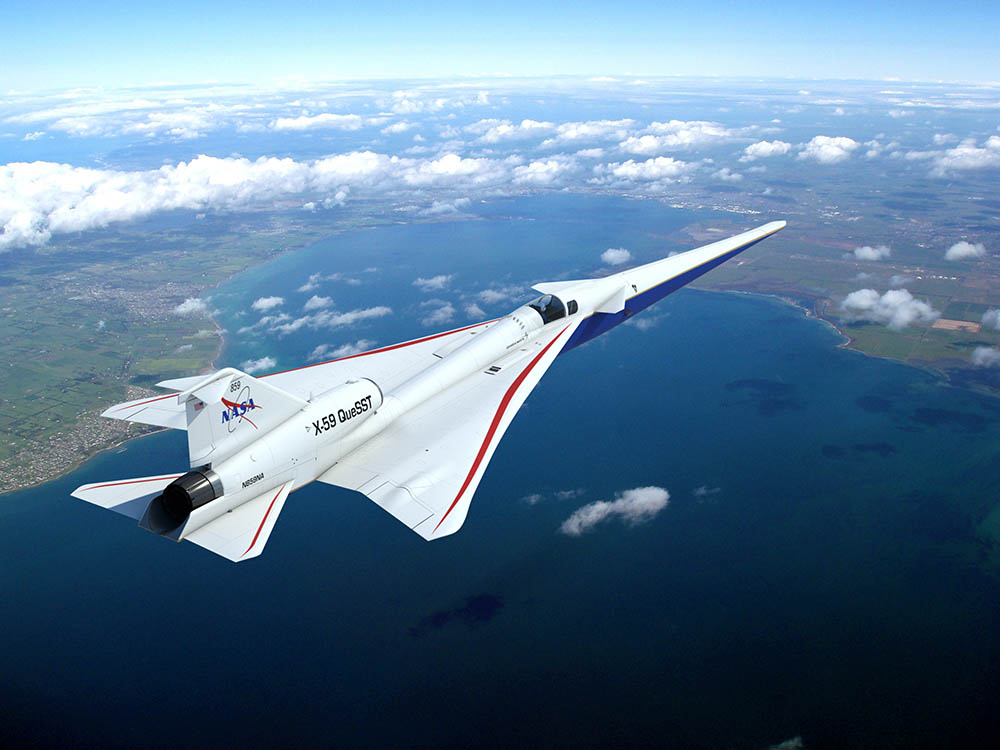 The new engine, which was built and initially tested at GE Aviation's facility in Lynn, Massachusetts, is nearly 13 feet long, 3 feet in diameter and can produce 22,000 pounds of thrust. "We're going to need every pound of thrust that this engine can put out to complete this mission," says Ray Castner, NASA's LBFD propulsion lead for the X-59. "And that thrust is in the afterburner."
The goal of that mission? To prove the X-59 can operate without making excessive noise from sonic "thumps" and ultimately collect community response data from people on the ground. The current timeline calls for NASA to test the X-59 over communities starting in 2024. The data from those test flights will go to the Federal Aviation Administration and the International Civil Aviation Organization with the aim of adjusting rules for noise levels, which could help to open up a new commercial market for supersonic flight over land.
But before those flights can take place, the body of the plane has to be fully assembled, the engine has to be integrated and the X-59 will have to undergo a battery of ground and airworthiness tests. At the moment, the plane is under construction at Lockheed Martin's Skunk Works facility in Palmdale, California, while the engine is being prepped just up the road at NASA's Armstrong Flight Research Center on Edwards Air Force Base, where GE once used to test its jet engines.
When the time to install the engine comes, the lower portion of the aft fuselage will have to be removed so that the F414-100 can be lifted up and secured into place. The ground tests, which should begin next summer, will focus on many aspects of engine performance and operability — analyzing different throttle positions to measure airflow, checking that the plane cools the engine adequately, and ensuring the fuel and electrical systems are in line. And by ground test, NASA means exactly that: The X-59 will stand stationary, with brakes on and restraining tethers fastened, while the engine is put through the paces.
For GE's engineers, it's been a golden opportunity to show off their innovative chops. "This is a unique program overall and certainly a new platform for the F414," GE Aviation Program Manager Dave Prescott says. "We're leveraging the proven performance of the engine and allowing it to showcase its versatility."
If everything goes according to plan it could create a whole new boom.
Categories
tags