This week, in the skies over the Yelahanka Air Force Station in Bengaluru, India, the world's most cutting-edge aircraft looped and raced as an audience below craned their necks to watch. The occasion: Aero India, a biennial aerospace trade show sponsored by the Indian government. Attended by officials and executives from 98 different countries, the event was a showcase for India's growing aerospace sector.
It was also a showcase for a nearly 40-year partnership between GE and India's commercial and military aviation sectors, a relationship that had been significantly broadened and deepened by the end of the show. On the commercial side, Air India announced the biggest-ever purchase by an Indian airline of aircraft and jet engines, including 400 single-aisle and 70 twin-aisle planes powered by engines built by GE and CFM International, a 50-50 joint company between GE and Safran Aircraft Engines. The blockbuster deal, ranking near the top of all deals worldwide, signaled the recovery of commercial aviation after years of Covid shutdown.
At the same time, GE executives also announced agreements that deepen the company's investment in India's military. One expands GE's most significant partnership within the Indian armed forces — its work with Hindustan Aeronautics Limited (HAL), the government's aerospace and defense manufacturing firm.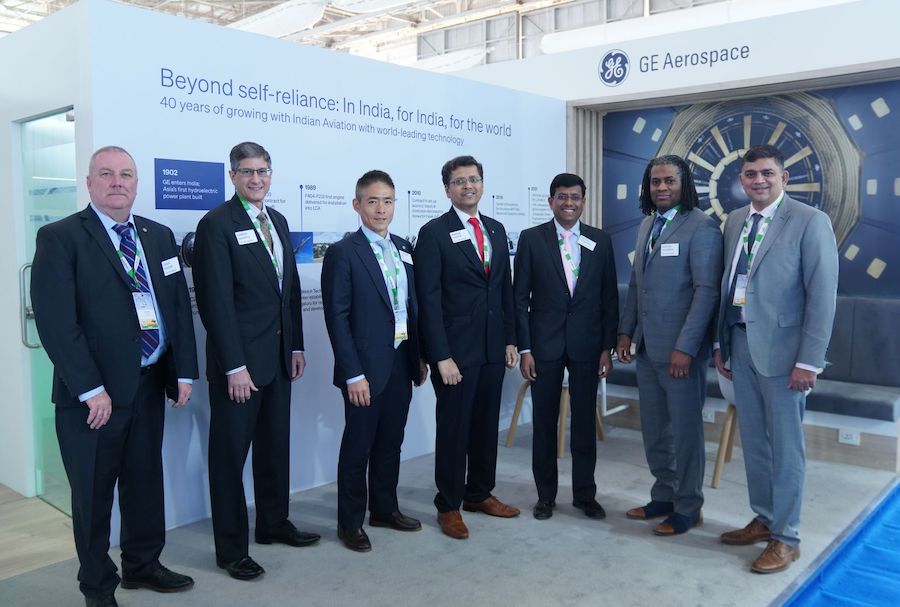 The relationship dates to 1986, when the companies collaborated on an engine for a prototype fighter. More than 30 years later, HAL continues to assemble the GE F404 family of engines that have powered each generation of the Tejas, the light combat aircraft (LCA) that evolved from that project. In addition, HAL's Industrial and Marine Gas Turbine Division in Bengaluru has assembled and tested every GE LM2500 marine gas turbine destined for the Indian Navy. The aeroderivative engine has powered India's frigates since the 1980s.
Now the two companies are planning to broaden their collaboration. GE announced that it will partner with HAL to build and test a 4-megawatt gas generator, based on GE's LM500 engine, to power electrical systems on Indian naval vessels.
"It was a natural choice to go with HAL," says Rahul Gadre, GE Aerospace's sales director for military engines and systems. "HAL knows us; we know them. With HAL's capabilities, we can get to work quickly."
GE also announced this week that it has agreed to outfit the LM2500 engines on the INS Vikrant, the first Indian-designed-and-manufactured aircraft carrier, with a package of digital enhancements. Included is GE's SmartSignal software, which alerts operators to equipment conditions that could cause engine damage. The LM2500's internal sensors — which monitor load, temperature, pressure, and other conditions — will send readings to an onshore "digital twin," a virtual simulation of the engine.
"Sitting at your desk, you'll see exactly what is happening in the heart of the turbine," Gadre says. SmartSignal's predictive analytics technology can help naval officers address problems quickly, shortening downtime and lowering operational costs.
As GE and its partners celebrated their new projects, GE's booth at Aero India showcased the company's long history with the Indian aerospace industry. Some highlights: Working with the Aeronautical Development Agency (ADA), the Indian military's research arm for aircraft development, GE developed a high-thrust variant of the F404 engine, called the IN20, to power the Indian Air Force's current fleet of supersonic fighters. GE has supplied more than 60 F404 engines for the Tejas, with 99 IN20s on order. In addition, GE T700 turboshaft engines power attack helicopters across the Indian military made by Boeing and Sikorsky.
"It's been a mutually rich learning and rewarding experience collaborating with GE over the last 40 years," says Girish S. Deodhare, director general of the ADA. "They have been able to clearly understand India's needs for indigenous fighter programs."
GE's history in India also includes a commitment to Prime Minister Narendra Modi's campaign to transform the nation into a global mass-production powerhouse, a campaign he calls "Make in India." The initiative urges foreign companies to set up shop in India, something GE has a long head start on. "We've been making stuff in India for decades," says Youngje Kim, GE's military sales lead for Asia. "And not only for India; we've been buying from Indian manufacturers and selling internationally."
In fact, 13 Indian companies supply GE's global aviation factories; other local facilities build GE products that are bound for customers closer to home. In addition to its collaboration with HAL — which will soon expand to include the manufacture and testing of a variant of the GE F414 engine to match customer specifications for the next-generation Tejas fighter — GE has established a manufacturing facility in Pune, which produces aircraft engine parts, locomotive technology, wind turbines, and water treatment units for the nation's military and industry.
GE is also helping to train the local workforce. The company works closely with India's premier technical colleges to prepare students for careers in engineering, manufacturing, and maintenance. In collaboration with state governments, the company has also set up R&D hubs — including one in Chennai dedicated to additive manufacturing in aerospace — to promote innovation and develop Indian intellectual property.
"Our Indian partners know that we have the capability and technology to make them successful," Kim says. "That's why they keep working with us."
Categories
tags