Imagine a world where a genomic sequencer small enough to fit in the palm of your hand maps the DNA of a virus in mere hours. Where you can test for a variety of maladies, from skin cancer to urinary tract infections, without going to the doctor. Where monitors use digital algorithms to adjust oxygen levels for ICU patients.
Now stop imagining. Thanks to artificial intelligence, we're quickly approaching that world.
In the past year, with the arrival of the COVID-19 pandemic, the use of AI technology has accelerated, becoming a crucial tool in several critical areas. It has helped reduce the amount of experiments and chemical compounds needed in the drug development process and aided doctors with tasks ranging from speedier CT and MRI scans and more detailed diagnoses to the positioning of breathing tubes in patients suffering from cardiopulmonary diseases. It has even helped free up bed space in some facilities by reducing the average patient stay, which can lower overall costs.
The adoption of AI and digital technologies in healthcare was also the topic of a Washington Post Live webinar last week. Sponsored by GE, the event featured Everett Cunningham, GE Healthcare's president and CEO of the U.S. and Canada, and Dr. Rachael Callcut, interim chief research informatics officer at the UC Davis School of Medicine and Health System who has worked with GE on AI software that can help enable the swift detection of life-threatening conditions, along with some of the nation's top thinkers and innovators in the healthcare space. 
Cunningham noted AI was a particularly useful tool when used to increase efficiency and improve workflows, for example, to prioritize images for review or to help hospitals manage resources. "Collaboration is key," Cunningham says. "It's going to take the entire ecosystem of healthcare to really tackle this and move healthcare forward."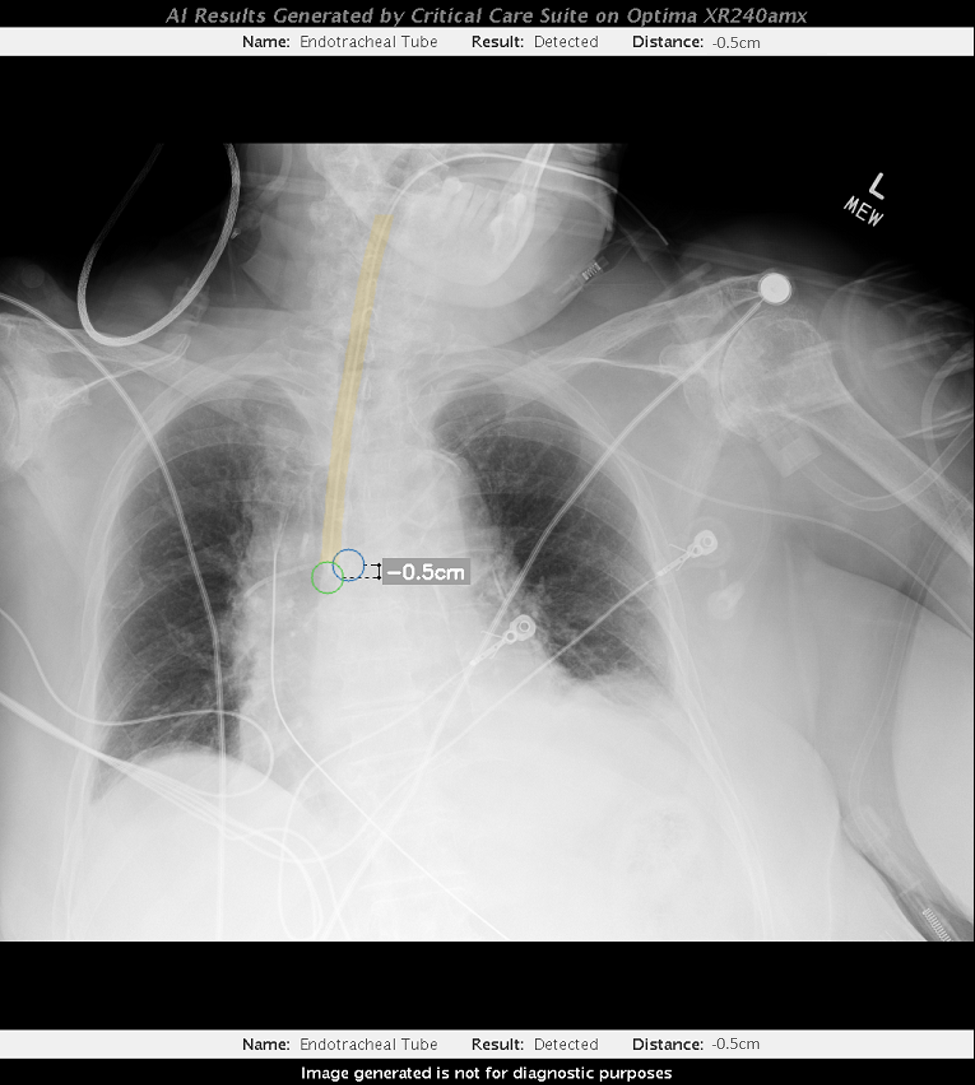 One very compelling example: The use of AI and accelerated computing has the potential to hasten the development of new drugs in the same way that the U.S. government's Operation Warp Speed helped produce a vaccine for COVID-19 in less than a year. Andrew Hopkins, founder and CEO of Exscientia, a pharmatech company, pointed out in a panel discussion that SARS, MERS and now COVID-19 have given researchers a greater understanding of the genomic spectrum of coronaviruses. That understanding, coupled with the use of artificial intelligence in mapping genomes, could help them develop "a pan-virus compound" quicker in the event of a future pandemic.
Cooperation is likely to remain an important part of any work using AI going forward. "Nobody will be able to develop these powerful tools in their own isolated silo," Callcut says. Callcut's team has rapidly adapted various tools to make care "faster, more efficient, and diagnoses quicker." One of them can aid clinicians to position breathing tubes in patients and help improve their treatment while also reducing the risk of COVID exposure among healthcare personnel, she says.
AI technology is also going to come in handy as the U.S. deepens its genomic research into COVID-19. Dr. Eric Topol, a professor of molecular medicine and founder and director of the Scripps Research Translational Institute, noted AI could be particularly helpful in discovering new strains of the virus in the United States, given its virtually unchecked spread throughout the country.
AI is helping hospitals and front-line healthcare workers cope with the various burdens COVID-19 has put on them. GE's Mural virtual care solution — currently operating at Oregon Health and Science University's hub in Portland, Oregon, as well as in some regional branches throughout the state — uses AI software to pull data from multiple systems and devices onto a single screen, giving doctors and nurses a real-time, comprehensive view of patients' status no matter where they are in the hospital. GE Healthcare has also worked with Tampa General Hospital in Florida to develop a patient care command center that Cunningham says resembles "NASA mission control." By automating patient flow, the hospital has been able to increase capacity and decrease the length of patient stays. These improvements represent the equivalent of 30 beds of additional capacity and the hospital reports saving $40 million since implementation.
"AI is making health systems more intelligent, it's helping in patient care and it's lowering overall costs," Cunningham says. "To me, that's the trifecta. AI is here to stay."
Categories
tags