Like many tasks in medicine, threading a breathing tube down a patient's trachea requires skills, patience and steady hands. Insert the tube not far enough and the patient can throw up food into their lungs, causing infection; insert it too far and you might trigger a collapsed lung or cardiac arrest. Doctors often order a chest X-ray to make sure the tube is positioned right.
In 2020, clinicians have been intubating more patients than their usual share as the procedure became an important tool for keeping the sickest COVID-19 patients alive. With more than 55 million COVID-19 cases worldwide, 5%-15% require intubation.[1]
But now, as the virus' surge puts even more pressure on intensive care units, where up to 45% of patients, including COVID-19 cases, need mechanical ventilation[2],[3],[4], doctors have a new assistant. Software using artificial intelligence (AI) aims to help clinicians assess the placement of endotracheal tubes and make critical adjustments faster.
The AI solution is part of GE Healthcare's Critical Care Suite 2.0[5] — a collection of algorithms embedded in mobile X-ray devices that give hospitals access to AI without huge investments in IT infrastructure.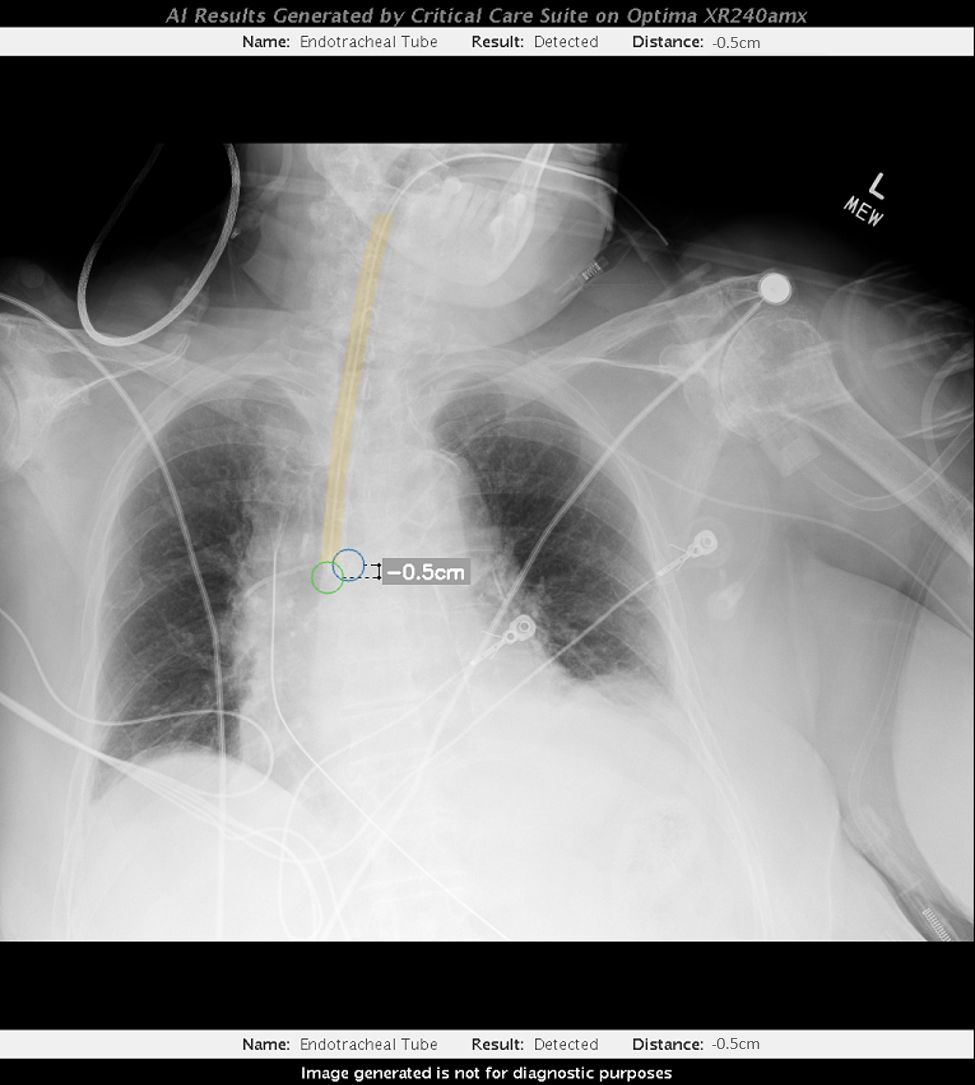 In a typical intubation procedure, a clinician inserts the breathing tube and a radiologist studies the X-ray to confirm the tube's positioning. Properly placed tubes stop between 3 and 7 centimeters above the carina — the point where the trachea splits into each lung. Before the arrival of AI, research shows that breathing tubes were poorly positioned in up to 25% of patients intubated outside of operating rooms, such as in an ER or ICU. [6],[7],[8],[9],[10]
GE's AI detects the end of the tube, calculates its distance from the carina and displays the data on the X-ray monitor within seconds of capturing the image. That instantaneous feedback can help give clinicians more confidence in their work and help identify which patients need additional adjustment.
Software engineers trained the algorithm by feeding it X-ray images gathered from 32,000 intubations. (Training algorithms is like teaching children to read; if you point to a word and say it enough times, eventually they'll learn it.) In 94% of cases, the new algorithm can provide the distance from the tip of a breathing tube to the carina within 1 centimeter.[11]
GE's original Critical Care Suite — released in September 2019 and available in a dozen countries — features an algorithm that detects suspicious cases of pneumothorax, a form of collapsed lung caused by tears that leak air into the space between the lung and chest wall. As that air pocket grows, it presses on the lung, making it harder to breathe.
Every year nearly 74,000 Americans suffer from pneumothorax, including up to 1% of hospitalized COVID-19 patients. It can be easily treated — if detected early on an X-ray. Unfortunately, in many hospitals, it can take up to eight hours for a radiologist to read a STAT image[12], that can allow the condition to become increasingly life-threatening.
"In several COVID-19 patient cases, the pneumothorax AI algorithm has proved prophetic," says Dr. Amit Gupta, modality director of diagnostic radiography at University Hospital Cleveland Medical Center. "Altogether, this technology is a game changer, helping us operate more efficiently as a practice, without compromising diagnostic precision."
Categories
tags