For decades, airlines have had an additional revenue stream: belly cargo. That open space under passengers' feet, which can account for 20-25% of a plane's cubic footage, doesn't just hold checked bags. It's also been a way for airlines to make extra money by offering excess space to customers looking to ship everything from electronics to mail.
So, in March, when passenger flights practically ground to a halt worldwide, there also was suddenly a lack of shipping space at a time when it was in huge demand as people moved to the internet to buy their clothes, cookware and food. The airlines' setback was an unexpected boon for the freight industry, which has entire fleets of planes designed solely for cargo. "Where we were sitting in the cargo business at the beginning of the year and where we are today, no one could have possibly envisioned such a night and day difference," says Jeff Glaus, vice president of commercial leasing programs for North America for GE Capital Aviation Services, or GECAS, one of the largest aircraft leasing agents in the world. "COVID has jumpstarted things."
Put another way: Opportunity knocked and the cargo doors opened. According to data collected by the International Air Transport Association, the industrywide cargo load climbed 11.5% in July, compared to the year before. Seeing the writing on the wall, a number of passenger airlines are now getting into the cargo game.
S7 Airlines, the largest privately owned airline in Russia and the second-largest commercial operator overall after Aeroflot in that country, recently leased its first two 737-800 Boeing Converted Freighter (BCF) aircraft from GECAS. The narrow-body jets — essentially 737 passenger planes that have been converted from passenger to cargo use —will allow S7 Airlines to fly dedicated short- and medium-haul routes within Russia as well as to and from other nearby regions. "At the time they started looking at cargo, they were — and still are — No. 1 domestically (for passenger travel) in Russia," says Alex Plats, senior vice president of marketing for GECAS, who manages customer relations with S7 Airlines. "They knew the market, understood the trends and requirements, and where the demand could be."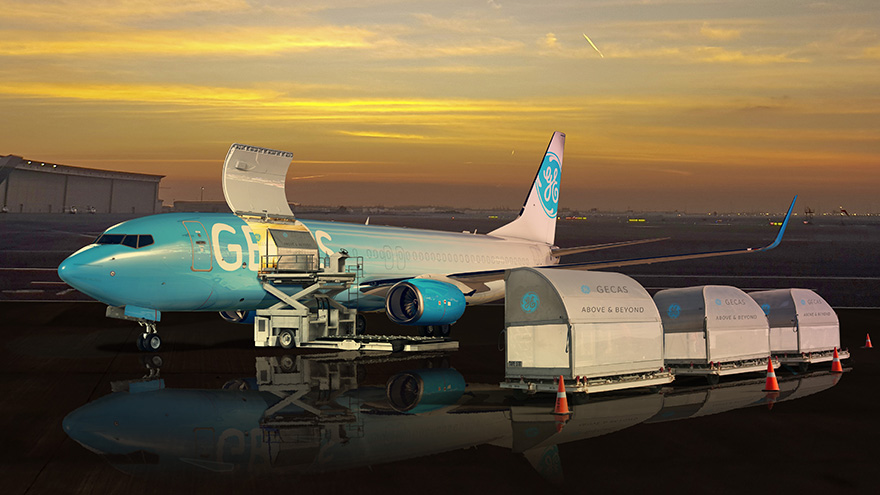 GECAS has been bullish on cargo conversions for the past five years. It saw a growing need for narrow-body freighters and happened to have a significant number of 737-800NGs in its portfolio. The planes typically fly for 16 to 24 years as passenger jets before being remarketed, retired or resold. But cargo conversions can extend the operating life of each aircraft as the utilization is generally lower than passenger operations.
In 2015, GECAS teamed up with Boeing to create a 737-800NG passenger-to-cargo conversion program, giving birth to the 737-800BCF. With 60 firm orders and an option for 14 more, GECAS is Boeing's main customer on the program. "It's been a very successful program," Glaus says. "It's a proven aircraft in the passenger market with over 5,000 built, coupled with high availability of spare parts and engines spread across the globe."
It takes about three months for Boeing to transform a passenger plane into a freighter. First, they strip the interior down to its bones: All the seats come out, along with the luggage compartments, carpeting and some of the flooring. After reinforcing the remaining floors, Boeing's technicians fit the new cargo space with rollers so that pallets and containers can slide in and out easily, replace sidewall panels, and install a new cargo door in the fuselage.
The 737-800BCF retains all of the characteristics of its passenger-configured sister, including the CFM56 engines. Built in a 50-50 joint venture between GE and Safran Aircraft Engines, the CFM56 is known for its low fuel consumption, high efficiency and reliability, and improved environmental credentials. "There's literally no difference, other than a big hole cut in the side of the aircraft adding the cargo door," Glaus says.
While S7 Airlines is just dipping its toe into the cargo business with its first two BCFs, it is joining some major players. Amazon's Prime Air continues to grow its operation and has 50 medium wide-body freighters operating on its behalf as well as 20 leased narrow-body BCFs from GECAS. Together with Israel Aerospace, GECAS has recently launched a program to convert wide-body Boeing 777-300ER passenger aircraft to freighters, with the prototype "Big Twin" scheduled to enter service in 2023.
With a load capacity over 20 tons, the 737-800BCF is able to haul a wide range of high-value products — everything from perishable goods like live seafood to electronics and IT equipment, spare parts, machinery and pharmaceuticals. "With the disappearance of the passenger fleet globally, belly cargo space disappeared as well. So, anyone who has the capacity to carry cargo is the king of the road," says Plats. "While our discussions with S7 Airlines for the 737-800BCFs predate the emergence of the pandemic, the current turn in the market punctuated S7 Airlines' confidence to bring these dedicated freighters into its fleet and truncated the timeline to do so. And, when things get back to normal, these steps will help S7 Airlines accelerate its insertion into the cargo market."
Categories
tags