GET READY

In February, a few days after a Chinese tourist became the first known COVID-19 fatality in France, professor Erwan L'Her put his staff through a simulation. L'Her is the chief of intensive medicine at the Centre Hospitalier Régional et Universitaire in Brest, and the director of the CESIM healthcare simulation center, where more than 5,000 professionals train every year in immersive environments. What L'Her learned from that initial COVID-19 simulation was that his staff was unprepared to properly test, diagnose and isolate patients with the disease without putting themselves at risk. So he and his colleagues did what they do best: They ramped up training that helped them safely treat COVID-19 patients — and gleaned lessons that could resonate widely.

Practice for practitioners: One of the riskiest steps associated with COVID-19 treatment is endotracheal intubation, which involves placing a tube through a patient's windpipe to aid breathing. If patients cough during the procedure, that can help spread the virus — so L'Her's staff made sure to get plenty of intubation practice in preparation for seeing more patients. They also made sure they had enough gear: L'Her's team worked with an international consortium that created a modified, full-face snorkeling mask that functions as a respirator for healthcare workers. By the time hospitals in Paris began battling a wave of infections — and sought to ease the strain by sending some patients elsewhere, including Brest — L'Her and colleagues were ready: "The fact that everybody was trained meant they felt secure," he said. "Our team was not anxious at all."

Now that most COVID-19 patients have been discharged, L'Her is planning journal articles and training sessions to share what he and his team have learned. Read more here.

DEEPER IMAGE

Healthcare workers outside of France — indeed, all over the world — have also had to rapidly learn how to treat patients infected with the new coronavirus. In Spain, physicians have been able to obtain a clearer picture of the virus' effects on the body with 3D tomosynthesis, a digital technology that adds a new dimension to the conventional chest X-ray: depth. Using an application engineered by GE Healthcare, doctors at Morales Meseguer University Hospital in Murcia, Spain, can browse images of pneumonia-affected lungs as though they were 3D slivers of the body.

X-ray vision and then some: Sitting somewhere between a traditional X-ray and a CT scan, the 3D tomosynthesis software works with a digital X-ray machine that sweeps over patients who are standing up, obtaining up to 60 successive images of the frontal region of the thorax. Physicians can then scroll through those images, from the front of the chest to the back, at a remote workstation. That's been especially useful as they seek to measure the telltale lesions that COVID-19 infection leaves on the lungs — understanding the extent of the infection can help hospitals better triage patients, distinguishing those who need more intensive care from those who don't. Dr. Jose Maria García Santos, Morales Meseguer's head of radiology, estimates that the technology has contributed to a significant increase in the number of patients whom clinicians could send home to recover: "This 3D X-ray system has had a huge impact in terms of managing patients during this epidemic situation."

Learn more here.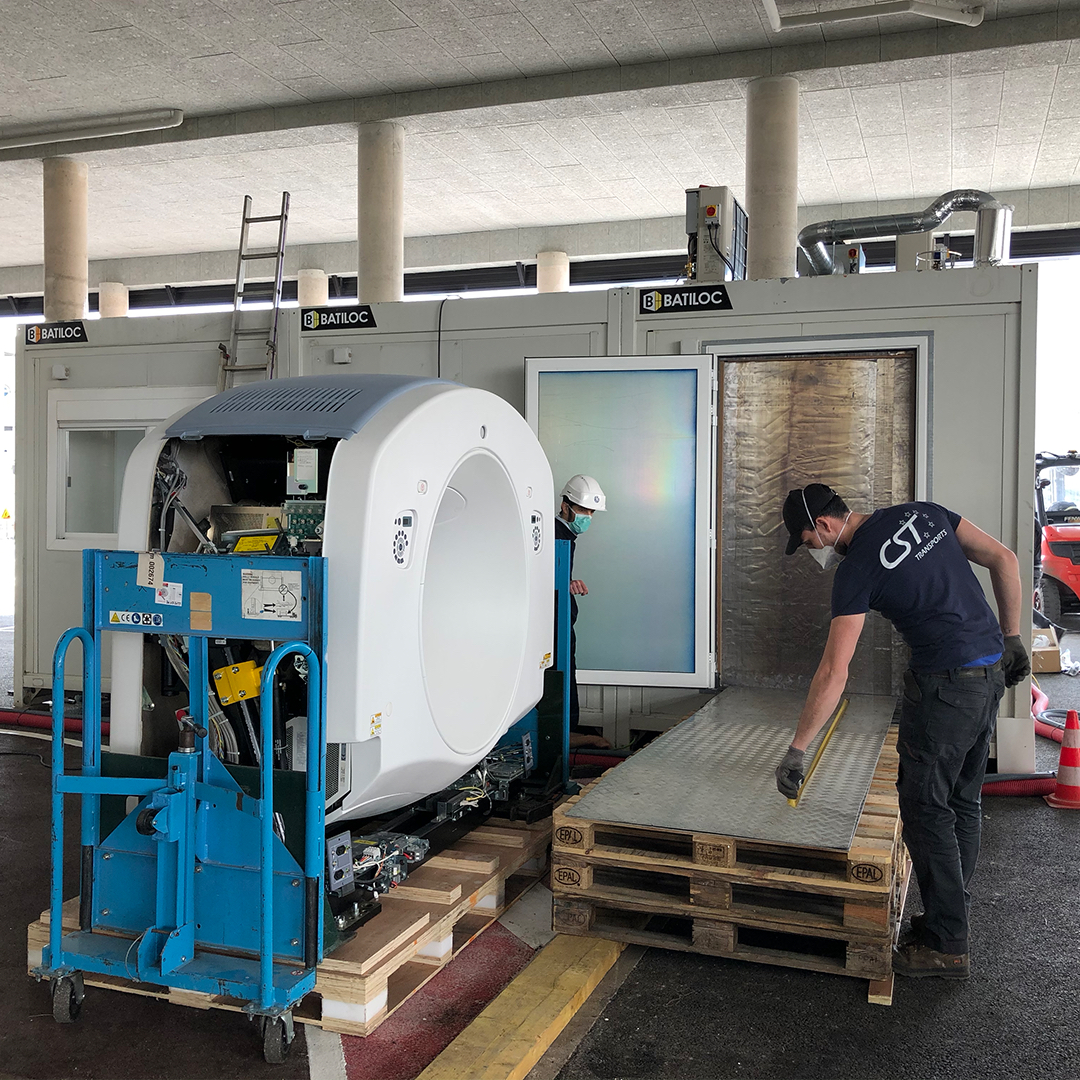 Preparing for a wave of coronavirus patients, a French hospital needed a new CT scanner in 10 days. GE Healthcare had just the thing.
— QUOTE OF THE DAY —
"We need to have something to help us respond fast to such catastrophes. This was the first viral pandemic, but it will not be the last one."

— Professor Erwan L'Her, chief of intensive medicine at the Centre Hospitalier Régional et Universitaire de Brest and director of the CESIM healthcare simulation center
Quote: GE Reports. Images: GE Healthcare.