There are skilled engineers, and there are able business leaders. Walter Robb was the rare mixture of both.
A giant in his industry, Robb spent four decades at GE, where he mastered the art of turning groundbreaking discoveries into thriving commercial operations. As head of GE's Medical Systems, Robb pioneered now ubiquitous diagnostic-imaging technologies, including CT scanners and MRI machines. A chemical engineer by training, Robb later ran GE's research-and-development arm — a job that up to that point was usually reserved for pure scientists. When Robb retired in 1993, President Bill Clinton awarded him the National Medal of Technology for his role in developing life-saving diagnostic equipment.
Robb died at age 92 in March from complications tied to COVID-19, the disease caused by the new coronavirus. "I have to believe Walt will have the last word on the virus," says Todd Alhart, media relations executive at GE Research headquarters in Niskayuna, New York, where Robb spent many years. "The medical advancements he helped pioneer, such as CT, are weapons used by healthcare providers in this battle against COVID-19."
Mathias Goyen, chief medical officer for GE Healthcare in Europe, says, "Whereas CT should not be used to screen for or as a first-line test to diagnose COVID-19, it is helpful in evaluating the severity and extent of impacts to the lung, such as associated pneumonia."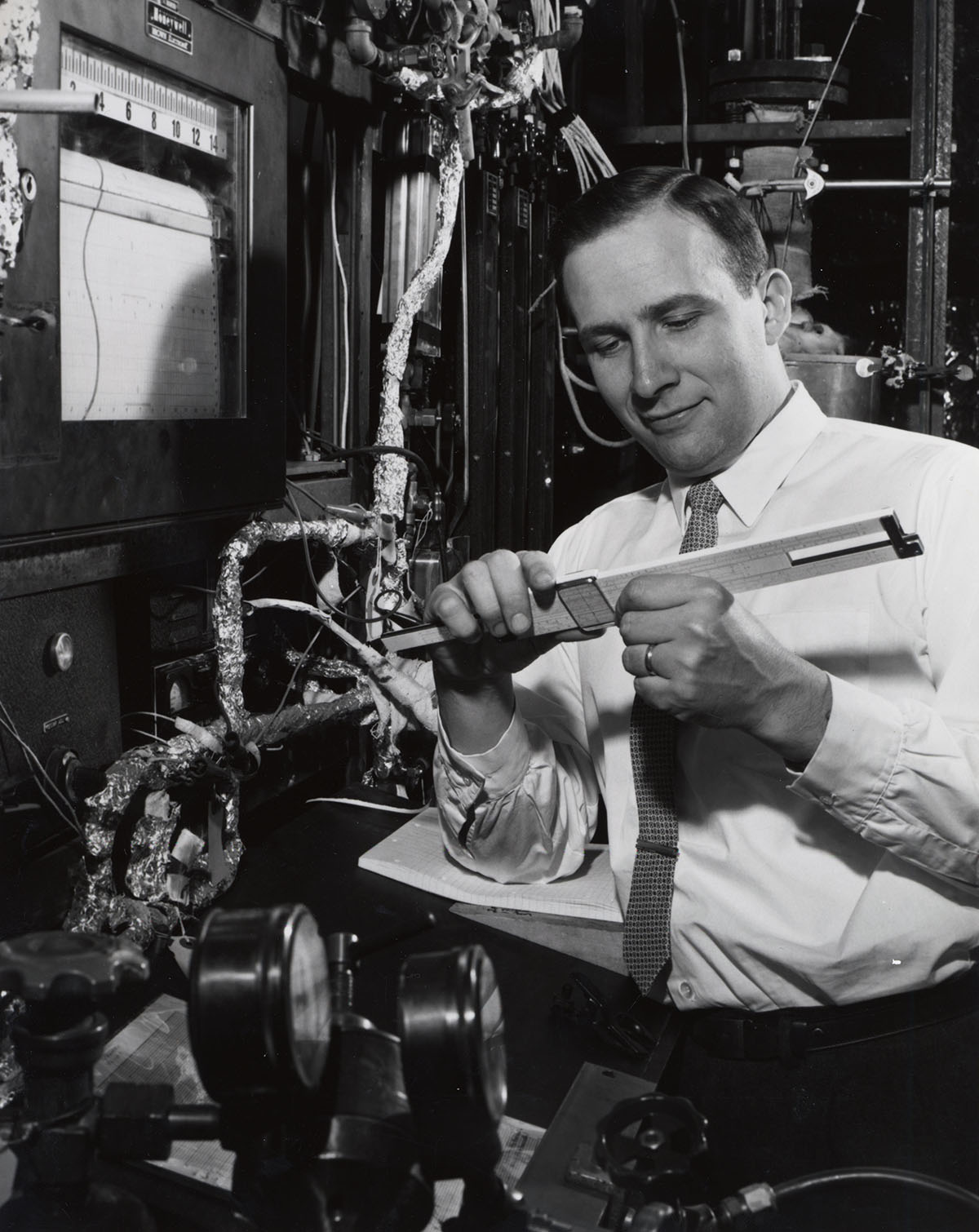 There are skilled engineers, and there are able business leaders. Walter Robb was the rare mixture of both. "Playing golf three days a week would be so boring," Robb told a reporter in 2017. "I enjoyed what I did so much I never got into any hobbies." Top and above images credit: GE Research.
Walter Lee Robb grew up in New Bloomfield, Pennsylvania. A big supporter of Pennsylvania State University, he dreamed of being a sportscaster but also had a passion for chemistry. He eventually majored in chemical engineering at Penn State and completed master's and doctoral degrees at the University of Illinois. In 1951, Robb joined as an engineer at the Knolls Atomic Power Laboratory in Schenectady, New York, next door to GE Research headquarters.
His GE Research career started as a family affair: He met his wife, Anne Gruver, a GE secretary, at a YWCA dance. A lifelong learner, Robb took inspiration from Charles P. Steinmetz, the legendary GE engineer and math genius who left his native Prussia with little more than a suitcase in the late 1800s. His work on electrical motors and long-distance power transmission (and 200 patents) earned him the nickname the "Wizard of Schenectady" and effectively changed the world. In a lecture Robb gave in 1991, he reverently quoted Steinmetz: "The one great underlying principle of all human progress is that 'divine discontent' which makes men strive for better conditions and improved methods."
Robb channeled his own discontent into solving a host of engineering and business challenges. His early research ran the gamut from reprocessing nuclear power fuel to gas-permeable membranes, and even led to an artificial lung used to keep patients alive during surgery.
While exploring better ways to increase production of thermoplastic materials for auto parts and household goods, Robb teamed up with another young chemical engineer named Jack Welch, who later became GE's chairman and CEO. In 1973, Welch, then head of GE's components and materials group, convinced Robb to run the medical products unit in Milwaukee. At that time, GE was a leader in X-ray machines. But a new technology — called computed tomography (CT ) — posed a threat.
CT scanners used a combination of more powerful X-rays and X-ray detectors to capture slight differences in density in tissues and produce a clearer image. Fifteen companies looked to capitalize on CT scanners by making small improvements and getting into production quickly. If GE wanted to win this new game, it needed its own approach. So Robb and his team focused on speed. By 1975, they had figured out how to reduce the scan time from four minutes to five seconds per picture. A few months later, Robb and his team unveiled a full-body prototype scanner to 200 radiologists. Orders started flowing and by 1978, GE owned half the U.S. CT scanner market.
Next came magnetic resonance imaging (MRI) machines, another huge win. MRI machines captured higher-resolution cross-sectional images of the body without resorting to radiation. Magnetic resonance is based on the notion that hydrogen atoms act like tiny spinning magnets. When exposed to both a magnetic field and radio waves, those atoms respond differently at different frequencies, which produces a spatial image. Again, Robb and his team knew they had to innovate to win. They used a much stronger magnetic field and went on to dominate a new global market.
After building the medical products group into a billion-dollar business with 10,000 employees worldwide, Robb accepted another huge challenge: running GE Research back in Niskayuna, a Schenectady suburb. Robb's five predecessors had been pure scientists, but Robb understood manufacturing as well as research. At GE Research, he implemented a new model around how the lab could work with the businesses more effectively in moving breakthrough technologies from the lab to the marketplace. An example of that was the successful commercialization of MRI technology. Robb helped steer major developments at the lab, which included building and demonstrating the first whole-body 1.5 Tesla Magnetic Resonance Imaging machine in the early 1980s into another new business for GE Healthcare. Today, GE's MRI business is a multibillion-dollar enterprise with more than 15,000 scanners around the world.
Robb retired from GE in 1993, but he kept track of the medical imaging industry and attended the Radiological Society National Association at its annual tradeshow. "Among my highlights each year — including within recent years — was seeing an older gentleman quietly enter the trade show booth and visit for hours," said Sean Burke, a former GE Healthcare executive. "He would start by looking over the technology, then pepper employees of all levels with questions. From the basics — "What is the science? Why is it better? What is the benefit to the customer? How do you sell it?" — to more detailed queries."
Unknown to most people, that gentleman was Robb. "I looked forward to observing these interactions because I always learned from his approach," Burke says. "Humble. Connecting science and its application. Listening to all levels of the organization. Truly lifelong learning. I only knew him through these visits, but to me, he role-modeled leadership behaviors that seem timelier and more important than ever as leaders of all levels confront an epic challenge."
In his retirement, Robb started Vantage Consulting, aimed at helping startup ventures, and served on boards of various companies, including Double H Ranch, which offers outdoor programs in the Adirondacks region for children with serious illnesses. He also owned two minor-league sports franchises — the Albany River Rats of the American Hockey league and the Albany Conquest of the Arenafootball2 league.
"Playing golf three days a week would be so boring," Robb told a reporter in 2017. "I enjoyed what I did so much I never got into any hobbies. That's why I set up my own management company. This is my sport."
Robb hoped to spark more of Steinmetz's "divine discontent" by launching GE Research's annual Science Day, when fourth-grade students perform experiments with working scientists. Robb returned to Schenectady in November to commemorate the event's 30th anniversary.
"[Robb] was extremely active to his final days," GE Chief Technology Officer Vic Abate told The Daily Gazette in Schenectady. "He has left a legacy with our company and in our community that will have lasting impact for many decades to come."
Categories
tags