Jordan Finlay has big plans for the shipping container he recently purchased. The principal of Hughes Academy for Science and Technology, a middle school in Greenville, South Carolina, and his students want to transform the empty vessel into a zero-waste concession stand. With the support of local businesses, the repurposed shipping container will be open for business at Hughes athletic events. It will provide students with a real engineering experience that Finlay believes "can open up their world" and also sell some healthy snacks.
Finlay is keen to connect his kids with engineering professionals, particularly since the students at Hughes — a culturally diverse school with 60% of its students living in poverty — aren't that familiar with the field. "Meeting [engineering] students who look like them will help them realize, 'This is a career for me,'" he says.
Turns out Finlay's students are in luck. On Oct. 13, Hughes Academy will be joining a new program that will give his eighth-grade students a chance to engage in more hands-on activities with GE engineers, as well as professors and students from Clemson University's College of Engineering, Computing and Applied Sciences, in nearby Clemson. Greenville will join three other inaugural cities around the world —Cincinnati, Ohio, Stafford, U.K., and Johannesburg, South Africa — to kick off GE's new college readiness program known as Next Engineers.
In April, the GE Foundation, which is funded by GE, committed $100 million to launch the global program. The foundation partnered with FHI 360, an international nonprofit working to improve the health and well-being of people in the U.S. and abroad, with the aim of increasing the diversity of young people in engineering and preparing them for college. The goal is to reach more than 85,000 students in 25 cities by 2030.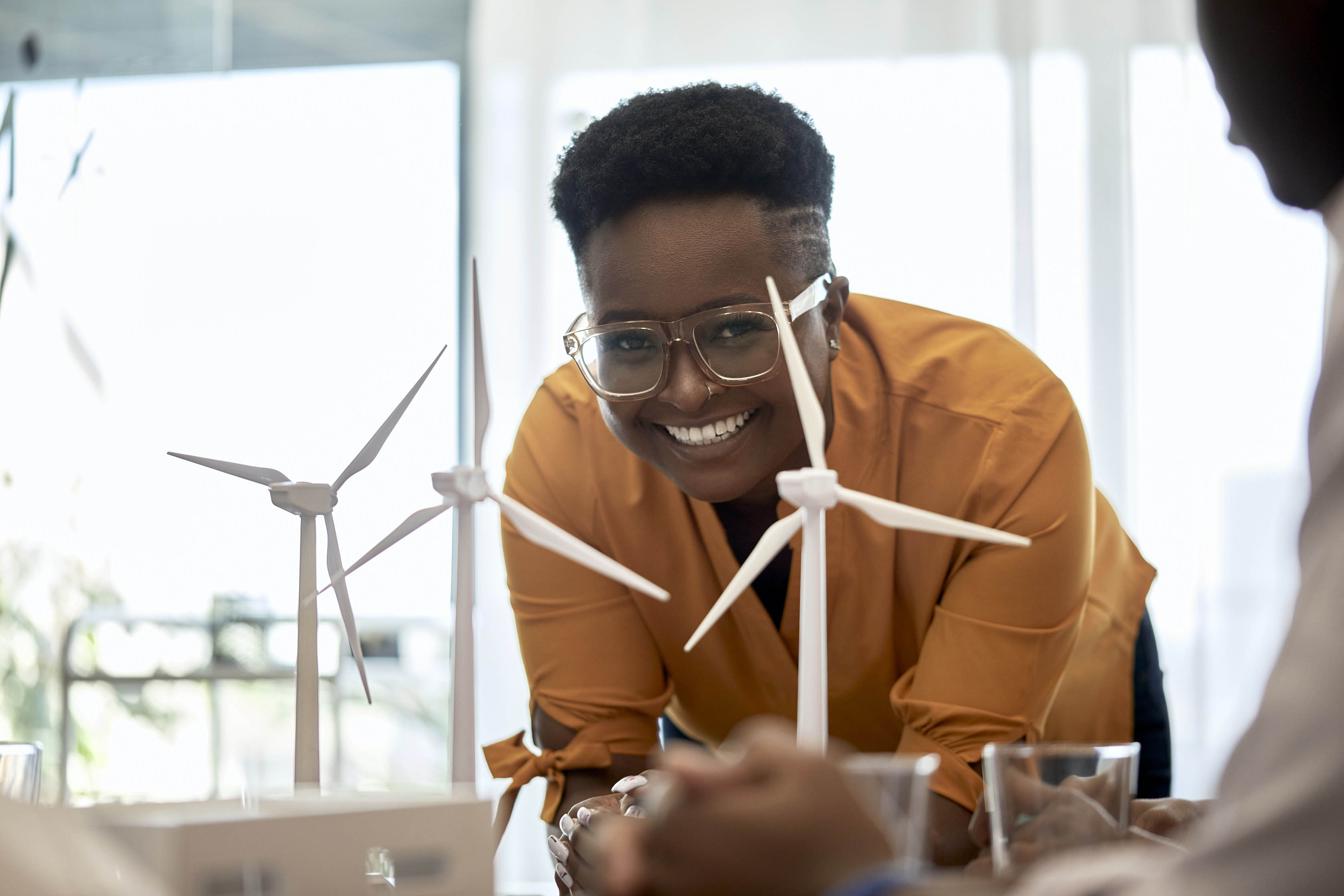 The grant has global reach for a reason. In 2016, the United Nations laid out a series of sustainability goals — rebuilding cities and infrastructure, providing clean and affordable energy to all and ensuring that every part of the world has access to safe drinking water — to help address climate change and economic inequality.
The idea is that a great variety of people, hailing from different nations, socioeconomic backgrounds, ethnic groups and genders, can help come up with new solutions for sustainable energy, energy-efficient buildings or electric vehicles, for example. "If we only get a single perspective, we cannot effectively innovate and design," explains David Barash, executive director of the GE Foundation. Barash believes local leaders who know their communities and resources are a crucial component. "As a planet, we need good innovation," says Barash. "But we need that innovation at a global scale with local flavor to it. And we need all industries, companies and change-makers to be enabled. This program will develop prospective engineers to empower innovation in dozens, if not hundreds, of companies globally." Eventually, 70% of the Next Engineers programs will be outside of the United States.
This is where people like Serita Acker come in. Acker runs a two-track program within Clemson's engineering school called Programs for Educational Enrichment and Retention (PEER) and Women in Science and Engineering (WISE), which launched 30 years ago to recruit and retain students of color and women in engineering. Since then, PEER and WISE have expanded to provide STEM outreach — tutoring, summer programs and an event geared toward Girl Scouts — to local schools.
Acker is recruiting a network of principals like Finlay to participate in Next Engineers. Thus far, she has recruited a total of nine middle schools and high schools in and around Greenville. Now Acker and her coordinator Brittany Sanders, a Black Clemson engineering alum and graduate student who oversees student outreach, are preparing to implement the program.
At middle schools like Hughes, eighth graders will attend a grade-wide assembly called Engineering Discovery, hosted by GE engineers along with students and professors from Clemson, and then meet with an engineer in their classrooms to work on design challenge activities — constructing a miniature wind turbine, for instance. They will also have an opportunity to attend the Engineering Camp, which was modeled after GE Girls, at Clemson (or another local school) for a week during the summer.
In 10th grade, interested students will have the opportunity to join the Engineering Academy, which was inspired by GE's STEM education program in the U.K.
To participate in this three-year program, students will have to apply for one of 50 annual spots in each location, gaining acceptance based partly on their grades. They'll receive tutoring and mentoring from college students and faculty members, in this case on Clemson's campus, as well as college and career counseling. Participants who complete the program and are accepted into a higher-education engineering program will receive a partial scholarship. "The point is to winnow participants down to the kids who have the grit and perseverance," Acker explains. "It's a rigorous major. It's not easy, but the career carrot at the end is worth it."
And as Finlay, Barash and Acker can attest, the key to obtaining that carrot is to have role models guiding you every step of the way.
GE and Clemson have worked together on several programs to support workforce diversity. Earlier this year, GE Gas Power launched the GE John Lammas Annual Scholarship to support underrepresented populations and women on campus. In addition to the annual scholarship, the investment established two pilot programs within the Division of Inclusion and Equity designed to create pathways to college for middle and high school students. In 2018, the two organizations announced a 1,000-square-foot Additive Manufacturing Lab housed at GE Power's Advanced Manufacturing Works facility in Greenville. The Clemson-run lab is home to three state-of-the-art 3D printing machines and aims to create a robust engineering talent pipeline for industry across the state.
Students wanting to apply for the Engineering Academy, or teachers wanting to know more about how Next Engineers can benefit their students and schools, should visit www.nextengineers.org to learn more.
Categories
tags