As the head of engineering at Emirates, one of the world's largest airlines, Ahmed Safa is responsible for many things. These days, few topics get him engaged faster than sustainability. GE Reports caught up with Safa at Expo 2020 Dubai, where he was attending GE's Spotlight Tomorrow summit at the U.S. pavilion. The event took place just a few days before the 2021 Dubai Airshow, where Emirates and GE Aviation brought planes, engines and other technology to the forefront.
In fact, during the Dubai Airshow, GE Aviation and Emirates signed a memorandum of understanding to develop a program that will see an Emirates Boeing 777-300ER, powered by a pair of GE90 engines, conduct a test flight using 100% sustainable aviation fuel (SAF) by the end of 2022.
Currently, SAF approved for use is a blend of petroleum-based Jet A or Jet A-1 fuel and a SAF component with a maximum blend limit of 50%. GE Aviation's fuel expert Gurhan Andac chairs an international task force to develop standardized industry specifications supporting adoption of 100% SAF, which does not require blending with conventional jet fuel.
Here's an edited version of our conversation with Safa.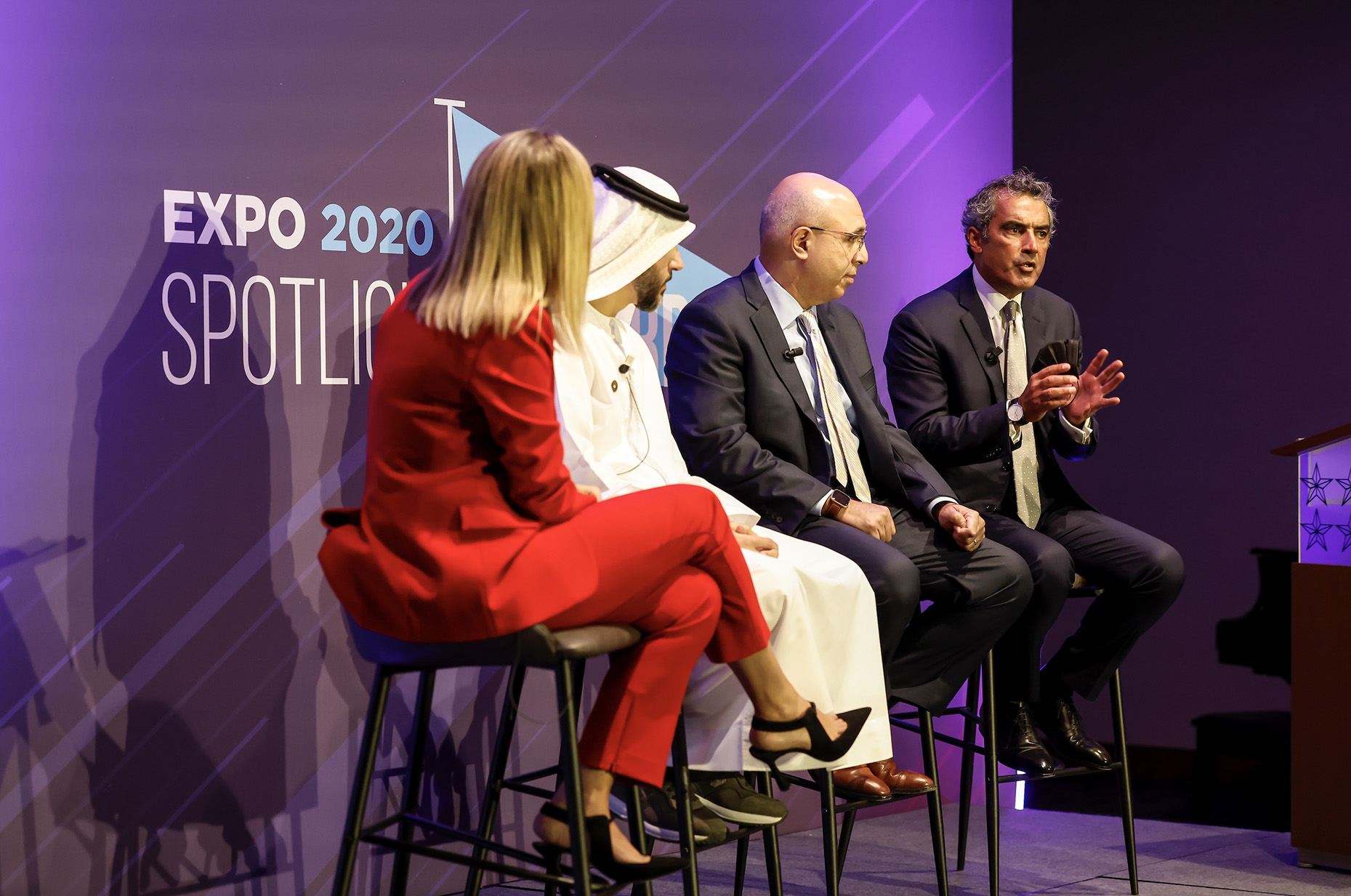 GE Reports: What are you doing to make Emirates more sustainable?
Ahmed Safa: We have been asking that question for several years. We recognize that our sustainability efforts must start at home, inside our organization.
GER: Tell me about that work.
AS: We worked with partners like GE and others to develop sustainability solutions, including the 360 Foam Wash for jet engines, which we have deployed across our fleet. This technology has been yielding excellent results and reducing our fuel consumption and our carbon dioxide emissions as well. We can probably safely predict that, going forward, if we continue to sustain the 360 Foam Wash program, we will be able to demonstrate up to 60,000 metric tons of reduction in the carbon, which is a great place to be.
GER: Are you optimistic about the ability of the aviation industry to meet its carbon-neutrality goals?
AS: Absolutely. We already have near-term solutions involving current engine designs. And sustainable aviation fuel in the current form is certainly a certified option that we can apply. But we need more certification requirements to ensure that we can use fuels containing 100% SAF without having to blend it with kerosene. I think SAF and its 100% applicability will happen in the near-term future. It will help us reduce carbon emissions as we go forward. Beyond that, the engine technology will continue to improve. We have the introduction of new materials, like ceramics, that will also continue to reduce our fuel consumption requirements and thereby reduce the carbon emissions.
GER: And further on the horizon?
AS: I see us, between now and 40 years, making huge advancements on the hydrogen front as well as the electric front. Technologically, it's still very challenging, but the obstacles are not insurmountable. And the future will hold several options. No one glove will fit all hands. Certainly it'll be a combination of all these different solutions that we hope will support us on the road to a net-zero future by 2050.
GER: Why do we have to decarbonize aviation?
AS: We must keep in mind that people want to fly now, and a lot more people will want to fly in the future. And if you consider the evolution of air traffic, it took 41 years to go to 1 billion passengers, and after that it took 18 years to bring us to 2 billion. It took 12 years to take us to 4 billion. There's a lot of appetite to travel, but don't forget, a lot of the travelers are young and want to travel responsibly. And we owe it to them to provide solutions.
Categories
tags