At five foot ten and 145 pounds, Alex Gold knows he's built for speed and distance. "When I tried out for my high school track team, I ran a mile in 5:38, which is really exciting for a freshman," says the 28-year-old GE Aerospace engineer. "But I really had no idea what I was doing." It was only when he started training with older mentors on his team that running exerted its deeper pull. "Right away, I could see that it was the one sport where when I put in the work it showed up in results," says Gold. After he led his high school team to an Illinois state championship appearance and began a cross-country career at the University of Illinois, a classmate suggested a potential resonance between his coursework on the trail and in the classroom. "She said, 'You know, if you had the same passion for school that you have for running, you could do really, really well here.'"
Once he discovered aerospace engineering, his passion did just as advertised, propelling him on to a summer internship at Boeing, a master's in aerospace engineering, and certificates in aerodynamics and systems engineering. Somewhere along the line, he also married the classmate who'd given him that initial nudge and took a unique path to his own pilot's license: using $3,000 of his internship money to buy one-tenth of a 1964 Piper Cherokee with a group of pilots — a new coterie of mentors who helped him earn his wings.
As he began work at GE Aerospace, testing its largest, mightiest jet engine, the GE9X, Gold continued to enjoy the arcane pleasures of long, punishing roadwork. After signing on as an assembly engineer at the test facility outside Cincinnati, he moved to Peebles, Ohio, where he found better trails and an unsought karmic opportunity. At a local high school, the cross-country coach announced his retirement, and the school asked the then 23-year-old to take his place. Initially Gold balked. "I wanted to focus on my own training, and my work, and just, like, being an adult for the first time," he says. But he soon came around and accepted the challenge. Buoyed by both town residents and his GE colleagues, Gold went on to lead the small regional school team to the Ohio state championship in 2018 — sometimes goading them on in person. "Since I'm a runner, I sprinted all over the course, catching up to the girls to tell them our latest score and pointing out which runners ahead of them they'd have to pass to go to state."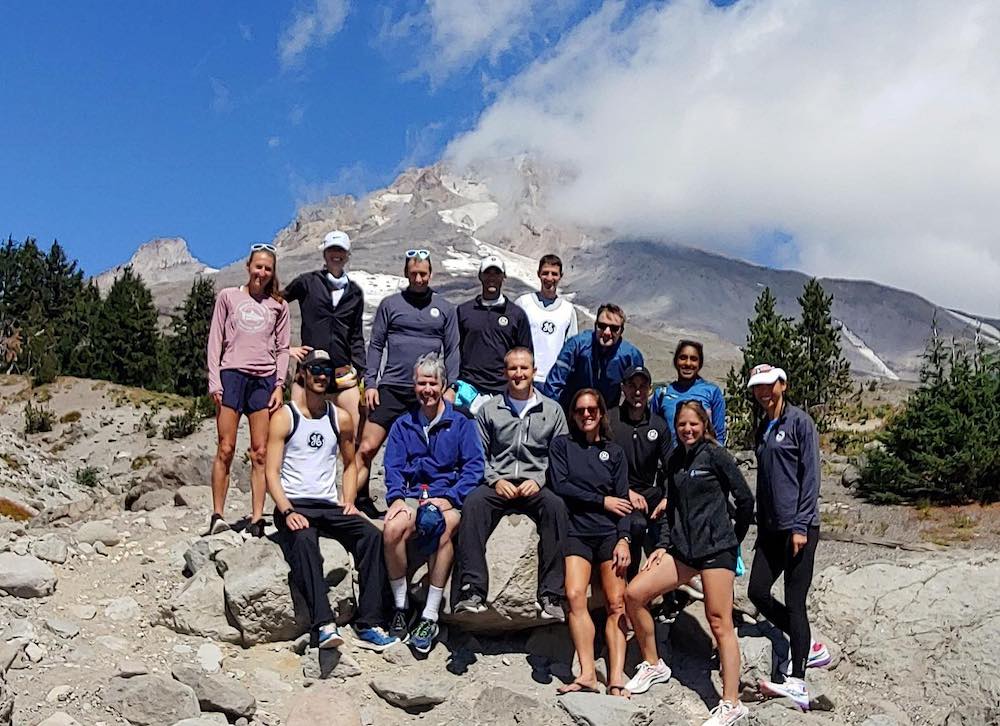 Helping them get there gave Gold a profound gratification he'd continue to seek throughout his career. In 2022, he started a program at Lebanon Correctional Institution's medium-security prison, coaching inmate members of the Ohio to Erie Run Club, named after a 326-mile multi-use trail from Cincinnati to Cleveland. They run training and competitions on a 0.4-mile loop inside the barbed-wire walls. "I set a goal for all the inmates that in their time at Lebanon they could try to run 326 miles, which is 815 laps around the yard." To date, the program has raised more than $1,000 for local charities chosen by the runners who have completed the challenge. It also elevated some successful participants on social media, including an inmate who'd been in and out of prison since high school and whose mom saw his achievement on Facebook and, near his release, Gold recalls, "called him to say, 'You finally went and did something good with your life.'"
In the meantime, Gold's own focus has turned to longer, tougher races. Two years ago, he began training for marathons and, in his first year, ran everything from Cincinnati's Flying Pig Marathon to a 100-mile trail race in the mountains, finding a new learning curve. "The first time I did the Flying Pig [in 2019], I had no idea what I was doing," he says. "I led the race for 23 miles but after that barely hung on for dear life." He still came in third. Two years later, he won.
He now serves as a performance engineer back at GE Aerospace headquarters in Cincinnati, where he uses computer models to monitor test engines and predict performance. "I really like it because you get to work with everybody, using their design inputs to evaluate engine performance," Gold says. His early, more granular experience testing the GE9X gave him a more innate feel for the whole apparatus. "It's one thing in school [when] you're learning about everything on paper," he says. "But to actually be around the physical hardware and see how everything is assembled from mechanics and test engineers with decades of experience out there in Peebles — that has been invaluable."
In a similar way, he finds that roadwork enhances his sense of his body's mechanics. For instance, when he was training for his second Flying Pig marathon, he failed to notice that one of his socks had a hole in it the size of a golf ball. "Which created a huge blister," he says. "It's such a dumb thing, but on a 22-miler, that caused me to favor that side just a little and eventually injured my calf, sidelining me for two weeks."
Last weekend, Gold traveled to New Hampshire for the especially grueling USATF Mountain Running Championships, where he finished 23rd out of a field of 247. On a nine-mile course that requires racing from the bottom of a 1,700-foot peak to the top and back — twice — his time was 1:10:27. "It was fun to race a new event like that and get pushed out of my comfort zone," he said afterwards. "I was the only runner in the competition that wasn't from the Appalachian or Rocky Mountains, and in some ways it showed, but I have been surprised to see how well you can prepare for a mountain race right here in Cincinnati."
While he feels that the tougher competition of national races pushes him to excel, he's found something even more meaningful among runners closer to home.
"I started running with the GE corporate team, and what I found out was that all the people at these events are also, like, superstars in their job, superstars as parents, and some of them are now huge role models for me," he says. He cites fellow GE engineer and marathoner David Riddle among these. "My wife and I are about to have our first kid, and I've really come to look up to him, not only in running but in work and life. I'm not gonna say runners are the only people like this," he adds. "But I do think when you're a really motivated runner, you learn the power of getting up each morning and working towards a goal."
These mornings, Gold's easy days begin with a 10-mile run with his dogs Paxton and Tink before he heads off to work. On harder days, he'll take them on runs up to 22 miles, and on others he'll go alone, but he always relies on an engineer's sense for small parts within the whole.
"Running 100 miles is just impossible, right?" he says. "If when you're at mile 10 and think, 'I have 90 more miles to go,' you can't do it. Instead you end up thinking, 'OK, what are the ways I can put myself into the best opportunity to perform really well?' You have a big goal, break it up into logical steps, and make progress towards it.
"Today I think, 'What can I do to put myself and my team in the best opportunity to perform really well?'" he adds. "You realize you never really do it alone."
Categories
tags