As developing nations around the world work to balance their growing populations and electricity demands with decarbonization goals, Malaysia, a rapidly emerging economy with 33 million people, is providing a case study in transitioning from coal to natural gas, a fossil fuel with a significantly smaller carbon footprint than coal.
The latest advance comes from Edra, the country's second-largest independent power producer. Working with GE Gas Power, the utility just brought online a 2.2-gigawatt (GW) power plant in Alor Gajah, powerful enough to meet up to 10% of the country's current energy needs. Powered by three of GE's natural-gas-fired 9HA.02 turbines, Edra Melaka (pictured above) is currently the largest combined-cycle power plant in Malaysia. Combined-cycle plants capture heat waste from the gas turbines to power steam turbines that in turn produce even more electricity.
Phasing out coal and replacing it with natural-gas-fired generators can reduce CO2 emissions by up to 67%. Malaysia plans to phase out of coal-fired power generation, with an expected 7 GW of coal power to be retired by 2033, leading to a notable increase in other energy sources including gas. But there's even more to the turbines powering the Alor Gajah plant: its combustion system is engineered to burn a blend of natural gas and up to 50% hydrogen.To learn more about using hydrogen as a fuel in gas turbines, watch this video from GE's "fuel guy," Jeff Goldmeer.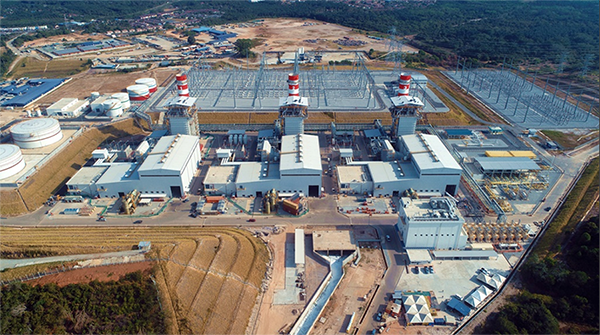 GE equipment currently generates approximately one-third of the world's power, and 90% of power-transmission utilities worldwide are equipped with GE technology. Elsewhere in Malaysia, major utility Southern Power Generation finished a 1,440-megawatt (MW) combined-cycle power plant in Pasir Gudang in early 2021. That plant is capable of generating enough electricity to power the equivalent of three million Malaysian homes.
GE has been helping Malaysia power its economy since 1975, with gas turbines operating in the country now capable of generating more than 7 GW of electricity.
A bit farther north, China is also investing in H-class turbines. A 2021 project in Tianjin City replaced an outdated coal-fired facility with a 661-MW gas power plant, and in 2023 two new GE turbines are expected to begin generating 1.34 GW of electricity for the Pearl River Delta region, home to some 86 million people.
tags