At first glance, the stickers affixed next to the bathroom entry door, a check-in kiosk, or a counter at Starbucks don't look like much. But when flyers passing through the Albany International Airport in New York scan those stickers with their phone cameras, a new app developed by GE and its partners unlocks valuable data stored in a quick-response (QR) code printed on their backs. The app, called Wellness Trace, can tell them when the bathroom was last cleaned, say, or the check-in kiosk sanitized.
"After 9/11, the industry set up the Transportation Security Administration, introduced PreCheck, and fortified cabin doors — big things you could see," says Andrew Coleman, senior vice president and chief digital officer at GE Digital. "Today, improvements aren't so physical, because we're fighting something you can't see. We're providing digital eyes to help passengers make the airport experience safer."
The COVID-19 pandemic hit air travel hard. In the U.S. alone, as of mid-November, the number of passengers moving through an airport each day is down nearly two-thirds from a year ago. Getting travelers comfortable flying again involves many changes to the status quo, including reimagining safety and cleaning protocols. Some airports are offering on-site COVID-19 tests, for example, installing hand-sanitizer stations, adding sterilizing robots and cleaning with UV light. Crews are meticulously disinfecting planes between flights and airport employees are washing or sanitizing surfaces up to eight times a day. And by now, nearly every airport and airline is requiring passengers to wear a mask or face covering.
Still, unless you ran into a cleaning professional spraying down a space, much of that work was invisible. With Wellness Trace, however, travelers can see for themselves how employees are working to carry out safety protocols. At the Albany airport, where GE launched the system this week, those QR stickers are posted in more than 45 locations. Employees upload information into the app each time they clean a corresponding surface.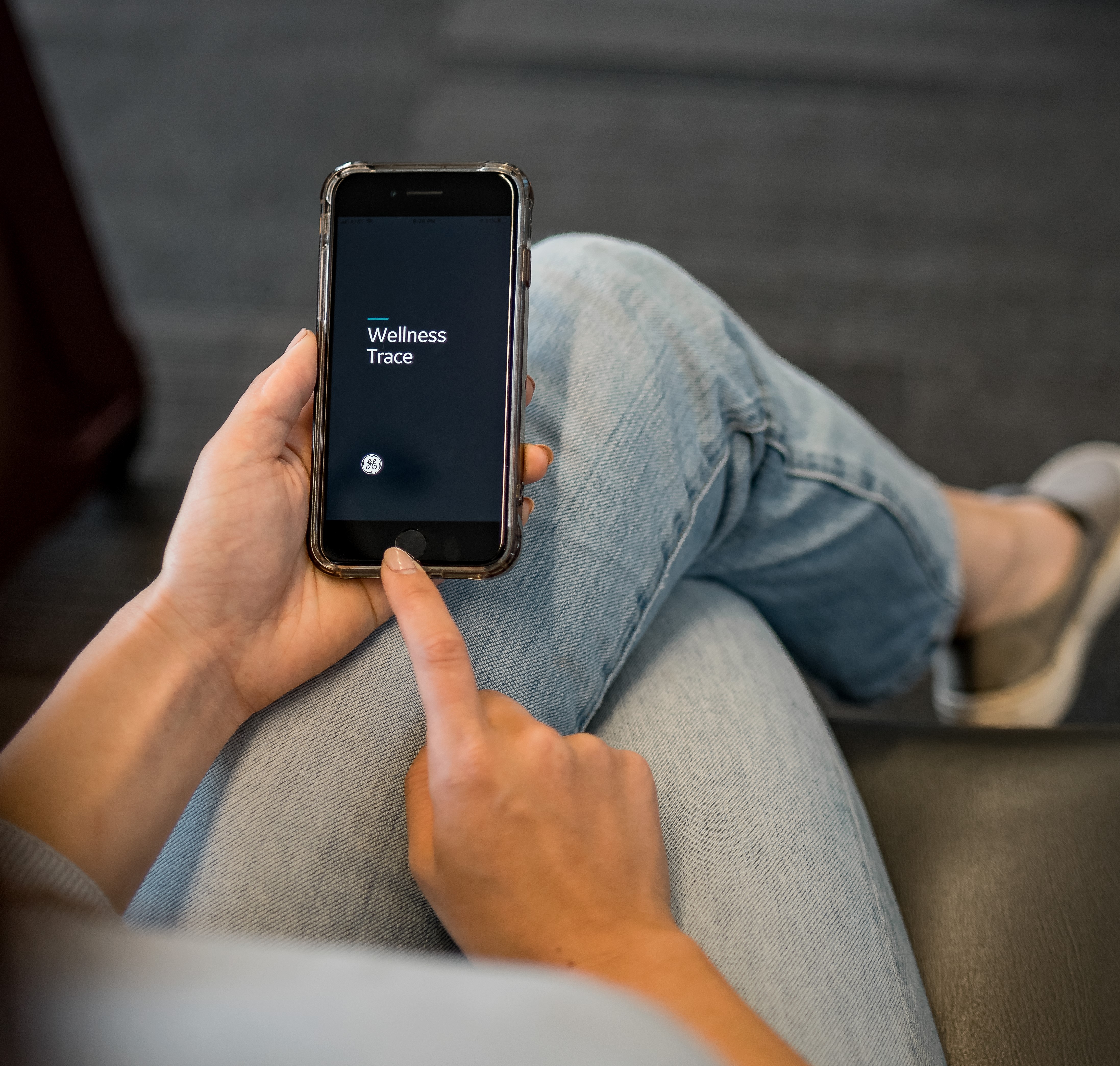 The technology was developed in a partnership between GE Aviation; TE-FOOD, a company that uses blockchain to track the food-supply chain; and Eurofins, a laboratory-testing company. Storing information through blockchain, the technology that underpins digital currencies, means it can't be falsified or altered. And providing digital access to data for travelers — and for airport supervisors — is also a significant upgrade from the old-fashioned, analog method of reviewing paper timesheets taped to a bathroom door.
Ultimately, customers will be able to leave their own reviews to verify that a space is as clean as it is claimed to be, much like the crowdsourced app Waze, which alerts drivers to traffic and road hazards. As another form of verification, there are plans for the app to eventually allow airport employees to post results from COVID-19 environmental surface testing processed with the help of Eurofins. "During pandemic times, we all want to work together and feel safer in numbers, and the community aspect of this technology will help with that," says David Havera, the blockchain leader for GE Aviation and the driving force behind Wellness Trace.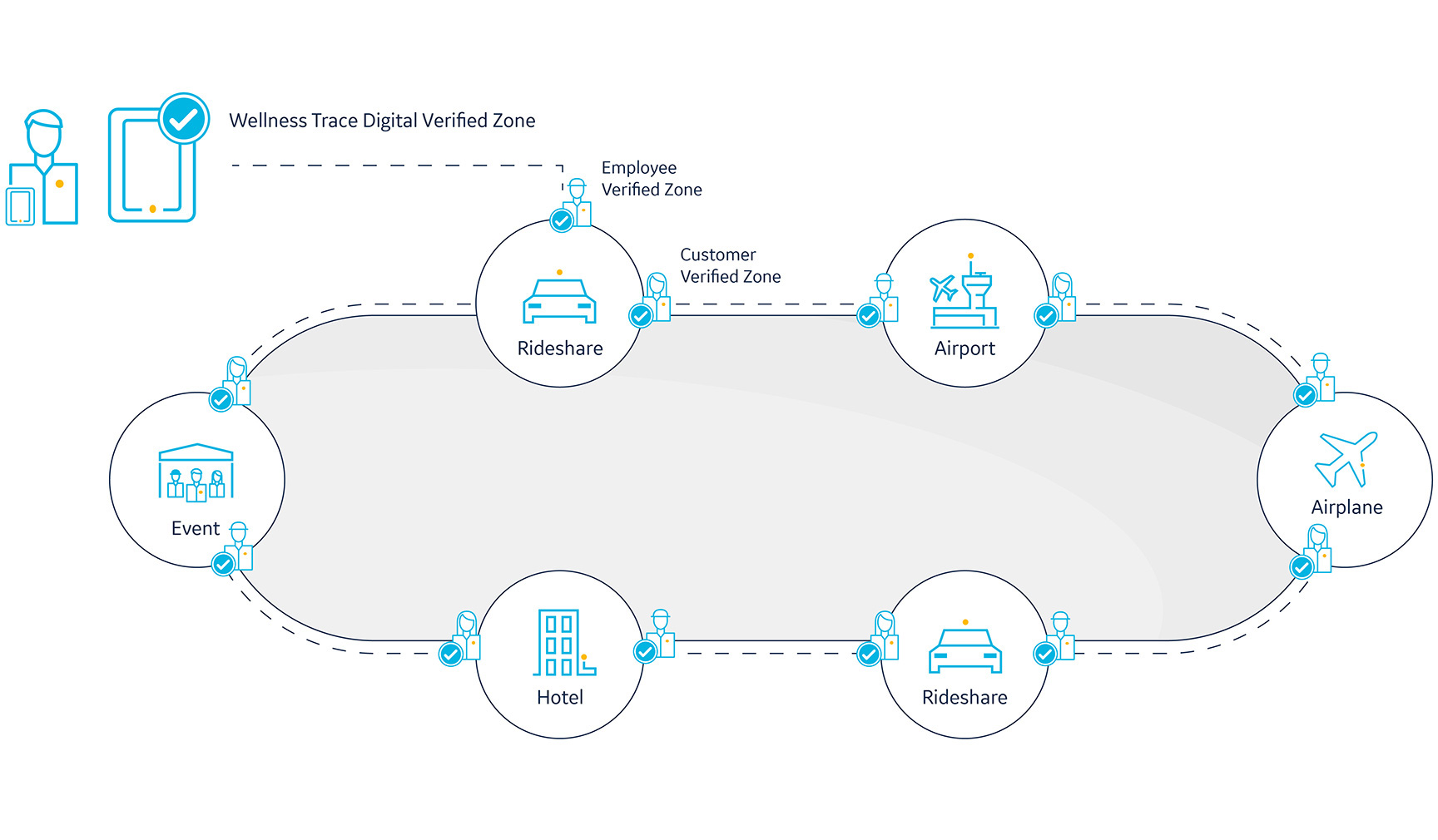 The Wellness Trace pilot will run at the Albany airport for three months. It is the first step in turning the airport into a "digital incubator" of sorts. That's because GE Research, based in nearby Niskayuna, New York, will also work with the location on testing new artificial intelligence, machine learning and other digital technologies focusing on safety and transparency.
Nearly 1.5 million travelers boarded planes at the Albany airport in 2019, but Coleman and Havera already are thinking bigger. They're in talks with other travel companies, including cruise lines, which were allowed to set sail from the U.S. as of the beginning of November, but only with crew members. (The ships will have to test their COVID-19 procedures on volunteers playing the role of passengers before reopening to the public.) And the team envisions its product being used by ride-share drivers and public-transportation providers — anyone, in fact, who needs to reassure nervous passengers by letting them know about the cleaning protocols for the surfaces they're sitting on and touching. "This really has the potential to be a foundational technology going forward," Havera says.
Even after COVID-19 becomes a reduced threat, Coleman notes, the secure blockchain technology could be extended to other aspects of GE Aviation's business, such as tracking valuable spare airline parts.
"Our founder, Thomas Edison, said, 'I find out what the world needs. Then I go ahead and try to invent it,'" Coleman says. "That's exactly what David did. We want to get the public moving around again."
Categories
tags