Ahmad Wakaa's journey from extracting fossil fuels to fighting climate change was more difficult than just changing his professional focus. Born in Qamishli, Syria, to a large extended family, he earned a petroleum engineering degree and went to work in the oil fields around his hometown. Forced to flee the Syrian civil war, Wakaa made a dangerous escape, crossing nearly ten international borders to find safety. Granted asylum in Norway, he now helps companies test carbon capture technologies at a facility that looks like a labyrinth of pipes, tanks, and gauges.
"I'm really proud of being a part of this community that's working on a solution to save the planet," Wakaa says.
Today Wakaa has reunited with his family and is a father of two. His story illustrates the diverse ways in which people of many backgrounds are now working to transition our society toward a lower-carbon future. He stars in a new film miniseries called "Powering Tomorrow," from GE Vernova, that tells how Norway aims to become a leader in capturing and storing the carbon released by burning fossil fuels before it enters the atmosphere.
The short documentary crisscrosses the snowy, stunning Norwegian landscape, from a kelp farm to the charming seaside city of Bergen to Wakaa's workplace, Technology Centre Mongstad (TCM), currently the world's largest open-access carbon capture testing facility. Two other short films in the series document Australia's quest to develop a hydrogen economy that may one day allow it to export lower-carbon power to its Asian neighbors, and Vietnam's efforts to reduce the carbon emissions of its grid while keeping up with furious economic growth.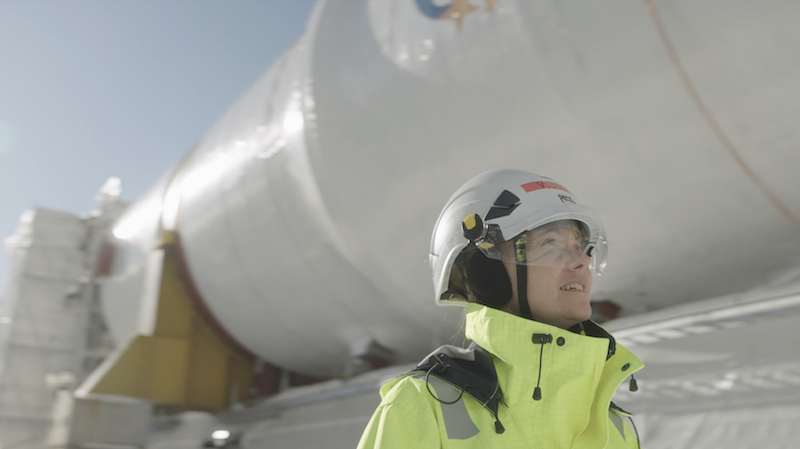 Throughout the three films, viewers see the energy transition from the perspective of an array of characters — a dragon fruit farmer, a young truck driver, engineers, and power company executives — in order to better understand the challenge and promise of energy producing fewer carbon emissions. "There's not enough renewable energy on the grid in order to support everybody's current power demand," says Lisa Berry, GE Vernova's technology director for decarbonization in the Americas, who appears in the film along with Wakaa.
An engineer who is passionate about the energy industry, Berry fell in love with Norway while traveling there for work and says the country's geography and culture make it an ideal leader in technology to capture and store carbon.
"Norway is an excellent place for the energy transition, because they are living and breathing the transition to [more sustainable] energy," Berry says in the film. Norway abuts the North Sea, she notes, where the same geological features that once held abundant oil and gas can now be filled with captured CO2. "In order to implement carbon capture and sequestration, there needs to be infrastructure for the captured carbon dioxide, there need to be regulations put in place that move countries towards CO2 capture, and there needs to be wide-scale investment."
The most widespread technology in carbon capture today — using a liquid-solvent chemical mixture that absorbs CO2 — has been around for a century, but until recently governments and power companies weren't enthusiastic, says John Catillaz, decarbonization director at GE Vernova, who helps power providers and national grids grapple with how to lower emissions.
With current methods, capturing and storing carbon can double the cost of providing electricity from, say, natural gas. That makes it a tough sell for countries looking to make power more affordable. Some are critical that CCS is a cover for continuing to emit carbon dioxide by burning fossil fuels. But others are changing their perspective, says Catillaz, as the urgency of climate change has increased.
"There's a need for international participation," says Catillaz. "One country can't do this alone. Everyone needs to be at the table and be willing participants."
Norway's ambitious plans to ensure large-scale deployment of carbon capture technologies in the world are centered around Wakaa and his colleagues at TCM, where technology developers flock to see if their ideas can overcome the technical hurdles that come with scaling up new processes.
"Most of the advanced amine technologies we see in commercial development today — all of them have been tested and verified at TCM," says Wakaa, who started at the facility three years ago. While amine technology is fairly mature, he and his colleagues are most excited about a new platform at TCM for testing emerging technologies like solid sorbents and membranes that could be more efficient at capturing CO2.
To get to his position fighting back against climate change, Wakaa endured enormous hardships. He journeyed through Lebanon, Turkey, Greece, North Macedonia, Serbia, Hungary, Austria, Germany, Sweden, and Norway, where he waited more than a year to be given residency.
Once there, Wakaa threw himself into work and study, earning a master's degree and learning Norwegian in less than a year. After he was able to bring his wife from Germany, he found himself juggling two small children, university studies, and a job at the same time. Being filmed with the family he started once safely in Norway was both fun and emotional at times, he says. He laughs at how his kids kept asking why strangers were filming them at the breakfast table, but rewatching scenes with his children also brought to mind what he went through to be able to appear in the documentary.
"I think it looks perfect," he says.
Learn more
Read our stories about how Vietnam and Australia are Powering Tomorrow.
"Powering Tomorrow" is a three-film documentary miniseries focused on the role of gas in the energy transition to help deliver more reliable, affordable, sustainable, and resilient electricity worldwide. Follow the stories of nine characters driving the coal-to-gas transition in Vietnam, operating on low- to zero-carbon fuels — including hydrogen — in Australia, and capturing and sequestering emissions post-combustion through carbon capture in Norway. Join GE Vernova as we show how gas power plays a role in Powering Tomorrow.
Categories
tags