A dragon fruit farmer in Vietnam. A truck driver in Australia. A kelp fisherman in Norway. Three hardworking people plying sometimes challenging trades in different corners of the world. What links them is a changing climate that is forcing nations to reckon with how to keep the lights on while cutting carbon emissions. They are all featured in a new three-part film series from GE Vernova that looks closely at Vietnam, Norway, and Australia, examining their transition to a cleaner energy environment as each faces different challenges and pursues different paths.  
Vietnam provides a case study in the challenges of providing more reliable, affordable energy to power a fast-growing economy while managing carbon emissions — the so-called energy trilemma. But developed economies face their own challenges, as viewers see in the Norway and Australia episodes. Australia, with wide-open sun-drenched spaces, is angling to become a hydrogen energy hub. Norway is using the knowledge it has acquired in the oil-and-gas industry to become a leader in capturing and storing carbon across the North Sea.
"You're going to engage audiences in a more human and impactful way if you do it as authentic storytelling," says Navdip Dhariwal, who helped produce the films as co-founder of Miran Media. A former BBC foreign correspondent with experience reporting major news stories from around the world, Dhariwal and her partners at Miran take a journalistic approach to filmmaking, traveling light, shooting quickly, and aiming to tell complex stories like the energy transition through people instead of only facts and figures.
"Having interviewed so many people over a lifetime — celebrities, government officials — it's often the very ordinary people that are extraordinary and provide the most unique, striking, and memorable stories," says Dhariwal.
Pham Cao Van, a dragon fruit farmer, is one such person. We first see him riding a motorbike through fields but soon learn that his labor is about more than just bringing fruit to market. The farm supports a workforce and their families, and melds a state-of-the-art drying, packing, and juicing plant with natural farming practices that build on local traditional farming techniques.
"In Asian culture, dragon fruit brings luck, prosperity, and longevity," Pham tells viewers at the opening of the first of the three films, each about 10 minutes long. Pham oversees the 80-hectare (200-acre) Kim Hai farm, three hours outside of Ho Chi Minh City in Vietnam's south. "My dad, he passed away, so now I'm living up to his legacy. We're growing safe and sustainable dragon fruit using more sustainable energy."
Kim Hai calls itself Vietnam's premier sustainable dragon fruit producer, setting aside some of its land for nature and making its own fertilizer in-house. While it uses solar power during the day, at night Pham's plantation draws on grid power for LED lighting to stimulate his orchard's production, a poignant reminder of how electricity physically sustains us and a startlingly beautiful example of what people around the world do with access to a reliable electrical grid. 
Shooting all across Vietnam, from Ho Chi Minh City in the south to Hanoi in the north, presented numerous logistical hurdles, says Dhariwal. The intense light and heat during the days made it necessary to film in the early mornings and at night. Luckily, Vietnam provides a vibrant tableau even after the sun goes down, including memorable scenes of a night market, leafy boulevards, packed restaurants, and bustling rivers and urban spaces. There were also visa issues, filming permits, and the Lunar New Year holiday to navigate. Miran's flexible approach served the small team of filmmakers well.
"We live with uncertainty and tight deadlines all the time as journalists," says Dhariwal, whose co-founder also worked in newsrooms. "We're always prepared for a second, third, fourth option. We don't get flustered when things aren't working as they should be. We can adapt quickly, and that is a massive advantage in challenging environments."
The Vietnam film focuses on two other characters. We meet Nguyen Manh Tuong, an executive at PV Power, Vietnam's second-largest electricity producer, walking around Ho Chi Minh City. Dressed in a smart suit, Nguyen discusses the urgent need to replace coal with lower-carbon natural gas, but it's one of his earliest memories that anchors the film's storytelling. Nguyen grew up in a rural area with traditional rice farming, lighting lamps with oil. When oil was scarce during the Vietnam War, Nguyen captured fireflies to put in a jar for light.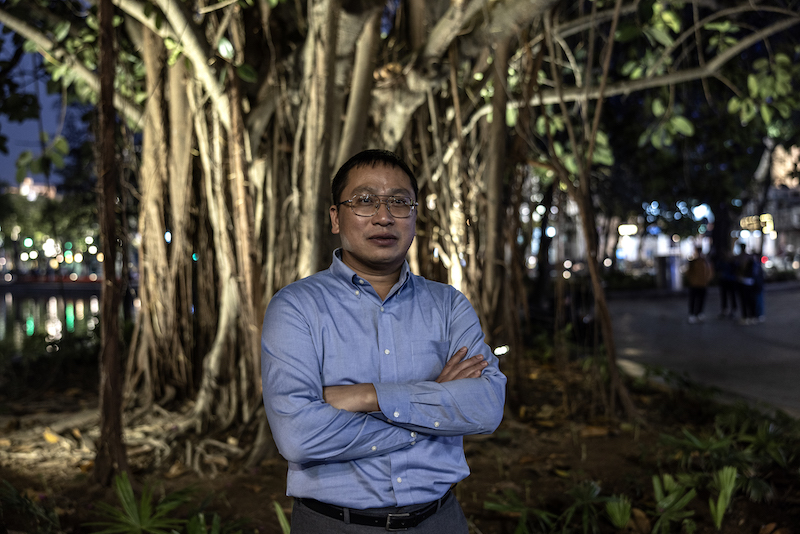 "Climate change has a direct and serious effect on Vietnam," Nguyen says. "PV Power is the leading unit in research to shift energy away from traditional fossil fuels toward greener energy."
When we first see Lan Phung, general manager overseeing sales for GE Gas Power in Vietnam, he's dining out on a busy street in nighttime Hanoi, where he's based. Phung has witnessed Vietnam's rapid economic rise and marvels at the pace with which his country has built renewable power, especially wind. Vietnam has committed to reaching net zero emissions by 2050 and has taken initial steps toward that goal, including building the infrastructure to import liquefied natural gas as a lower-carbon alternative to coal power.
"Renewable energy cannot stand alone," Phung tells viewers in the film. "Conventional power plants will create the fundamental backbone of the grid. A nice balance among the three energy challenges, which is energy security, affordability, and sustainability."
The current plan calls for developing domestic gas supplies to fuel combined-cycle power plants that can provide rapid supply and, in turn, help the grid compensate for ever more renewables, which are intermittent, Phung notes.
For Phung, it was his first time on camera and came with its share of challenges. He didn't have much time to rehearse, and the interviews were all conducted in English, which isn't his native language. But, looking back, he sees the film as a chance to share what he views as an incredible story of a hardworking generation of young Vietnamese people willing to take on the challenge of climate change. 
"It's always difficult to put yourself for the first time in front of the camera," says Phung. "You need true feeling when you talk about your country, you talk about your people, and you talk about the market and about the transitions that the country has been experiencing."
Learn more 
Read our stories about how Australia and Norway are Powering Tomorrow.
"Powering Tomorrow" is a three-film documentary miniseries focused on the role of gas in the energy transition to help deliver more reliable, affordable, sustainable, and resilient electricity worldwide. Follow the stories of nine characters driving the coal-to-gas transition in Vietnam, operating on low- to zero-carbon fuels — including hydrogen — in Australia, and capturing and sequestering emissions post-combustion through carbon capture in Norway. Join GE Vernova as we show how gas power plays a role in Powering Tomorrow. 
Categories
tags