As an emergency medicine clinician in Madrid, Spain, Dr. Yale Tung Chen has treated many COVID-19 patients since the start of the pandemic. And when he developed last March the ominous constellation of symptoms caused by the SARS-CoV-2 coronavirus — chills, cough, low-grade fever and a nagging headache — he knew what to do. Like other people stricken by the disease, the physician quarantined at home and monitored the signs of his illness. But he also knew that his overt symptoms were not the full picture of the disease. The virus could be also lurking in his lungs, heart and other organs. Getting that information quickly with a handheld ultrasound system could affect prognosis and treatment.
After he recovered and returned to the hospital, Tung Chen became one of a handful of clinicians around the world testing Vscan Air™, a pocket-sized, wireless ultrasound scanner developed by engineers at GE Healthcare. The device beams images from the ultrasound probe to an app on his smartphone. "The images you can get of the heart on this handheld device are similar to what you'd get from a full-size, high-end ultrasound," he says.
He quickly started using the new device on his daily rounds. "I just carry it in my white coat pocket and start to scan right at the moment when I see a patient," he said. "I've been using it on COVID-19 patients, scanning hearts, lungs, blocked vessels, any organ in the body I could reach. It allows me to quickly perform a complete exam on my patient and make decisions quickly right at the bedside."
Soon other clinicians will have the same opportunity. GE unveiled the device on Tuesday. It's for sale in the U.S. and Europe. Anders Wold, president and CEO of global ultrasound at GE Healthcare, said Vscan Air will increase access to more personalized medical care and help improve efficiency inside the hospital and anywhere in the field*. "We pioneered handheld ultrasound when we brought the first pocket-sized, color device to market, and now we see Vscan Air as delivering on the future of healthcare at a time when ultrasound has proven to be an essential tool at the point of care," Wold said.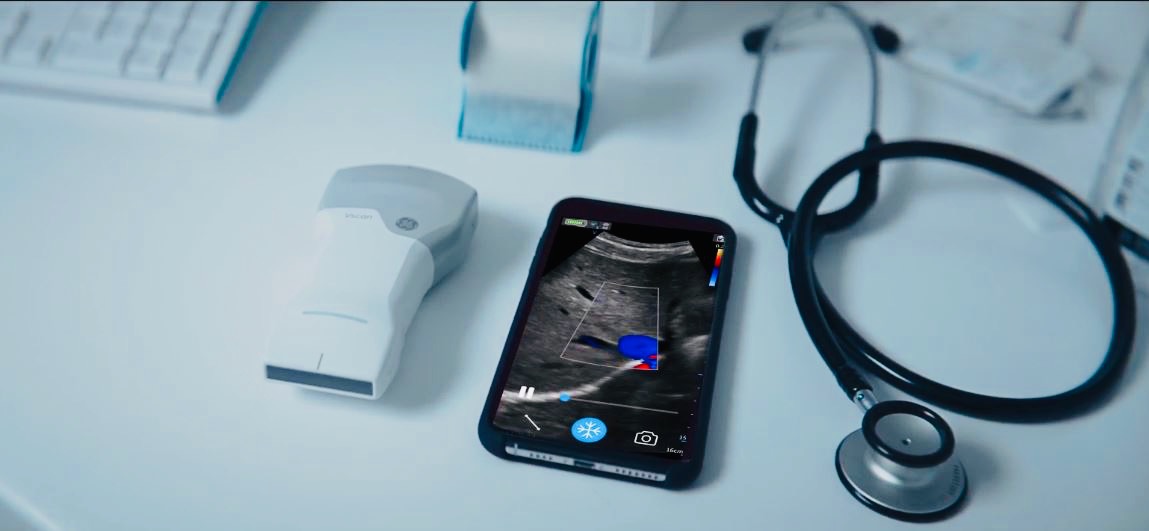 GE Healthcare released the first version of the Vscan more than a decade ago. Since then, Vscan family of products have found a broad range of applications in the U.S. and globally, including an assessment of the thyroid in a primary care setting, and prenatal care in remote villages in Papua New Guinea and Africa.*
The Vscan Air builds on that legacy. "The combination of size, weight and image quality combined with wireless — that is very special," says Kjell Kristofferson, chief engineer for ultrasound at GE Healthcare. Kristofferson, who has 35 patents to his name, says the image quality alone "really translates to clinical utility. There is a big difference between different ultrasound systems in that regard," he says.
There are many other benefits. The probe pairs with a smartphone or tablet via Bluetooth and sends data to the application on the mobile device over Wi-Fi, so there's no need for an internet connection. Clinicians can use both ends of the probe to scan patients. One end holds a transducer — the component that sends out sound waves into the body and also listens to their echoes — designed for high-frequency scanning of organs close to the skin like the thyroid and some veins. The other end has a transducer emitting sound at lower frequencies and designed for scanning organs deeper in the body like the lungs and heart. "Clinicians don't need to compromise image quality for both the deep and the shallow imaging," says Madhumita Gupta, a physician and global clinical leader for GE Healthcare in Bengaluru, India. "With this kind of device, it becomes easy for the clinician to look inside the whole body."
Gupta says GE Healthcare engineers designed the probe to be energy-efficient and rugged enough to withstand tough conditions like those you'd find in the field, or, say, an intensely busy COVID-19 hospital wing. "It's been designed to withstand drops," she says, adding that the probe design "prevents water, dust, gel, grime to enter" and is very easy to clean. "Because of this waterproof design, it's amenable to high-level disinfection," Gupta says.
The team paid the same close attention to the app, which receives, displays and stores encrypted patient data and images. They designed it so clinicians can scan the patients with one hand and navigate the app with the other. "The primary functions are accessible with one thumb, and you should be able to operate it with one thumb," Gupta says.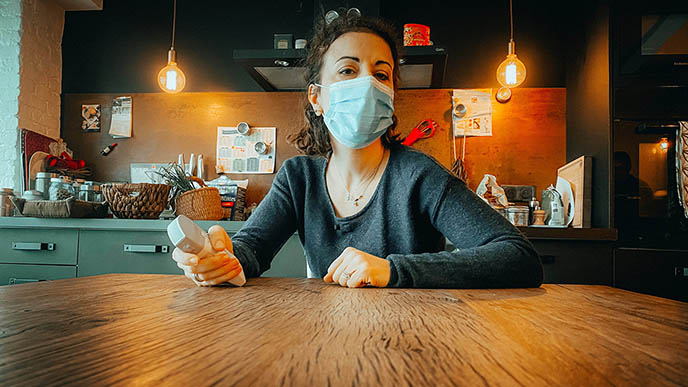 Physicians like Tung Chen who already had a chance to test the Vscan Air during an early clinical evaluation — and then return it to GE Healthcare — are keen to use it again. "With the money he will save with the Vscan Air, he can buy another Vscan Air — that will be my argument to my boss," says Tung Chen, who now serves as chief of the ultrasound division in internal medicine at Madrid's Hospital Universitario Puerta de Hierro Majadahonda, and also works in the Nurse Isabel Zendal Emergency Hospital, a special hospital set up to treat COVID-19 and future pandemics.
Dr. Kyle Leonard, a family practice physician in New York and clinical evaluator for Vscan Air, said using the Vscan Air "felt a little bit like stepping into the future," adding that "other ultrasounds that are of comparable quality to the Vscan Air, they are usually wheeled, they are on a cart. I wouldn't be bringing that to every patient's room."
Dr. Mirna Salloum, general practitioner and emergency medicine doctor in Paris and clinical evaluator for Vscan Air, echoed that sentiment. "It's an amazing machine," she says. "It's wireless, it's not heavy. The quality of the image is really amazing because of the clarity of the details you can have of the image. Just as if I have my eyes inside the patient. It's really magic."
Says Salloum: "I cannot imagine the future without this handheld ultrasound."
*The device has been verified for limited use outside of professional healthcare facilities. Use is restricted to environmental properties described in the user manual. Please contact your GE Healthcare sales representative for detailed information.
GE, the GE monogram, Vscan Air, Vscan, and Vscan Extend are trademarks of the General Electric Company. Products mentioned in the material may be subject to government regulation and may not be available in all countries. Shipment and the effective sale can only occur after approval from the regulator. Please check with your local GE Healthcare representative for details.
Categories
tags