Electricity is the most hotly contested topic in Australia, given the country's ageing energy infrastructure, rising electricity prices, supply volatility, changing demand and the imperative to decarbonise the sector for the sake of the planet. Now, right under the arc of the political football, Monash University has gathered a group of team players to address the energy sector's biggest problems, and to coach a new national squad in the ways of the future digitised grid.
"In 2016, the Climate Change Council of Australia reported that 28,000 new jobs were required for Australia to obtain 50 per cent renewable electricity," says associate professor Jack Jasieniak, director of Monash Energy Materials and Systems Institute (MEMSI).

Monash, with its dedicated Faculty of IT and world-leading Faculty of Engineering; its research expertise around electrical and power systems, energy systems and markets; its substantial immersive visualisation facilities including CAVE2; its innovative microgrid and now its Grid Innovation Hub, is well placed to provide those skilled practitioners.

The recently opened Grid Innovation Hub ties the university's energy capabilities together in a unique research, training and teaching platform for digital energy systems. It includes a Future Control Room (FCR), where students will, for the first time in an Australian university setting, work with specialist software used in the industry. For example, the FCR will run GE's suite of grid software applications — including the e-terra Energy Management System (EMS) Smallworld Electric Office Geospatial Information System (GIS), and PowerOn Advantage Advanced Distribution Management System (ADMS).

Researchers and PhD students from the areas of cybersecurity and Monash's cryptocurrency centre will join energy researchers and industry collaborators to solve problems such as: how to design stable electrical network that provides visibility and management over electricity flowing both to and from customers; and how to develop and secure and customer-centred energy-trading platform.

Collaboration is the key, says Jasieniak, to tackling dilemmas that no one player alone can resolve. Like-minded Fraser Young, business-development manager for GE Power in the Asia Pacific region, has also long dreamed of a multi-disciplinary collaboration in the digital-energy arena. In 2015 when Young approached Monash's then industry partnerships director about combining forces, the timing was right.

GE's grid software is deployed by almost all the energy utilities in Australia and New Zealand, and the company had recently also launched it's Predix operating system for the Industrial Internet, which has the capacity to securely integrate and analyse data in the cloud from multiple systems.

Emma Lucia, Monash's current industry partnerships manager says, "The Grid Innovation Hub is a vision that has been co-developed by Monash and GE."

Adds Jasieniak, "GE is a leader in commercial software for transmission and distribution companies, and the Predix software platform will further enhance this position, by driving a phenomenal shift in the way industries in the energy sector operate." Global IT company Indra, another Grid Innovation Hub foundation partner, joined the GE Digital Alliance in 2016, and is already developing Industrial Internet applications on Predix.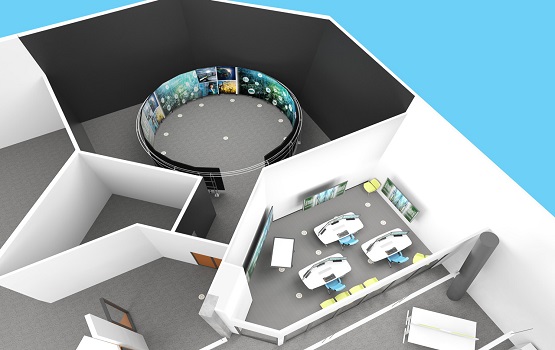 The new Grid Innovation Hub's Future Control Room (right) is adjacent to and combines computing power with Monash University's 320-degree immersive data-visualisation facility, known as CAVE2.

The five other lead partners are GE customer Ausnet Services, owner and operator of the Victorian electricity transmission network and provider of metering and asset-intelligence services to utilities; Advisian, a world-wide consulting firm in the areas of resource energy and infrastructure; RedT Energy Storage; Senvion Australia; and stochastic modelling company, Energy Exemplar.

Broadly, the group's goal is to use Monash's Grid Innovation Hub as a base to collaborate on projects that will transition Australia to a secure, affordable, smart, reliable and environmentally responsible energy system, and to model that transition for a global market, training skilled professionals along the way. The program has an initial three-year horizon, $6.6 million in funding, and a living laboratory — the grid-connected Monash Microgrid — in which to test and refine approaches and products.

Some 30,000 students are enrolled at Monash University's Clayton Campus each year. The size of a small city, it has its own postcode and encompasses student accommodation, administration buildings, lecture theatres, labs, libraries and services. The Clayton-campus microgrid will treat individual buildings and departments as customers, allowing partners in the Grid Innovation Hub and student cohorts to work within a real-world energy environment.

The university has also committed $135 million to transitioning its campuses to 100% renewable energy use, and a total carbon-neutral operational footprint by 2030. As part of this Net Zero program Monash is increasing its solar generation to 7 MW by 2020, upgrading lighting to advanced LED technology and experimenting with battery-storage options (such as the RedT Vanadium redox flow hybrid battery).

This transition to Net Zero, again provides Grid Innovation Hub partners with a real-world sandbox in which to bring bold strategies for grid transformation to life.

Initial projects for the Hub will be announced next month (May 2018). "But the first part is a simple question," says Jasieniak: "How do we start to get all the systems around the grid to communicate with each other in a complementary way. Everything spits out data, and everything spits it out in a different way, so how do we meaningfully combine those information flows?"

Combining data flows will have its most practical immediate application in grid-control rooms, where deeply experienced operators currently work with up to 30 screens of information, toggling various views of the grid, isolating outages, planning maintenance and controlling the energy load. This scramble of screens has come about with the additions of new technologies. Says Lucia, "Because maintaining electricity supply is so critical, you can't shut everything down and have a complete overhaul, so control rooms have had to add layers." The cumulative effect is that control-room staff work under immense pressure to accurately interpret the patchwork of systems. As the knowledgeable control-room cohort, many of whom have been in the job for 15 to 30 years, approaches retirement, "it's hard to teach what they know and there's a need to reinvent the way those systems operate", explains Lucia.

The Grid Innovation Hub aims to develop those new systems, and a new generation of operators. Other future skills required for the industry, says Jasieniak will include electrical engineering skills for building and integrating renewable-energy sources into the grid, consultancy skills on how to best optimise combinations of different technologies, analysis and visualisation of big data, and policymaking and planning skills.

"When technology is moving very quickly, policy can be left behind. So the question becomes: How do we develop the right policies to balance development innovation with things like reliability, security, affordability?"

Under the arc of the political football, there's optimism that multidisciplinary collaboration by passionate players in a real-world setting can set up the mother of all goals — affordable, sustainable, reliable electricity for all.
Categories
tags