Brianna Washington always felt a little different. Growing up on the southeast side of Chicago, she was surrounded primarily by other Black kids until switching to an all-girl, predominantly white school in the city's Mount Greenwood neighborhood.
"That was really a wake-up call for me," Washington says. "I realized that I became more conscious of my race because I was the only [Black] person in the room."
The difference was compounded by Washington's friends surfing YouTube for dance videos while she was more interested in figuring out what made car engines go. Washington dreamed of becoming an engineer. But her mother, who worried engineering was too challenging, encouraged her to study information technology instead. After two years at Illinois State University, Washington knew she made the wrong choice. "I had no passion for it," she says. "I knew it was not something I wanted to do in my career or for the long term." 
Halfway through her junior year, Washington transferred to University of Illinois at Chicago to pursue a degree in mechanical engineering, which meant giving up nearly all her college credits to enter the program as a freshman. As Washington puts it: "I just had to follow my gut."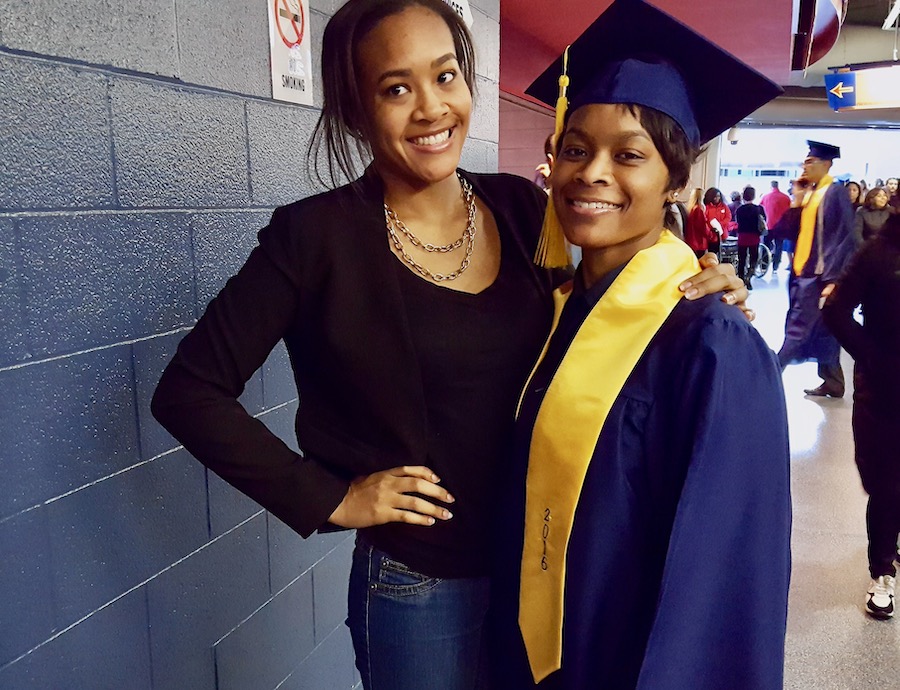 By the end of her first engineering class, she knew she had chosen wisely. "It was hard, but I loved every single minute of it," she says. "Every class was like a puzzle you had to figure out and learn how to solve it." But she still felt like a jigsaw piece that didn't quite fit.
University of Illinois at Chicago is one of the most diverse schools in the country. However, once again, she frequently found herself alone — not only as one of the few Black students in mechanical engineering, but often the sole woman. In the United States, less than 1% of all undergraduate engineering degrees went to Black or African American women in 2016 — Washington's graduation year.
Around that time, Washington would often engage in what she describes as "mental acrobatics" — having to reassure herself that she belonged in the program. But she prevailed and graduated with plans to work in the automotive industry.
During her job hunt in 2017, a television commercial for GE caught her eye. In the ad, a woman stood on a scaffolding and inspected a jet engine. "I thought 'Wow! That is cool,' " Washington remembers. "It was within the realm of designing automobile engines, only on a much bigger scale." Better yet, she could see herself in that woman.
In January 2018, she landed a coveted spot at GE Aviation as part of GE's Edison Engineering Development Program, where an elite group of entry-level engineers execute business-critical assignments in different engineering organizations across two to three years while having the option to simultaneously obtain a master's degree in engineering. Washington, who is about to embark on the final leg of her rotation, says it's been like the dream game of "puzzles," but in many ways, things haven't changed — she's still often the only Black woman in the room.
Almost half of all Edisons (as participants are known) are female and one-third of all Edisons are considered a minority — a number that includes African Americans, Latinx, Asian and other groups. Washington only knows one other Black Edison in her immediate class in Cincinnati.
This dynamic has added an unwritten component to Washington's job: She often feels she must represent her entire community. Every sentence she utters or idea she contributes must stand up to this formidable measurement. "There's a weight to be perfect," she says. "I do not have the opportunity to make mistakes. If I make a mistake, I worry about how it will affect the other [Black engineers] after me. That was not necessarily why I took the job."
She has found support within the Black community at GE Aviation. She belongs to GE's African American Forum, a 25-year-old organization that provides professional and personal development programming. Several senior Black mentors also reached out to Washington when she joined, one of whom she meets with every quarter to discuss whatever is on her mind.
Since nationwide protests broke out after the police killing of George Floyd in May, she has had conversations with her colleagues that she never thought would take place. "At work, people want to talk about systemic racism," she observes. "I thought it was only something you talked about at home or with your close friends. Obviously, that's not the only place anymore."
Washington welcomes this honest dialogue. She is particularly impressed with the new Yammer webpage GE launched for employees to openly discuss and learn about race-related matters. As of late July, it had nearly 500 participants. "I am glad that there is a safe space to come and learn," Washington says. "One of the things that keeps people on the fence about opening up [about race] is that they will be judged for not knowing. If you really want people to be engaged, nurture them in their education."
In July, GE also appointed a new chief diversity officer, and so did individual GE businesses. Together, they will join GE CEO H. Lawrence Culp Jr.'s Diversity Council. "Our CDOs will play an essential role in keeping our company accountable for the actions we have agreed to pursue," Culp said. 
The consummate engineer, Washington believes diving even deeper into data about diversity will push those issues forward. To her, the more that companies such as GE analyze racial diversity within their workplaces, the more easily they can take steps to address issues and offer viable solutions. As Washington puts it, "Leaders of industry must now look in the mirror and ensure that diversity and equity are what are reflected."
Categories
tags