Iceland is known for its breathtaking fjords, volcanoes and hot springs. But when Katherine MacManus studied abroad there one summer, she discovered an attraction that's a little harder to convey in an Instagram post: More than 97% of the country's installed power capacity comes from renewable resources.
This revelation soon became a preoccupation for the 24-year-old biochemical engineering major. What role could technology play in making energy cleaner? Was it feasible for other countries to model themselves after Iceland? "I realized that power was something I could get behind and be passionate about," she says.

Each question further ignited her curiosity, lighting a path toward a career in the power industry and an internship at GE Gas Power in her hometown of Atlanta. In between analyzing data and fielding customer questions, MacManus visited power plants, including one in Georgia that uses coal and steam. Given that most of Georgia's plants rely solely on coal, she was interested in how power plants could transition to more renewables or even gas power to reduce CO2 emissions. She also began to realize how smartly deploying a wide array of energy sources — be it natural gas, wind or even hydrogen — could ultimately build a more sustainable future.

That summer, something else made the inquisitive intern's ears perk up: She heard talk about "The Edisons." This elite group of new college graduates got to spend two or three years rotating through several of GE Power's many departments while having the option to simultaneously obtain their master's degrees in engineering — and soaking up as much as possible about the energy industry.

MacManus wanted in. As soon as she'd wrapped up her bachelor's degree from the University of Georgia in Athens, she went to GE Power in Greenville, South Carolina, to become an Edison.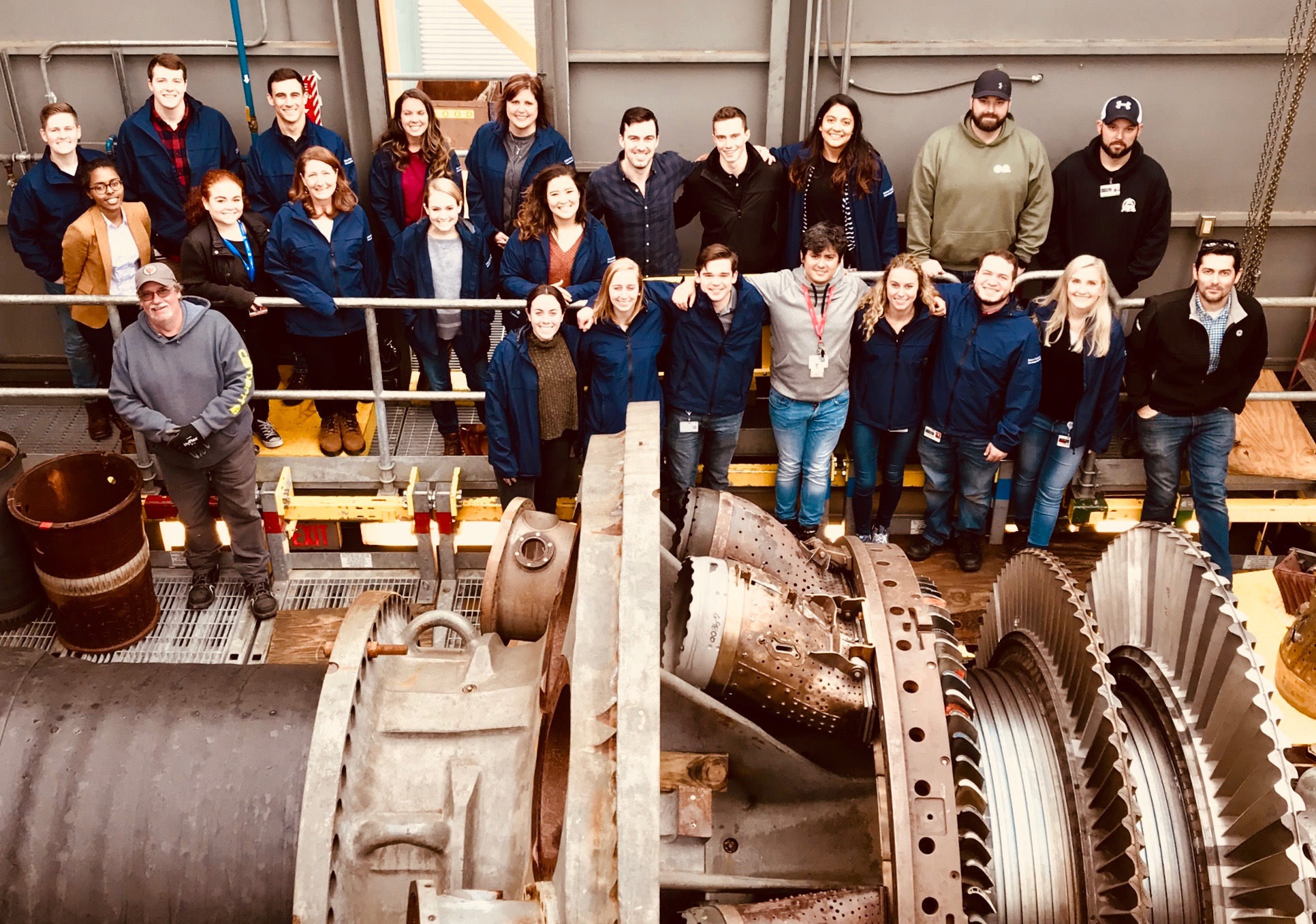 Katherine MacManus (top and front right) with her fellow Edison engineers in Greenville, South Carolina. "I want my Edisons to get their hands dirty," says Amanda Fowler, who oversees roughly 125 Edisons for GE Power in the U.S. and Poland. Top and above images credit: Katherine MacManus.

The Edison Engineering Development Program provides a pipeline of top engineering talent to its core businesses, which make the world's most powerful jet engines and wind turbines, as well as medical imaging machines and many other technologies. The program is based upon a GE engineering technical curriculum that started out in 1923 and is known as the Advance Courses in Engineering (ACE), designed to make GE engineers the best in the world. With the ACE courses continuing to this day, the Edison program has since grown into GE's largest development program, serving each of its core businesses. Right now, for example, there are 650 participants working at 60 sites in 28 countries, with an expected 850 participants by year's end.

But what really makes the program stand out is that it gets to the heart of what GE is about: "What makes a great engineer?" And in a world of perpetual change, executive program manager Marshalla Schile defines "great" as incurably curious individuals capable of adapting skills to creatively solve whatever problems are at hand. Those bent on sticking to a narrowly defined career path need not apply. "We don't want all type-A, straight-A personalities," she says.

Within the program, participants rotate through three to five different work assignments, each of which can last six to 12 months. "I like that I have not had to settle yet," MacManus says. "I get to be open and explore new things or learn different facets of the business. I don't think a lot of people have the opportunity to do that, especially coming right out of college."

She even discovered some surprises along the way. As an undergrad, MacManus briefly studied coding and decided it was not for her. However, in her final rotation, she's found herself working on the digital side of GE Power. Not her first choice, yet — lo and behold — she loves it: "I never thought I would seek out chances to work on Python," MacManus admits, referring to a programming language. "I am really seeing the benefit to learning these skills and applying them to different opportunities in the power industry."

When MacManus is not picking up new software skills at work, she's advancing her engineering education in the classroom. As part of the program, GE pays for her to pursue a master's degree in mechanical engineering from Georgia Tech's online program. She also must take GE's own curriculum, including the legendary A-Course, now a master's-level class designed to show how engineering concepts apply to building products, such as gas turbines, steam turbines or controls. "You learned how transferring heat from one object to another generates power in college. Here's how we use those principles to fly an airplane," says Amanda Fowler, who oversees roughly 125 Edisons, including MacManus, for GE Power in the United States and Poland. "We are looking for that aha moment, where now I understand."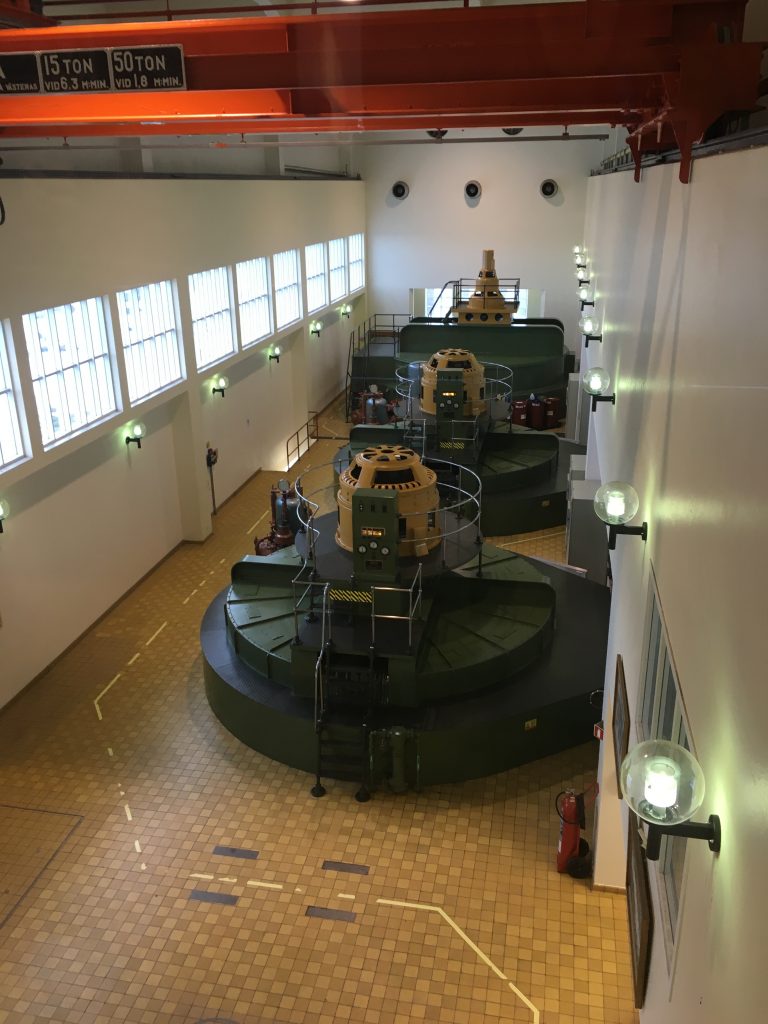 Generators for a hydropower plant in Iceland, where MacManus became interested in renewable energy. Image credit: Katherine MacManus.

All that hard work will pay off. Several Edison alums have garnered attention for innovative endeavors, such as Stefka Petkova, who develops 3D parts for GE Aviation, and Kassy Hart, who helped develop a 3D-printed fuel nozzle for the HA-class turbines that set records for efficiency.

What must MacManus do to become a standout among standouts? According to Fowler, the young professional must venture further, exploring outside the office or classroom. "I want my Edisons to get their hands dirty," says Fowler, who got her start in manufacturing. She encourages Edisons to visit project sites — whether a power plant in Warsaw or a factory in Greenville, South Carolina — to test out equipment to see how their products operate in the real world. In fact, Fowler has dedicated an entire wall of her office to hanging photos of her Edisons in the field, clad in hard hats with welding sparks flying in the background, or going on personal adventures, like trekking in Indonesia.

So far, MacManus has contributed three selfies to the wall. In her favorite, she's wearing protective glasses while demonstrating to customers how a new process would reduce the time it takes to coat cooling holes with a gel cover (or mask) in gas turbines. This is precisely the kind of hands-on experience that will shape her career, providing a richer understanding of what her job means. It's what becoming a great engineer looks like.
Categories
tags