At just 20 years old, Ahalya Lettenberger is already racking up an impressive resume. She studies bioengineering (on the pre-med track) at Rice University, where she also competes on the swim team. And this summer she interned at GE Healthcare through GE's Edison Engineering Development Program, working on a project to refine ventilators, life-preserving medical equipment for the most serious COVID-19 cases.
Now, Lettenberger is off to realize a lifelong dream, one that is both inspirational and a remarkable example of dedication and grit.
This month, she travels to Tokyo to swim for the United States in the Paralympic Games, the highest level in her sport. Already an international swimming champion — she counts a gold and a silver medal from previous events — Lettenberger was born with arthrogryposis amyoplasia, a musculoskeletal disorder that affects her movement from the hips down. Because of pandemic restrictions, her family and friends can't be there to watch. But she hopes to inspire others like her, especially a younger brother who has the same condition.
"This has been my dream ever since I started swimming," she says. "My main goal is just to enjoy the experience and take it all in. Of course, I really do want a medal. But if it doesn't happen, I am still so grateful for the opportunity to be able to represent the U.S. on the biggest stage in the world."
In Tokyo, she'll be swimming the 400-meter freestyle and the 200-meter individual medley, which calls for four strokes: the butterfly, backstroke, breaststroke and freestyle. Over time, she's gravitated toward distance events. "A lot of that has to do with the fact that I don't use my legs when I swim," she says. "Distance events, like the 400 freestyle, are just geared toward my body a lot more."
Growing up in the Chicago suburbs, she played soccer and softball. But as she got older, she found it hard to stay competitive with faster runners. Her knees don't bend past 90 degrees; her ankles don't flex at all. Her neighbors suggested that she join a local swim club.
"Swimming was special because I didn't have to wear braces or be in a wheelchair," Lettenberger says. "The freedom that the pool gave me just felt like a second home."
In 2013, when she was 12 years old, she competed in her first swim meet for athletes with disabilities. Just two years later, she won a gold medal in the 100-meter backstroke at the Toronto Parapan American Games, and, in 2019, a silver medal in the 400-meter freestyle at the World Para Swimming Championships in London.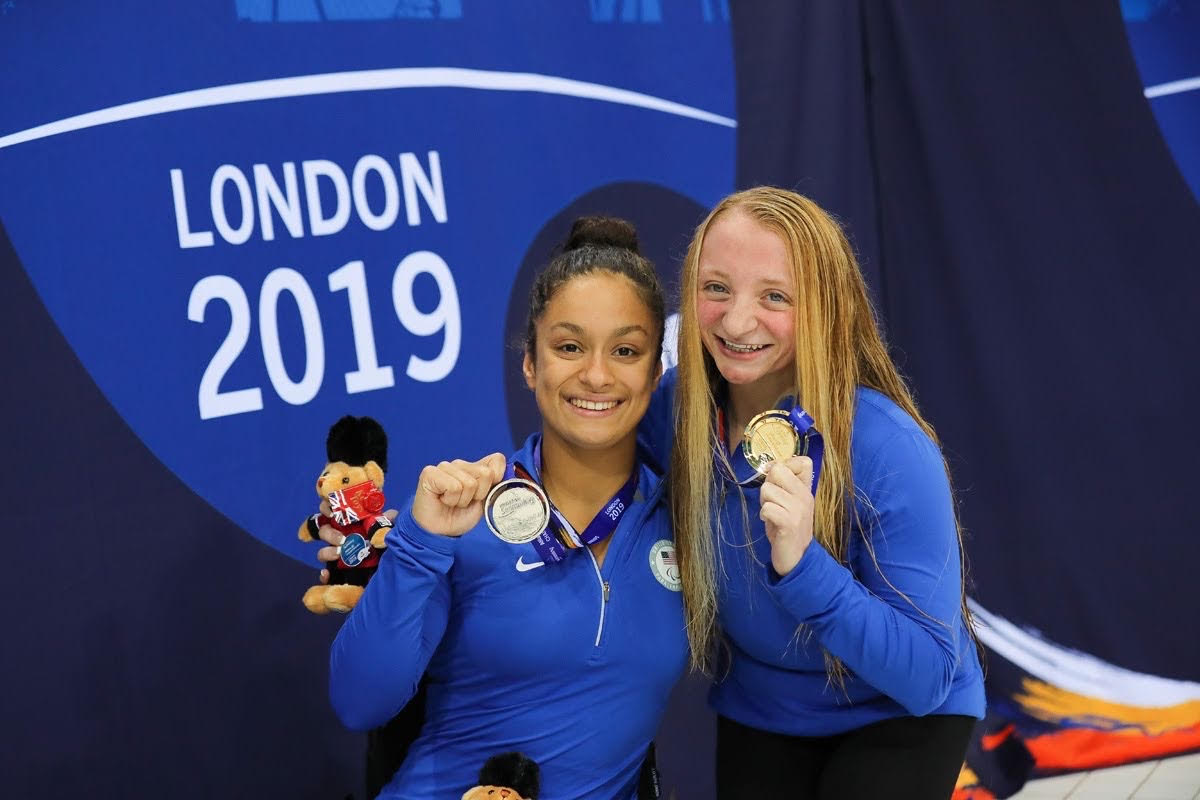 The medals were satisfying, of course, but meeting and observing Paralympic athletes conveyed an even bigger message. It helped her find her identity. When Lettenberger was younger, she says, she tried to deny or hide her disability, sometimes forcing her body to do things that weren't comfortable. After meeting people like Cortney Jordan, a swimmer with cerebral palsy who competed in the last three Paralympic Games, she no longer felt the need to hide. She realized that her disability was something that made her special.
"Everybody has differences, and everybody has challenges," she says. "My disability isn't who I am, but it's helped make me who I am today. And if anybody asked me now if I could go back and not have a disability, or, if there was a cure, would I take it, I would say no way, because I wouldn't be the person I am, and I wouldn't be where I am, without it."
Much as Jordan has been a role model, Lettenberger hopes to support her younger brother, Charlie, a high school student who also has arthrogryposis amyoplasia — an unusual case of two siblings with the same rare condition, which typically is not inherited. (Ahalya and Charlie have an older brother, Alex, who does not have the disorder.)
"Growing up together was really special, because we got to relate on a different level and go through experiences together that not a lot of other people go through," she says. "I've been able to accept my disability and find independence and embrace my differences. So, I really hope that seeing me do that, and seeing the things I've been able to accomplish in swimming and in life, inspires him."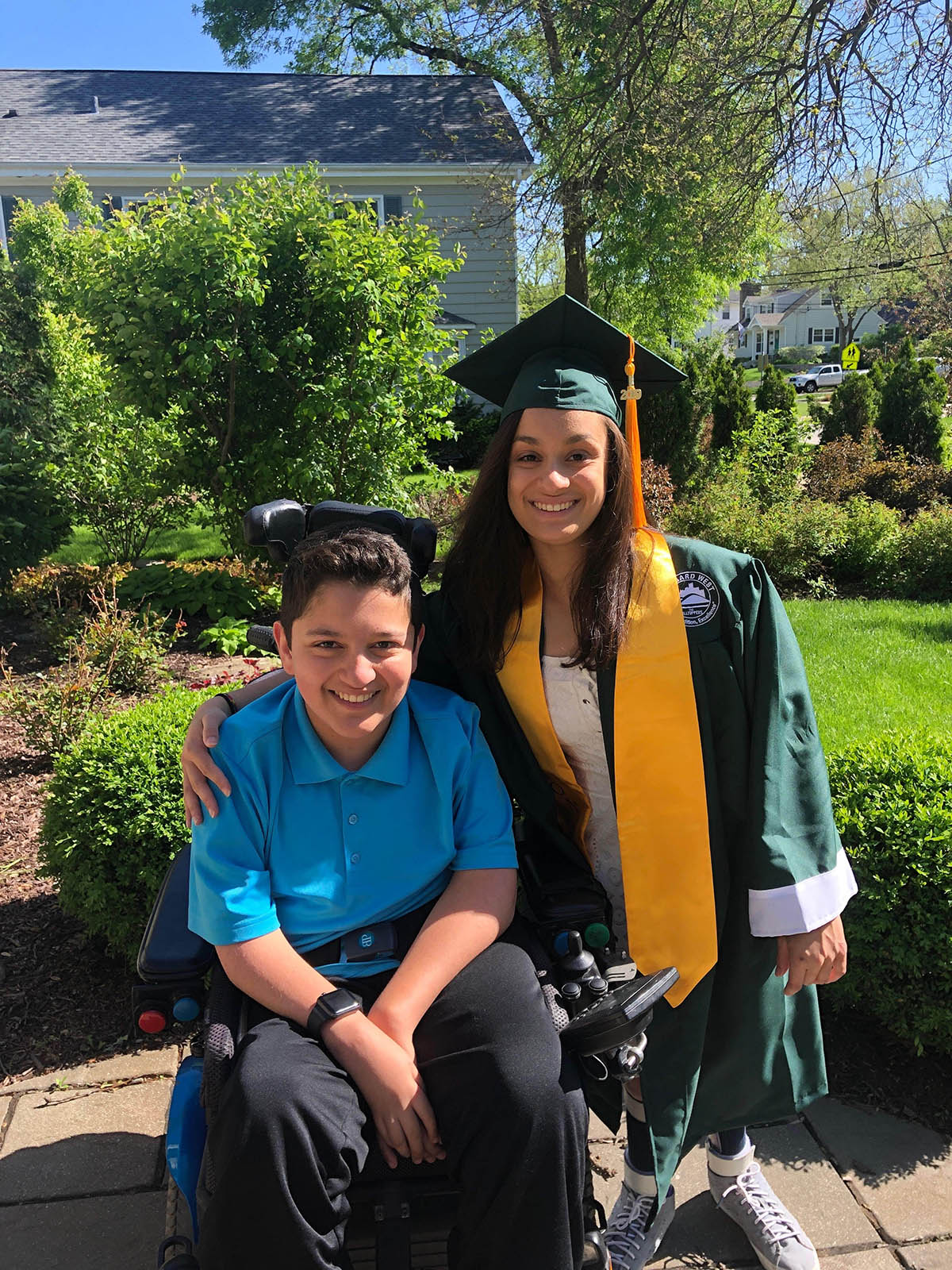 When she's not working at GE or studying at Rice, Lettenberger practices swimming six days a week, sometimes twice a day. Professionally, she wants to design medical devices like exoskeletons and prosthetics to contribute to a community that has helped accommodate her physical differences. Lettenberger walks short distances around her home and uses a wheelchair when she needs to travel farther.
For her summer internship at GE Healthcare, Lettenberger assisted the anesthesia and respiratory care division, working on a project to automate the calibration process for ventilators. She aims to reduce the time needed to calibrate a test lung for ventilators from the current five to 15 minutes when completed manually to less than one minute with the automated application she is developing.
"I've learned a ton about the engineering process in general, and we have a lot of meetings and panels where we're able to interact with other GE employees," she says. "I didn't realize how much goes into the development of a product until I saw all these different stages and all the people involved. It's pretty amazing."
Having just wrapped up her GE internship, she will soon fly to Tokyo. When COVID-19 shut down pools last year and forced postponement of the Olympics and Paralympics, Lettenberger trained however she could, even tying herself to a bungee cord to swim in a friend's small, 10-yard home pool. Now, she's ready for her shot at a medal.
Categories