When Suraya Watfa got her degree in economics and international relations and started looking for a job, she wasn't looking for just any opening. Like many other millennials and Generation Z members, she wanted to work for a company that was in sync with her values.
"Where we work and what we do and how we contribute matters to this generation a lot," she says. "We spend most of our time at work. We want to feel that we are in a place that is contributing to society and contributing to the greater good. Inclusion and diversity and sustainability are aspects that are simply no longer nice to have. There is the expectation for companies not only to commit to sustainability, inclusion and diversity targets but also to have holistic approaches to them."
Watfa says the same mindset benefits businesses, too. "Studies suggest that companies that have a more holistic and tangible approach to inclusion and diversity are more likely to do better not only from a business-performance point of view but also from a brand point of view and from their relationships with their customers, suppliers and shareholders," she says. "It's critical for continued success."
Watfa, who joined GE four years ago and now works as a pricing analyst at GE Renewable Energy, was the moderator of GE's Tolerance event at the U.S. pavilion on the grounds of Expo 2020 Dubai in mid-November. Her panel included John Slattery, president and CEO of GE Aviation, who was in town for the Dubai Airshow, and Tanya Spencer, chief diversity officer at GE Gas Power and co-lead of GE's African American Forum. The audience included guests from Fortune 100 companies, governmental agencies and other organizations.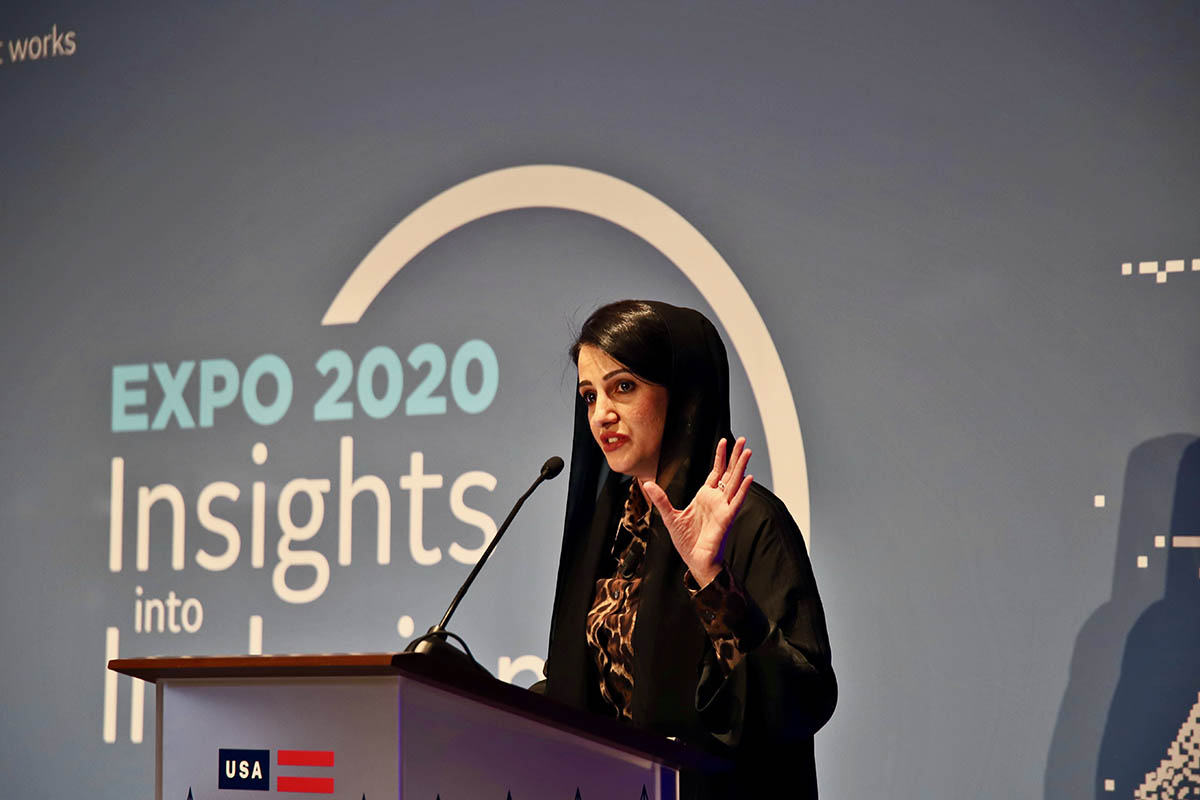 Opening the event, Dalya Al Muthanna, chief strategy and operations officer at GE International Markets, set the tone by stressing the emphasis the next generation of talent puts on inclusivity and diversity. "They expect inclusive teams, they understand how valuable it is to bring diverse viewpoints to the conversation and to give each view the right and equal weight at the table," she said. "They expect organizations to be acting in an ethical way with clear values, organizations that care about the environment and that are actually doing something about climate change. That's really the only way that we would succeed in retaining talent."
Spencer, who has spent more than 25 years at GE and worked in many countries, provided her view of diversity from her personal life and from the office. Hailing from the South Side of Chicago, the daughter of a Mexican American mother and a Black American father says she "grew up understanding what it was to be marginalized" and now, as a GE executive, she sits "on the cusp of a lot of different worlds." She says that her journey taught her "to be on the lookout for other people who may be experiencing marginalization and how do I reach out to them and how can I be a friendly face and an advocate for them?"
Spencer first experienced the power of reaching out in the second grade, when a new student joined her class. "I said, 'OK, I'm going to walk up to her. I'm going to say hello,' and we've been friends for over 40 years now," she says. "I've taken that with me as I traveled, what it feels like to be 'other.'"
In sub-Saharan Africa, for example, Spencer realized that "even with people that looked like me," diversity "looks different everywhere in the world. Whether it is how we look, whether it's our gender, whether it is our religion, whether it's age, education, socioeconomics, each of us brings something different to the table. I think to the extent that we can acknowledge that, recognize that, make sure that we treat people the way they want to be treated, I think that's really the goal. Everybody wants to be seen and heard and appreciated and respected for who they are. We have a lot of work to do to get there, whether it's in companies or globally."
Slattery, who grew up in the west of Ireland and worked around the world, has his own perspective. He lost his father when he was nine and was raised with his brother by their "formidable mother." Today it's his 15-year-old daughter who keeps him focused. She regularly asks, "Dad, what are you doing to hold yourself accountable and what are you doing to improve diversity in general?"
These are not just dinner table questions to Slattery. "We compete for the very best talent in the world," he says. "We actually hire rocket scientists, so we're vying with formidable competitors like Elon Musk and Jeff Bezos."
He says that when he talks to young engineers around the world, they want to join a company that's diverse and stands for something real — a place where they can start building their own legacy. Discussions center on questions like "Does GE Aviation represent the values that I hold dear to me?" "Can your company move the needle?" "Is this the best place for me to spend my time and my effort?"
One way to compete it is to get "that sense of urgency around the noble cause and the purpose of decarbonizing the future of flight," Slattery says. "I want that to permeate into the DNA of everyone in the organization, regardless of age. I want GE Aviation to be at the top of the list both for young engineers coming out of college and also for the very best talent that we have in the organization today."
In a world changed by the pandemic, workers at every phase of their career are asking, "Is this where I want spend my precious time?" Slattery says. "I care about the valuable tacit knowledge held by folks that have been with us for 10, 20 or 30 years." Attracting and retaining talent means fostering an environment where people can be themselves, he says. "That's not just a one-liner at GE. We really mean it."
Slattery, Spencer and Al Muthanna acknowledge that GE has work to do. "This is really mission-critical for us, to be able to have the talent that we need to create the ideas and the innovation we need to have in order to accomplish these goals," Spencer says. "I mean, this is a big part of what we need to do in the world today, not just within GE."
Young employees like Watfa have their own blueprint for what the workplace of the future looks like. It's an environment "free of bias that encompasses all walks of life and [is] inclusive to all, but also [is] contributing to the greater good," Watfa says. "We have a social responsibility as a company to tackle issues regarding sustainability and inclusion and diversity."
Watfa chose GE four years ago because she felt the company was a good fit. "I do feel that I am invested in as a young talent, and I do feel that I'm given the opportunity to grow and take on new challenges," she says. "And that's been very instrumental to my growth and why I am so loyal to this company." She says that as an employee of GE Renewable Energy, "I feel a greater sense of purpose beyond what I see as my day-to-day role. And that's really why I'm so passionate about the renewables business and why I'd like to continue to grow in it."
If there is one thing Watfa wants to make clear, it's that "inclusion and diversity and sustainability are prerequisites."
Says Watfa: "The newer generations are looking to organizations and expecting them to have these commitments. And what could happen if organizations don't react enough, or in a tangible way, is that you may be missing out on that next pool or that next generation that's coming in, because we are so passionate about these topics. And because we want to work in a workplace where we feel that we don't have an adverse impact, but rather a positive one."
Categories