Hydrogen has a lot going for it. It's the most abundant element in the universe, and here on earth it's pretty much everywhere. It can also pack a lot of energy — much more than natural gas or oil — and when it burns, the by-products are water and heat. Its downside, however, is that it likes to hang out with other elements. It forms stable molecules with them, which we need to break up — by adding energy — before we can use it as a fuel. When that energy comes from renewable sources, the industry calls the liberated gas "green hydrogen," a product that could help us light the way to a zero-carbon future.
One of the first efforts to show how green hydrogen can be used in the power generation industry is underway now: A demonstration project is readying to begin at the New York Power Authority's Brentwood power station on Long Island. The six-to-eight-week pilot project will temporarily replace a portion of the natural gas that runs the plant's aeroderivative gas turbine with a blend of green hydrogen and natural gas. GE Power is playing an integral role in the project — among other things, the plant's GE LM6000 combustion turbine, originally derived from an aircraft engine, is acting as the test bed.
Although there are many turbines using hydrogen, this project is the first retrofit of an existing power plant to evaluate the use of green hydrogen to reduce carbon emissions in power generation. It will test varying concentrations of green hydrogen in its fuel mix to determine how the system responds and learn how different blends affect greenhouse gas emissions. Findings will be shared with the industry, with the hope of influencing adoption of green hydrogen by other states and nations.
At the ribbon-cutting ceremony at the Brentwood plant on Oct. 25, GE Power CEO Scott Strazik said his company "is honored to provide NYPA with its industry-leading equipment and help deliver one of the world's first [green] hydrogen demonstration projects, showing the valuable role that gas-fired power plants can play in the energy transition in New York and around the world."
NYPA and GE worked on the Brentwood demonstration with the engineering firm Sargent & Lundy, green hydrogen supplier Airgas, Fresh Meadow Power, which is supplying piping and other materials and installation services, and the Electric Power Research Institute (EPRI).
"In order for us to be able to achieve an 85% reduction in greenhouse gas emissions by 2050, we are going to have to use every tool in our toolbox, and use new tools and technologies, some that we may not have even discovered yet," said Gil C. Quiniones, former president and CEO of NYPA, who pushed the project forward at its outset. "This project is an example of diverse energy leaders coming together to test solutions to one of today's most pressing challenges, climate change. We will share the results of this demonstration project with the entire industry so we can, together, move toward a carbon-free economy in an informed way."
Justin E. Driscoll, interim president and CEO at NYPA, added that "the Green Hydrogen Demonstration Project is important to our path toward decarbonization."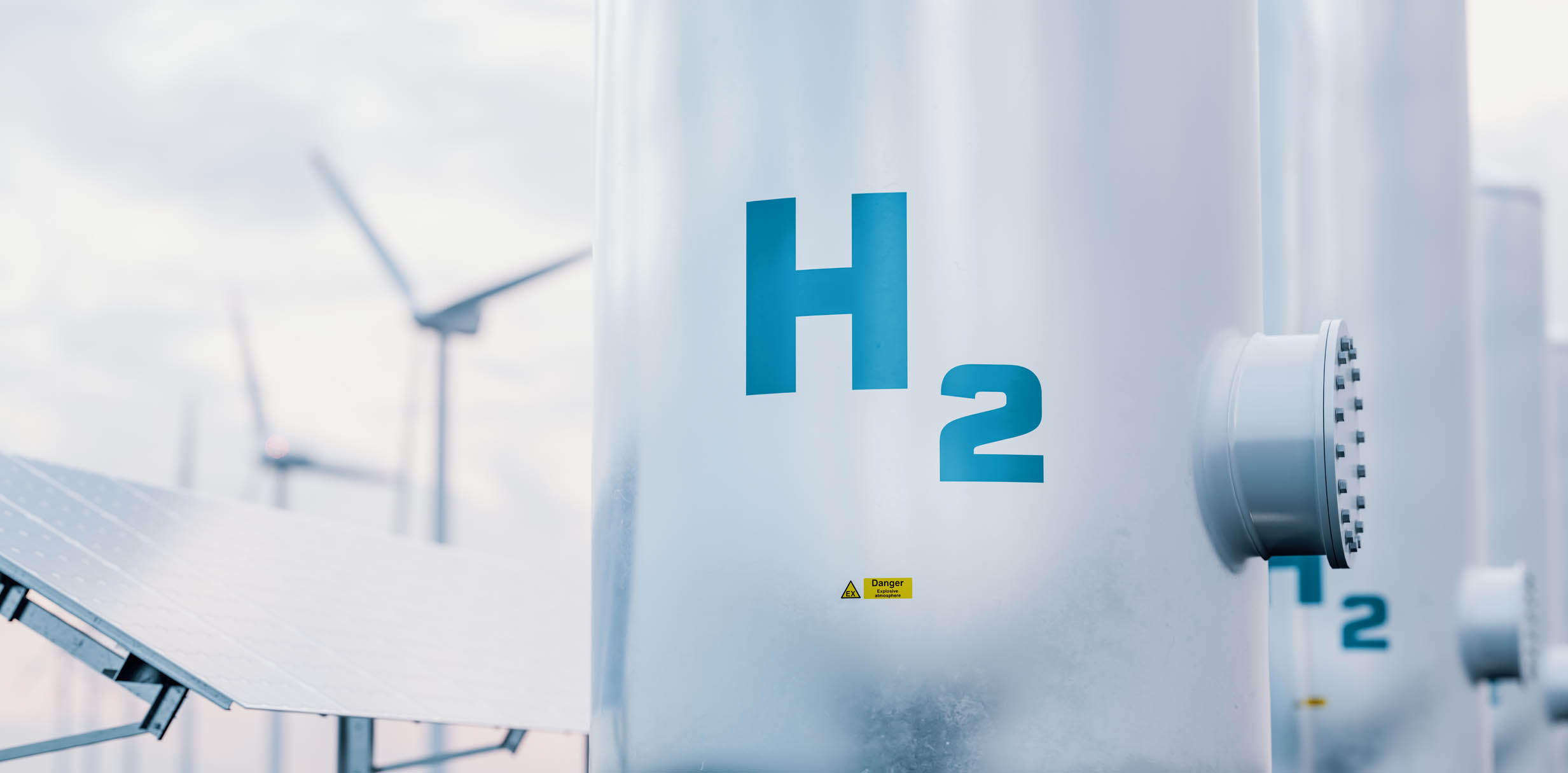 While most hydrogen is made via steam methane reforming — in which natural gas (CH4) reacts with steam under pressure and heat to produce hydrogen, CO and CO2 — green hydrogen is made through electrolysis. In this process, an electric current, derived from a renewable power source, splits water (H2O) into its constituent elements to produce oxygen (O2) and hydrogen (H2). Using renewable power that does not generate CO2 emissions and water that does not contain carbon means there is no CO2 generated in this process.
New York is the first state in the U.S. to implement such a project, and its climate and clean energy actions are some of the most aggressive in the country. The state's Climate Leadership and Community Protection Act, signed into law in 2019, set goals of 70% renewable energy generation by 2030, with a 40% reduction in greenhouse gas emissions by that year; 100% zero-carbon electricity by 2040; and statewide greenhouse gas emissions reduced to 85% of 1990 levels by 2050.
Farther upstate, GE and Cricket Valley Energy Center, east of Poughkeepsie, announced a memorandum of understanding this summer to develop another green hydrogen demonstration project. Cricket Valley is capable of providing electricity equivalent to that needed by 1 million homes using three GE 7F.05 gas turbines that run on natural gas. Starting in late 2022, the plant will experiment with running one of its three turbines on a blend of natural gas with 5% green hydrogen by volume.
This is not the first time GE has had a hand in advancing the use of hydrogen. More than 100 GE gas turbines have already racked up more than 8 million operating hours running on hydrogen or hydrogen-like fuels, with decades of experience, much of it at factories that create hydrogen as a by-product and feed it back into the turbines that drive their plants.
"Decarbonization was not necessarily the target" when GE built the expertise to run power stations on hydrogen, said Brian Gutknecht, chief marketing officer at GE Gas Power. The idea was to burn waste gas "so economically it had good value. But now we can help the world reduce carbon emissions with the experience that we've had."
Another GE-affiliated project is set to begin this winter in Hannibal, Ohio, where the 485-megawatt (MW) Long Ridge Energy Terminal power plant is expected to begin generating electricity using a hydrogen-and-gas blend. The facility will be the first one in the United States purpose-built to burn hydrogen and will use a massive new 7HA.02 gas turbine made by GE to output enough power to light up the equivalent of 400,000 U.S. homes. Long Ridge intends to begin providing lower-carbon power utilizing this hydrogen-and-natural-gas blend, aiming to transition the plant to be capable of burning 100% hydrogen over the next decade.
Other countries have also taken an aggressive move toward adoption of green hydrogen. In Australia, the utility EnergyAustralia is building that nation's first gas-and-hydrogen power plant, using a GE 9F.05 gas-fired turbine to churn out approximately 316 MW of power that will go a long way toward replacing the energy provided by a soon-to-be-decommissioned coal-fired facility in the area. And in September, Territory Generation, a utility in the Northern Territory, announced that it will install a GE TM2500 aeroderivative gas turbine at the Channel Island Power Station, outside Darwin. The TM2500 is a trailer-mounted turbine whose beating heart is a grounded CF6 jet engine, the same one that powers the Boeing 747. The presence of abundant sun and wind in the Northern Territory make it a solid proving ground for the development of green hydrogen, which the territory plans to begin using in the Channel Island turbine as well as export to Asian countries eager to bring cleaner energy into their portfolios.
"Reaching net zero requires energy sector collaboration and using all available tools and resources," said Arshad Mansoor, president and CEO of EPRI, at NYPA's Brentwood ribbon cutting. "Demonstrating hydrogen blending in gas turbines is an excellent example of moving the needle forward in the effort to reach our decarbonization goal."